What Is Scanz?
Scanz – previously known as EquityFeed – is a stock research platform based in Canada, with headquarters in Montreal. It was launched in 2001 and is now one of the largest research platforms for swing and day traders, with more than 90,000 monthly users worldwide. Scanz is fully compatible with more than ten online brokers, so you can research a stock and make orders right from the Scanz dashboard. Some of the compatible brokerages include Interactive Brokers and Ameritrade.
Scanz has only one paid subscription but includes additional tools that you can opt-in for – for a very small fee. One such add-on is the penny stock (and sub-penny stock) data feed, which can be a game-breaker if you regularly invest in these assets. For newer investors, the actionable alerts and watchlists, combined with a learning center – complete with video tutorials – means even new traders can learn the ropes and get up to speed in no time.
In this Scanz summary, I will go over the best features; if you want to read a more in-depth analysis, here's our full Scanz review.
Pros & Cons of Scanz
Pros
Broker Integration and comprehensive charting tools
Highly customizable stock scanner and watchlists
Over 90,000 monthly users worldwide
Opt-in for the penny and sub-penny stocks data feeds
Set up actionable alerts with Scanz Breakout
Easy-to-use, intuitive interface
7-day free trial
Cons
Previous trading experience strongly recommended
No web-based access to the platform
Scanz Pro Scanner
For experienced day traders and swing traders, the Scanz Pro Scanner is a game-changer. With this tool, you can track in real-time all stocks available in the stock market at any time (including during pre- and post-market sessions). Scanz Pro Scanner allows you to create customizable scans using hundreds of fundamental variables like price and trading volume; alternatively, you can choose from one of their pre-built scans, expertly chosen by a team of experts. Here are some of the most-used filters available in the Scanz Pro Scanner:
Price
Liquidity
Volume
Technical filter
Scan by market
Scan by stock types
Auto/sorting ranking
Scanz Pro Scanner is one of the most flexible scanners out there, providing expert investors with a fully customizable experience and new investors actionable information with their pre-built scans. Scanz has excellent charting tools comparable to TradingView, so you can easily visualize all the data and spot trends early on.
Scanz Breakouts And News Scanner
If you're a swing or day trader, keeping track of all your investments at all times can be very difficult. Scanz offers a solution: Breakouts. Breakouts are automatic, fully customizable signals that alert you whenever a stock reaches a specific price or trading volume or when it detects a block trade in progress so that you can take advantage of any potential price swing.
Scanz also offers access to a highly-customizable Watchlist and News Scanner. With these trackers, you can follow real-time news from over 100 reputable sources, all from the Scanz dashboard. It includes:
Price updates
Trading volume-related events
SEC Filings
Audio alerts
Scanz Breakouts and the Scanz News Scanner are great tools for expert investors looking to gain an edge over the competition. If you'd rather invest in futures, TopStepTrader is an excellent option for experienced investors.
Sync With Your Broker And Automate Orders
With its proprietary software, compatible with most devices, and its full integration with some of the largest brokerages in the US – including Interactive Brokers, Ameritrade, and 10+ more brokers – Scanz is easily one of the most flexible stock research platforms out there. Alternatively, you can check out a platform like TrendSpider, which takes a slightly different approach than Scanz and is powered by a machine-learning algorithm.
Scanz secures all personal information using cutting-edge SSL encryption, and if you want to stop using this platform, they won't keep any of your personal information.
Access OTC Penny Stocks Market Data For $15/month
For just $15/month, you can opt-in for Scanz OTC Penny (and sub-penny) stocks data. It includes Level 1 and Level 2 quotes, news, and SEC filings. We recommend this add-on only for experienced investors comfortable trading highly volatile assets.
Scanz Fees
Monthly Subscription: $169/month
OTC Penny Stocks Data (add-on): $15/month
Keep in mind the OTC Penny Stocks data is entirely optional.
Sign-Up Process
Scanz is available worldwide and has more than 90,000 monthly users. There are no special requirements to create an account; you can get started with just your email.
If you use our link to sign up, you will have full access to a 7-day free trial – no credit card information is required.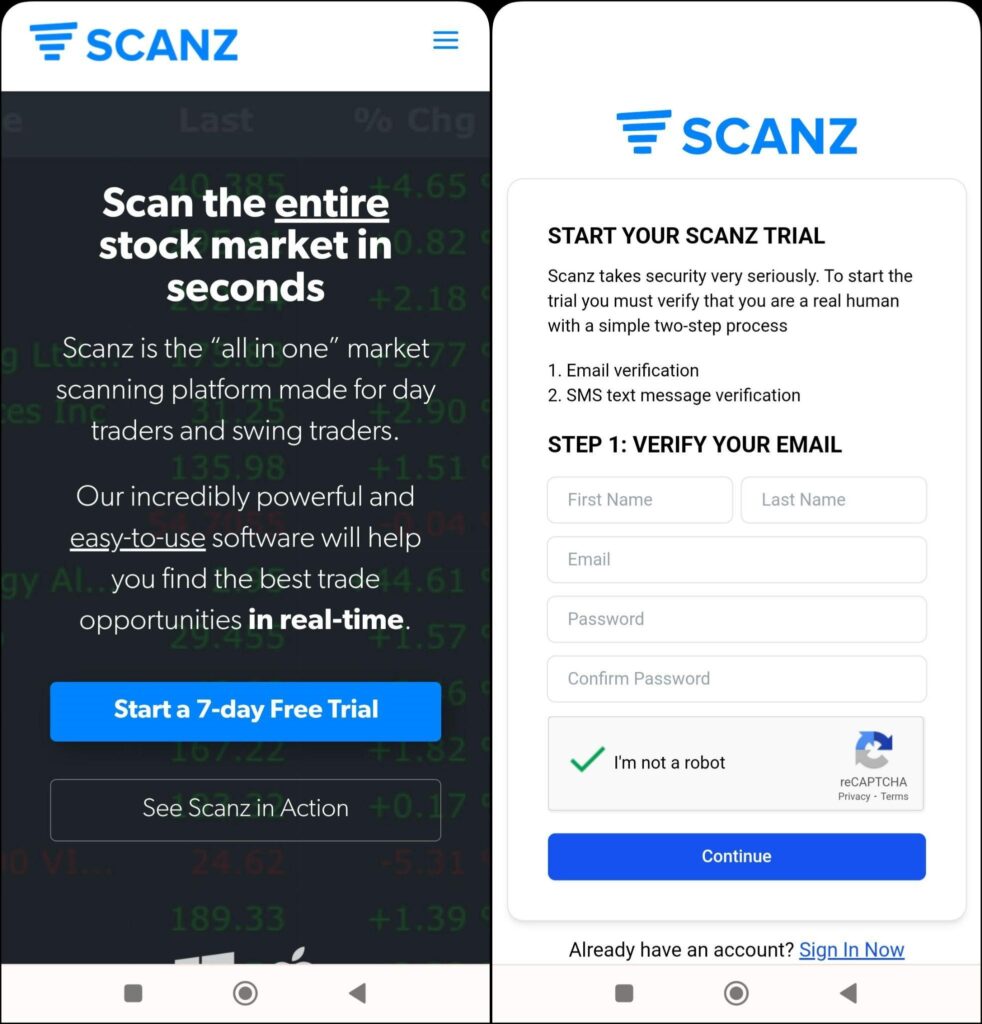 Final Thoughts
Scanz is an excellent stock research and market scanning platform for experienced traders. It offers customizable scans, access to more than 100 real-time data feeds (including Level 2 quotes), and powerful charting tools. Its integration with the biggest brokerages means the whole investing process is a lot easier – you can do your research and make orders right from the Scanz dashboards. For new investors, the guides and video tutorials will prove invaluable to becoming a successful day trader.