With a screen between us, the evolution of technology continues to present digital barriers that are increasingly difficult to overcome. In business, these barriers have developed into a siloed structure with different departments operating independently and apart from the bigger whole. The 'silo' mentality is a dangerous environment that limits overall collaboration, clarity, and trust within an organization. While we are supposed to be on the same team, it seems as if we are working against one another these days.
The Limitations of Information Silos
The same is often true with technology. Much like departmental silos, information silos generate limitations that create a lack of synergy in understanding. When, for example, a database is not connected to other parts of a system, an employee on the endpoint cannot make use of that information.
When our information management systems are not connected to other information management systems, the result is an information silo that ultimately keeps individuals in the dark about the priorities and opportunities of an organization. Fortunately, modern cloud services can help to synthesize data into one locale to open up these silos.
Breaking Down Barriers with Google Cloud and Fivetran
Leading the way in scalable data delivery is Google Cloud, offering a new BigQuery Data Transfer Service that will simplify data imports. Among the first external partners of Google's Data Transfer Service (DTS) for BigQuery is automated data pipeline provider, Fivetran, a company that is guided by one primary ethos. Cloud-first data services should not only be robust and powerful but also easy to use.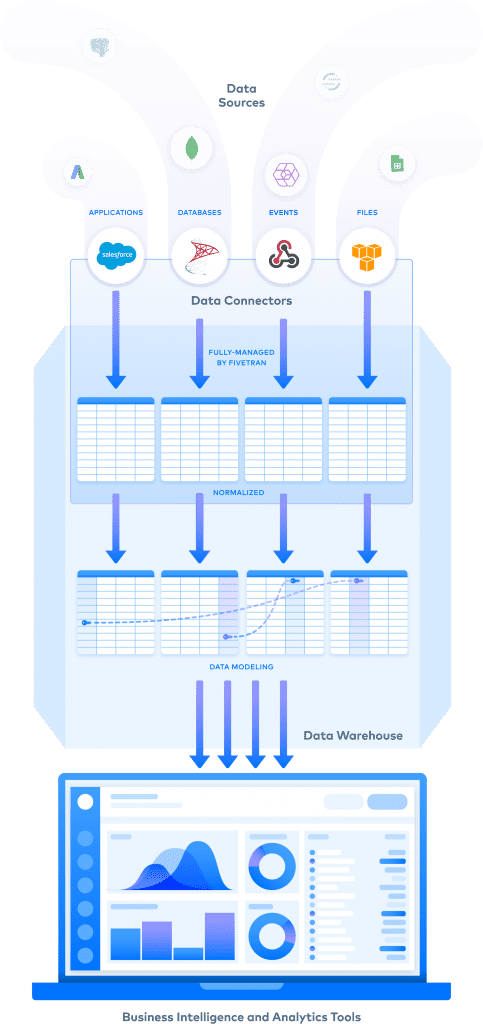 Working together, the service will allow BigQuery customers to use Fivetran data connectors without leaving the Google Cloud environment. The automated setup and product integration will also allow BigQuery users to minimize their time to value and reduce the amount of time in setup and maintenance overhead that is typical when centralizing disparate data sources.
"Every company should have access to all their data, in one place, in real time, and Data Transfer Service is the realization of that vision," said George Fraser, Fivetran CEO and co-founder. "The era of every company building fragile, error-prone custom ETL pipelines is over. Data Transfer Service gives you the power of BigQuery with the self-driving data infrastructure of Fivetran under the hood, so accessing your business data is as easy as writing a query."
Fivetran and Google Cloud currently offer connectors for over 100 sources such as Salesforce, Marketo, and NetSuite. This list will continue to expand as Fivetran develops new data connectors in the future.
Customers who make use of DTS to replicate data from siloed sources into BigQuery may take advantage of a variety of analytics and data science tools from external BigQuery partners. This includes Looker and Tableau, as well as Google Cloud products like Data Studio, BigQueryML and Cloud AutoML.
The Cloud in Business
By simplifying the process of delivering data to customers, Fivetran helps analytics teams to focus on driving insights rather than managing ETL. Essentially, it removes information silos that keep companies from doing their job and doing their job well.
For Carlos Nido, Senior Manager of Data & Analytics at Chubbies, the power of BigQuery is in its simplicity. "We like BigQuery a lot. It's simple with Fivetran for managing the upload and syncing process. One of the nice things about Fivetran is the ease of integration," he says. For others, it's all about deriving insights that really count. "With Fivetran and Google Cloud Platform, we've freed data scientists to devote themselves to doing data analytics to help teachers and administrators improve student performance," says Chris Haid, Chief of Staff at Chicago KIPP schools.
With the advent of modern cloud services, industry leaders are tapping into the power of unity to move their businesses forward. It seems like we are beginning to pull back the screen and much like our modern systems, we are finding a greater sense of synergy in our communities.
This week, we will see this in action at Google Cloud Next '19 as the brightest engineers, entrepreneurs, and innovative minds convene to build the better cloud of tomorrow. Because despite all of our barriers, we are all under the same cloud.