Singapore – Last week, the smart advertising marketplace project SaTT released their roadmap towards true decentralization, targeting it to be an open source project in six  months to a year. 
This is certainly a daring move, considering the project only completed their ICO, token burn and various exchange listings last month. 
A roadmap that ranges from October 2020 to June 2021, SaTT's timeline of developments are deliberately paced and progressively designed to attain their goal of reaching open source mode.
The Ultimate Destination is to be Open Source
In their official announcement, SaTT expressed the belief that being open source gives the project more opportunities to "exceed their vision and know-how". The aim was to establish the SaTT smart advertising solution as a "universal reference".
Should community onlookers ponder the foresight of taking such a route, SaTT was quick to point out that if a blockchain token were to follow the path of decentralization principles, the "ultimate destination" was to be open source. Furthermore, SaTT reminded us that the two biggest cryptocurrencies by market capitalization, Bitcoin and Ethereum, were both open source projects.
From 'POC large-scale testing campaign' next month all the way to publishing 'SaTT's backend code' in June 2021, SaTT has mapped out step-by-step implementation. Highlights include opening the code of existing blockchain oracles for Youtube, Facebook, Twitter and Instagram on the backend while integrating frontend features to identify, score and certify influencers and a host of other implementations and activities to get the SaTT platform up and ready for open source development.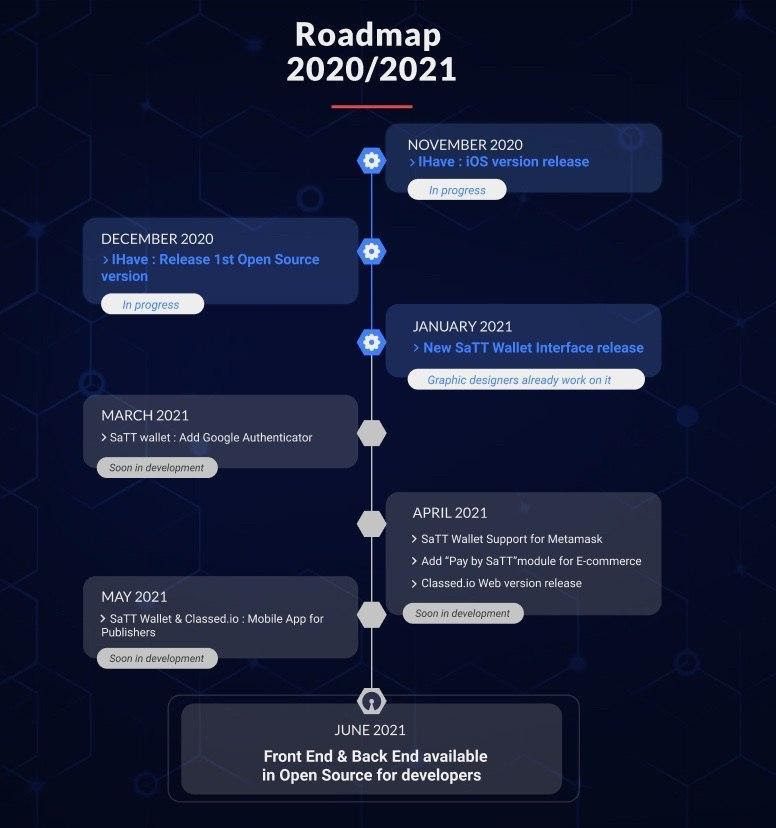 WSATT is Optimized for Uniswap and Earns you Staking Rewards!
In the meantime, the long-awaited listing on Uniswap DEX (decentralized exchange) took place as SaTT completed their WSATT (wrapped SaTT) token. With USD 15.3 billion, the DEX has notably surpassed the monthly trading volume of Coinbase (USD 13.6 billion), an indication that the takeover by  DEXs might be beginning.
The SaTT team had to convince their community to wait for the SaTT token to be wrapped as the prevailing sentiment was to get the token listed as soon as possible.
SaTT CEO Gauthier Bros explained that the SaTT token was designed to cater to advertisers, meaning it automatically came with a high gwei fees to process transactions quickly to prevent bottlenecks as ETH transactions had to be processed consecutively.
Hence, the SaTT team specially created the Wrapped SaTT (WSATT), which is optimized for trading on Uniswap. An ERC-20 compatible token, a wrapped token is  valued exactly the same as the token it represents but it is more easily mobilized by decentralized applications (dApps). 
Besides liquidity providers getting rewarded 0.3% on all trades conducted in proportion to their total pool contribution, WSATT holders could also get an added bonus.
SaTT offers an exclusive 10-day staking reward to incentivize WSATT holders to supply liquidity for the WSATT/ETH pool. Equal to 2% of the total pool contribution for a few cycles, the amounts accrue in real-time and can be liquidated upon closing the pool. 
When each cycle of the Staking Reward Program is completed, the rewards earned will be  automatically deposited in SATT tokens into the holder's Ethereum wallets – an attractive and efficient way of passively earning SATT!
Staking Reward Details
10 days : 2% – Only for the first 50 participants
30 days : 3%
90 days : 10%
180 days : 22%
Thorough instructions on joining the Uniswap WSATT/ETH liquidity pool are on SaTT's official blog: Getting on Uniswap 1 and Getting on Uniswap 2
A dynamic project with lots of industry potential, SaTT has certainly been making some big moves recently. It will certainly be an interesting watch as the smart advertising project journeys towards true decentralization.