(Introducing the wireless smart microphone that comes with a variety of useful features for users.)
BlinkMe B2 Wireless Smart Microphone is the latest launch from Saramonic that comes loaded with features, promising usability, convenience, and the best of technology. Those who have been looking for smart microphones are invited to check out this latest launch that is designed to deliver unparalleled sound. 
The Need for Wireless Smart Microphones:
Wireless smart microphones have always been a popular choice because of the freedom they provide when it comes to mobility. There is no need for wiring or cables that need to carried when these wireless microphones are used. This mobility is just what is needed in case of live performances, during presentations, for use in conferences, and on different occasions when the speaker must move around the stage or room for better engagement.
Let's glance through some of the best reasons to believe why BlinkMe B2 Wireless Smart Microphone is all set to make a difference.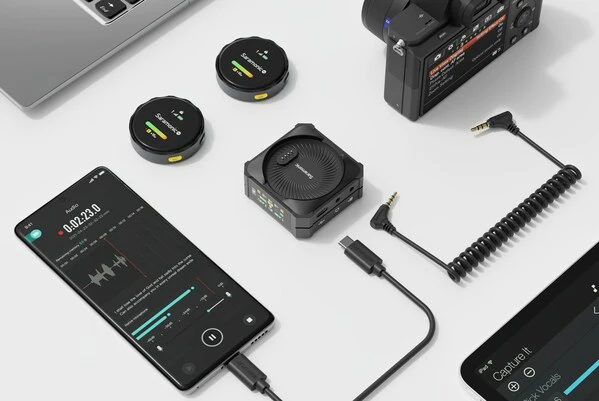 Perfect for all Users – The microphone is designed to cater to the needs of all users. Creative enthusiasts or seasoned professional users.
Interesting Design – Saramonic ensures that users love the wireless smart microphone as they use it. The company has given it a highly innovative design which is perhaps not seen earlier. The receiver acts as a charging dock as well. This means that users have complete convenience. They get a whole day of audio recording.
That is not all, users have the chance of enjoying 8 hours of battery life from its transmitters. 24 Hours is available from the receiver and yes, the receiver can share around 4.5 hours of battery life for every transmitter naturally. This is one of the best features of the product that makes it stand apart from similar smart microphones that are available.
The magnetic design of microphone has a special purpose. The user can actually wear it in the way he or she wants it. This interesting design lets the user wear the microphone in various scenarios. This makes it possible to do the adjustment quite easily.
Sleek Interface – The design and look of any device matters a lot and when it is something related to a microphone, buyers do expect innovation. Here – the makers haven't failed to disappoint and have given the microphone a sleek touchscreen interface. 
Available with Customizable Features: The microphone is available with many customizable features so that users do not face any problem and can use the microphone as per their requirements.
One Button Noise Reduction – One of the first requirements of a microphone is its ability to reduce or eliminate unwanted noise that can hamper the quality of the recording. Saramonic ensures that this Smart Microphone is available with a one button noise reduction facility. When the user is in a noisy environment, all that needs to be done is click a single button. It is effective in reducing noise.
Frequency Hopping Technology – This is an optimized 2.4 GHz Wireless transmission system. It is effective in ensuring that the stream of audio is quite stable and smooth even in areas where there is high RF activity.
Seamless Adjustment – The microphone is designed with an ability to adjust gain (per dB) along with backlight brightness. The process is smooth and quite easy. The user of BlinkMe have greater flexibility and freedom when using the microphone that is not available with any other device.
Controlling is Easy – The user has complete control on the recording which is what most people look forward to. The device is available with playback and real-time monitoring that is quite effective in controlling the recording. This ensures that optimum quality sound is recorded under all circumstances.
It is also possible to record separately through each channel. There are selectable mono, stereo and safety channel function. The two channels can be easily combined that helps in improving flexibility once the production is complete.
2 Person Recording – This system is available with a built-in omnidirectional microphones and two transmitters. This makes it possible for it to record the voice of two people who are sitting in proximity or during a meeting. This is one of the best and most useful features of the microphone.
Undoubtedly, this is one of the best products that can be used for recordings and for different purposes. Those who have purchased this smart microphone have already recommended it to several of their friends and others. To know more BlinkMe Smart Microphone, please checkBlinkMe B2 Wireless Smart Microphone