The hitter-based hand tools market in the United States is expected to grow by 3.3 percent year on year in 2022, reaching a value of approximately US$ 562.1 Mn.
The demand for hand tools, particularly those designed for domestic and do-it-yourself (DIY) applications, is expected to rise. Rising disposable income and rising consumer interest in leisure and recreational activities are two key factors driving the growing popularity of DIY activities.
As a result, there have been impressive opportunities for sales of hand tools, encouraging manufacturers to launch new and creative products into the DIY market. Between 2022 and 2028, the US market is expected to grow at a CAGR of 3.4 percent. According to FMI, the United States will remain a key market for hitter-based hand tools over the forecast period due to rising demand from a variety of industries.
The growing number of do-it-yourself users is driving up demand from the household segment. This is also leading to an increase in hand tool sales via online portals. Due to their increasing use in gardening and other household applications, tools such as shovels and hammers are frequently purchased through online channels.
Aside from that, rapid urbanization has resulted in increased investment in infrastructure development, including transportation, energy, and related maintenance services, resulting in increased demand for hand tools.
People are becoming more self-sufficient, learning new skills, and employing these tools more effectively. Against this backdrop, hand tool sales are expected to rise steadily over the forecast period.
Between 2022 and 2028, sales of hitter-based hand tools will grow at a 3.4 percent CAGR, up from a 2.7 percent CAGR between 2013 and 2021.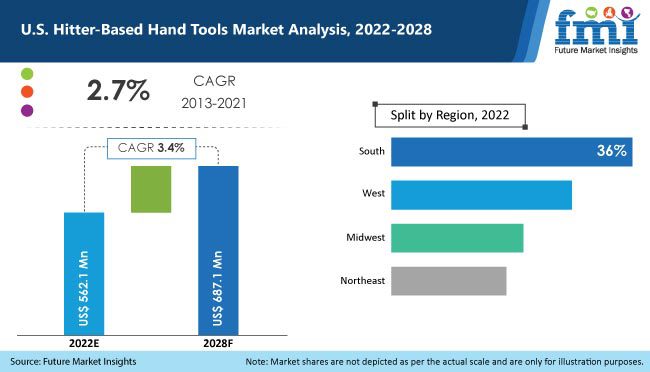 Over the forecast period, sales of hitter-based hand tools will accelerate due to increased DIY activities and the expansion of the construction sector. In the United States, home remodeling and minor maintenance are popular pastimes.
Increasing automation in many industries is expected to have an indirect negative impact on hand tool sales during the forecast period. Automation reduces labor costs, shortens production lead times, and improves product quality.
The gradual rise in labor wages is largely responsible for the increased use of industrial automation. Hand tool use is being hampered by a decrease in the labor workforce as manufacturers focus on cost-cutting strategies to gain a competitive edge in the marketplace.
Key Players:
Stanley Black & Decker, Inc.
Q.E.P. Co., Inc.
Snap-on Incorporated
The Ames Companies, Inc.
Techtronic Industries Co. Ltd.
Vaughan & Bushnell Manufacturing
ABC Hammers, Inc.
Hardcore Hammers
Download Sample Copy with Graphs & List of Figures