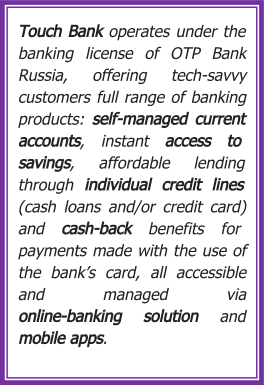 Fintech is no news in Russia, but when it comes to the regions and provinces that make almost 90% of the country's population, conventional banks with their wide branch networks are hard to compete with. Unfortunately, that competition has nothing to do with technical innovation – the hardest thing is to break the decades' long habit of paycheque cashing for further payments, purchases and savings. This challenge is accepted by a newbie challenger Touch Bank, launched in April 2015 by the OTP Group as a standalone digital-only bank in Russia.
In December 2016 Touch Bank crossed one of its major benchmarks – a full year of operational activity. Launched as a pilot in several provinces in the end of 2015, digital retail bank in Russian, has acquired nearly 120K active customers (over 300K applications) within the first year, covering delivery of its universal credit-debit cards to more than 100 cities.
At the beginning of 2017, Touch Bank made a deep dive into analyzing its current customer base to find out who and where in Russia prefer to self-manage their finances, how much money they are ready to save with the new bank and what are the spending habits of an average customer.
Russia goes digital  
Majority of Touch Bank customers (71%) are 25-45 year old men living in the capital cities of Moscow and St. Petersburg – nearly 40% of the active customer base. But what is more interesting, is that 60% of the bank's customer base is saturated in the regional cities with population nearly reaching one million people, who are ready to give digital real-time banking a chance, as traditional brick-and-mortar financial institutions lack technological and customer-centric solutions.
Top-10 cities by the number of active customers, Touch Bank, December 2016
Moscow

(population approx.

12.4

million)

St. Petersburg

(

5.2

million)

Ekaterinburg

(

1.4

million)

Kazan

(

1.2

million)

Novosibirsk

(

1.6

million)

Samara

(

1.2

million)

Krasnodar

(

0.8

million)

Chelyabinsk

(

1.2

million)

Rostov-na-Donu

(

1.1

million)

Nizhniy Novgorod

(

1.2

million)
Cash or card payments?
Touch Bank clients use their debit-credit cards mainly for daily purchases – 40% of the clients make over 20 monthly purchases using bank's cards, spending on average around $26 per POS-transaction and $534 of total monthly spend. 23% of all purchases made in December 2016 were paid with contactless PayPass payment technology (MasterCard build-in feature). The ratio of POS-transactions to cash withdrawal is 49% vs. 51%, respectively, demonstrating that digital-bank's clients do actively use cards for payments instead of cash.  
Overall, challenger's clients are ready to use digital beyond daily payments – most of the clients have savings accounts opened and managed online and via bank's mobile app. Touch Bank's deposits are not limited in time and there is an option to top up or withdraw money from the savings account anytime, interest is paid on daily basis toping up savings' account balance. By the end of December 2016, average amount of savings made by Touch Bank customers was over $3,500 vs. $2,654 market average.
Loyalty programme
Touch Bank encourages clients to use their cards for everyday purchases by offering simple and beneficial cash-back – 1% for all purchases made with the bank's card and 3% cash-back for purchases within client's favorite category (personal choice of each customer, can be changed once per month). This is a fair and transparent approach to loyalty programme aimed at both acquisition and retention, offering customers an opportunity to decide which purchases they want to receive maximum benefits for and whether to use or save these rewards for later reimbursement.    
In 2016 Touch Bank reimbursed over $1.3 million worth of bonus points. According to Touch Bank's loyalty program, 1 bonus point equals 1 ruble; saved-up bonuses can be used for reimbursement of purchases from 1,000 rubles and more.
Top-5 Favorites categories

Touch Bank's in the

Best Banking Loyalty Programmes' Rating in Russia

Daily purchases

Cars and moto

Electronics and gadgets  

House remodeling and     reconstruction

Cafes and restaurants

Maximum profit for shoppers

– 2

nd

place

Maximum profit for all –

3

rd

place

Maximum profit for car owners

– 4

th

place

2016 best loyalty program

– 6

th

place
Online-banking and mobile app
Touch Bank aims to be available on any device convenient for their clients, whether it's a smartphone, desktop computer or a notebook. The company has been working on both online-banking solution for browsers and mobile apps from the very beginning. While there has been a lot of industry talk about mobile-only and mobile-first, Touch Bank numbers show that there is tendency for mobile-first: average number of sessions in Touch Bank's mobile apps (cumulatively on iOS and Android) is 53% vs. 47% in online-banking solution, meaning that 3 out of 5 "entrances" to the bank are made from mobile devices. The number of Android users is significantly higher – 61% vs. 39% of iOS device owners, which is not surprising taking into account Touch Bank's presence in the regions. At the same time, Apple fans use banking app more often – over 3 times a day vs. 1 daily "entrance" on Android.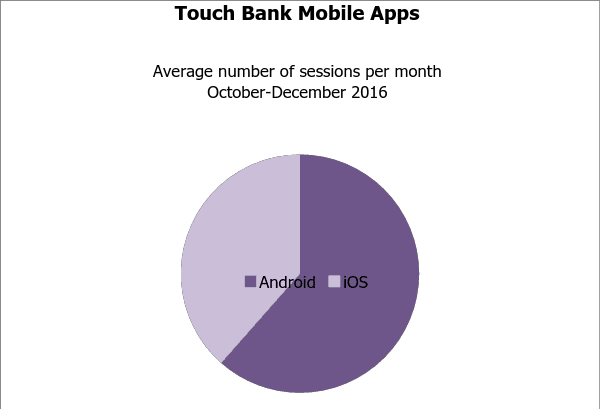 Looking back at the 2016 there is a strong interest in digital services throughout the country and plenty of room for growth, especially taking into account millions of Russian residents living outside of big cities with no option but there usual traditional bank on the main street for paycheque cashing.
TouchBank 2016 Factsheet
Customer base: over 120,000 clients received bank's card in 2016, over 60% actively use bank's products and services
Customer base growth: for the last three month (November 2016 – January 2017) bank was attracting about 12,000 clients per month on average
Source of attraction: organic growth and advertisement channels, Touch Bank doesn't cannibalize on OTP Bank's customer base in Russia  
Volume of attracted deposits and current accounts: 4+ billion rubles  
Volume of opened credit lines: 2.5 billion rubles
Deposits – Touch Bank clients have instant access to savings accounts and no limitations for top-up or withdrawal; progressive annual interest rate of 7%, 7.5% and 8% is paid daily and calculated based on a period of time without withdrawal (7% up to 30 days, 7.5% starting from the 31 day and 8% from 91 day with no withdrawal)  
Credit line products: revolving credit line with self-management tools, clients decide whether to use an approved limit as a credit card, cash loans or both types at the same time Geography of service – over 100 cities in Russia
Boilerplate
Touch Bank is digital-only retail bank in Russia launched in April 2015 by the OTP Group, one of the leading financial institutions in Eastern Europe. By November 2015 Touch Bank was serving clients in more than 100 cities and towns of Russian Federation; Touch Bank operates under banking license of OTP Bank and is regulated by the Russian credit and banking legislation. Touch Bank doesn't have a branch network or brick-and-mortar offices, financial services are provided through online banking solution, mobile applications for iOS and Android and via interactive communication channels; the bank is open and available 24/7 at any place in the world, with no ques or additional paperwork. Financial services and products offered by Touch Bank are delivered via single debit-credit cards and include convenient top-up channels, self-managed current accounts and deposit in various currencies, revolving credit lines (credit card and/or cash loans), money transfers, one-click payments and other options driving efficient personal finance management in real-time.
National Banking Magazine recognized Touch Bank as the best online bank of 2015. Retail Banker International awarded Touch Bank with the "Innovative Product of the Year 2016".