Safety is the most important factor with regards to industrial operations to avert the ever-increasing number of mishaps on floor. Of late, high-performance rupture discs are being asked for. Plus, there are regulatory bodies that have formulations for improving operation safety are making it mandatory.
Additionally, growth in the upstream production on continuous basis is impacting the industry on a substantial note. The basic functionality of rupture discs to render protection to plants, equipment, and personnel for protecting safety valves against leakage, plugging, and corrosion, and also for providing cost-effective handling in the long run. These days, advanced engineering and laser technology are being used for tabling cost-effective and reliable discs.
Emerging economies are also offering end-user satisfaction with competitive cost offerings. The regional distributors are also into establishment of sales as well as service facilities in these emerging countries.
Persistence Market Research has walked through these findings with suggested calls to action in its latest market study entitled "Rupture Disc Market". Everything has been entailed herein.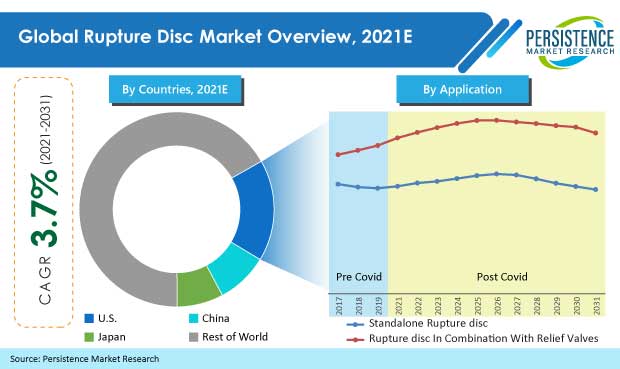 How is the Rupture Disc Market dispersed?
The global rupture disc market, by type of material, spans metallic rupture discs and graphite rupture discs. By type of product, it's positive arch rupture discs, anti-arch rupture discs, and flat type rupture discs. By application, it's rupture discs in combination with relief valves and standalone rupture discs. By end-user, it's transportation, aerospace, automotive, oil & gas, energy, chemicals, pharmaceuticals, and likewise. Out of these, flat type rupture discs hold the largest market share. Persistence Market Research has mentioned about these facts with preventive/corrective measures to be taken in its latest market study entitled "Rupture Disc Market".
Region-wise Breakthrough
North America holds the largest market share due to the US being home to the key players herein. The end-users include automotive & transportation, pharmaceutical industries, energy, and oil & gas. Europe stands second on the similar grounds. However, the Asia-Pacific is expected to grow at the fastest rate in the rupture disc market due to the rising demand for rupture disc by petrochemical industries, chemical industries, and power generation vertical. South China is also supporting exploration of oil & gas, thereby resulting in greater installation of valves and pipes. The same logic is applicable for India. Persistence Market Research has entailed these facts with insights in its latest market study entitled "Rupture Disc Market".
GAIN COMPLETE ACCESS TO THE REPORT – https://www.persistencemarketresearch.com/checkout/30133
The Competitive Zing
Persistence Market Research has profiled the key players in rupture disc market as BS&B Safety Systems, LLC, Fike Corporation, Parket Hannifin Corp, Halma Plc, Graco Inc., Wolff Group, V-Tex Corp., Emerson Electric Co., Continental Disc Corporation LLC, Mersen Group, REMBE, and BASCO. The players mentioned above are focusing on various design advancements for pushing engineered rupture discs along with associated technologies for meeting new-fangled levels of safety and precision. Inorganic modes of expansion like mergers, acquisitions, partnerships, and joint ventures for strengthening the foothold in this market.
The Path Further
The global rupture disc market is slated to grow on an irreversible note between 2021 and 2031 – Persistence Market Research