The rotating equipment repair market is subject to adoption of technologies like wireless sensors and IoT, as customized configuration could be done for providing PDF reports and alert notification emails.
How is the Rotating Equipment Repair Market categorized?
The global rotating equipment repair market, by nature of service, spans condition monitoring & reliability services, reverse engineering & upgrade, repair, refurbish, and retrofit, installation and commissioning, and components & operating software upgrade. By equipment, it's centrifugal compressors, pumps, agitator & mixers, turbines, gas turbines, and steam turbines.
By end-use, it's oil & gas (downstream, midstream, and upstream), power generation, mining, HVAC, water & waste water treatment, general manufacturing, and other industrial. By sales channel, it's direct OEM-based, independent service vendor-based (offsite and onsite (field service)). Out of these, components & operating software upgrade hold the largest market share. Persistence Market Research has sketched these facts with subsequent steps to be taken from the future perspective in its latest market study entitled "Rotating Equipment Repair Market".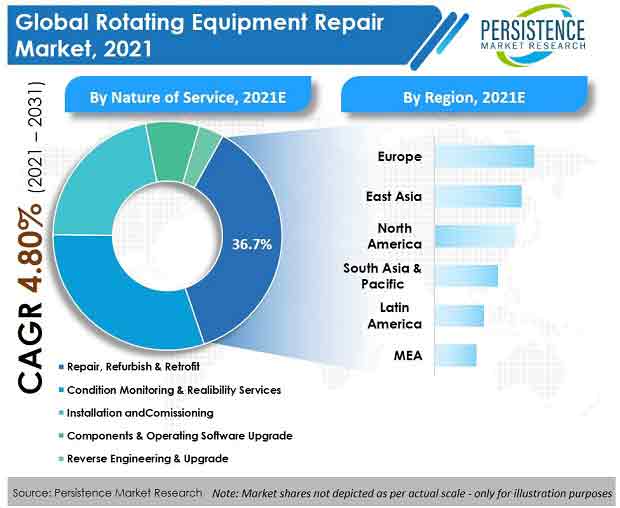 Region-wise Snapshot
North America holds a significant market share due to the US being home to the major players. Russia is another lucrative market with growing investments in the offshore oil & gas fields. However, the Asia-Pacific is expected to grow at the fastest rate in the rotating equipment repair market with countries like India and China leading from the front. Various manufacturers are setting up their bases in these countries as the overheads are less. Also, these two regions are in need of good equipment and machinery. Persistence Market Research has mentioned about these facts with insights in its latest market study entitled "Rotating Equipment Repair Market".
Competitive Rotation
Persistence Market Research has profiled the key players in rotating equipment repair market include The Weir Group Plc, Flowserve Corporation, General Electric Company, Siemens AG, KSB SE & Co. KGaA, Ebara Corporation, Suzler AG, John Wood Group Plc, Torishima Pump Mfg. Co., Ltd., MAN SE, Stork, Hydro Inc., Triple EEE, Amaru Giovanni Srl, Rainbow Mechanical Solutions LLC, De Pretto Industrie, Maintenance Partners NV, CFATEC, TS&S, Basis Plant Services Srl, MEOS Co., LLC, S.T. Cotter Turbine Services, Inc., and Al-Rushaid Group.
GAIN COMPLETE ACCESS TO THE REPORT – https://www.persistencemarketresearch.com/checkout/27712
Persistence Market Research has also mentioned that the players are engaged in organic as well as inorganic modes of expansion to strengthen their product portfolio. They are inclusive of mergers, acquisitions, partnerships, joint ventures, and new product launches.
The Road Ahead
The global rotating equipment repair market is bound to grow on a good note in the next 10 years – Persistence Market Research