Non-fungible tokens can serve many use cases, including immortalizing history on the blockchain. For example, the Romanus Numerus project merges history and technology, connecting the past with the future. It is intriguing to see a collection of Roman Numbers in the NFT space, as artists had not explored that concept previously. 
The Romanus Numerus Collection
Bringing historical events to the blockchain through NFT technology is a viable concept. Our species has witnessed many events through the centuries, and creating a record of important dates – to serve as digital breadcrumbs of sorts – will ensure those moments are immortalized forever. With the help of blockchain technology and NFT tokenization, everyone will learn more about these historical dates and why they matter.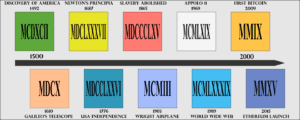 Romanus Numerus captures these historical moments by using Roman numbers. A total of 100 historical events will be tokenized as NFTs on the Ethereum blockchain forever. The team also captures the numbers 1-100 in Roman numbers. Every NFT – either date or number – is handcrafted. The artist prefers this method over automatically generating collectibles through a script or smart contract, as that wouldn't suit the serious nature of this project. 
Every important date comes with a short description of the historical event. Through that description, collectors will know why the date matters, what happened, and how it may affect the life we lead today. Humanity has evolved significantly over time, and no influence was as prevalent as the Roman one. Thus, seeing an NFT commemorating the invention of the World Wide Web in Roman numbers feels unique and creative. 
Combining that influence with creating a permanent record of historical events through modern technology connects the dots between past and present. Through non-fungible token technology, anyone can obtain a piece of history in digital format. Moreover, the NFT holder has irrevocable ownership over that NFT, which may lead to other use cases in the future. 
A Different Type Of Collection
Several aspects of Romanus Numerus make it different from most NFT projects accessible today. First, there is the very limited availability of 200 NFTs in total, half of which represent historical events. So far, over 80% of the events have been determined by the team, although community members are welcome to submit ideas for the remaining spots via Twitter. It is an intelligent way of building community engagement and attracting attention to his project. 
Second, there is the first-mover advantage of leveraging Roman numbers. No other collection puts these numbers front and center. Moreover, none of the NFTs are auto-generated, adding an extra layer of finesse to this NFT collection.
Third, the project's growing popularity, primarily thanks to this community. The partnership with BitColors also helps, as it allows for inking dates with the name of the colors used. BitColors is, like Romanus Numerus, a handcrafted project, aligning the teams' respective visions. For example, the aforementioned Invention of the World Wide Web NFT uses "Vitalik Clapping" as a color. 
The Roman numbers of 1-100 in the collection can mean different things to different people. Like color has a different meaning and value to everyone, so do numbers. NFT collections can be about more than profile pictures or extensive collections, as they can also tug on one's emotions and mindset. It is an intriguing evolution in this ever-growing space.