Growing emphasis on electric vehicles is accelerating the demand for robots across almost every industry vertical, which will, in turn, drive the usage of roller screws in automotive sector to improvise on efficiency. They are used in the form of alternatives to pneumatic actuators due to the fact that they end up saving more energy due to greater mechanical efficiency.
Recirculating roller screws make way for linear motion to actuate downhole drilling completion tools along with surface completion production equipment. Roller screws are also being used at fast pace in the electric aircraft in the form of actuators for converting the aircraft's rotary motion into linear motion.
The aerospace vertical is witnessing rise on a steady note since the last few years. Roller screws come into picture regarding flight controls. This end-user is growing at the quickest pace, which is keeping the cash registers ringing for the roller screw market. His scenario is expected to remain unchanged in the upcoming period as well. Coming to vehicle production, roller screws enact the role of electromechanical actuators for undertaking pressing applications. Persistence Market Research has mentioned about these developments with suggested future courses of action in its latest market study entitled "Roller Screw Market".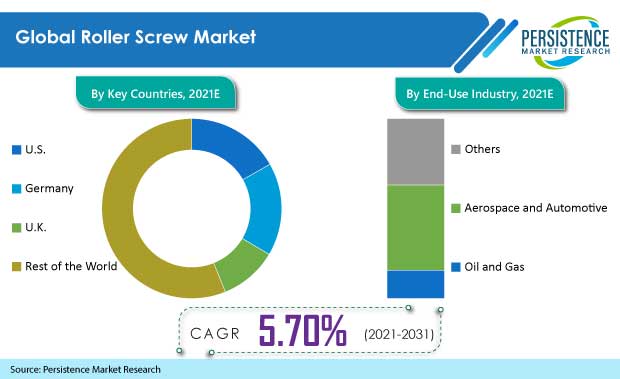 Roller Screw Market Dynamics
The global roller screw market, by type of product, spans standard roller screws, recirculating roller screws, inverted roller screws, and bearing rings. By end-user industry, it's roller screws for aerospace, roller screws for oil & gas, roller screws for automotive, roller screws for steel manufacturing, and likewise. Out of these, the oil & gas sector holds the largest market share. Persistence Market Research has highlighted these facts with future measures to be taken in its latest market study entitled "Roller Screw market".
Region-based Competence
North America holds the largest market share with the US being home to developed end-use sectors. The country also has a big manufacturing base for several end-users needing roller screws. Europe stands second with the UK expected to grow at a staggering CAGR in the forecast period. The aerospace and automotive verticals are leading this region from the front. The Asia-Pacific is expected to grow at the fastest pace in the roller screw market. China is holding the baton of growth. It has been observed that China-based manufacturers and distributors of roller screws make them available at a cost lower than global players.
Competitive Analysis
Persistence Market Research has profiled the key players in the roller screw market as AB SKF, Creative Motion Control, Rollvis SA, Kugel Motion Ltd., Nook Industries Inc., Moog Inc., Power Jacks Ltd., August Steinmeyer GmbH & Co. KG, Schaeffler AG, and Bosch Rexroth Group. These players are full-on into organic as well as inorganic modes of expansion for strengthening their base in the roller screw market. These modes are inclusive of innovations, collaborations, partnerships, strategic alliances, and reaching out to distribution networks at the local level as well.
GAIN COMPLETE ACCESS TO THE REPORT – https://www.persistencemarketresearch.com/checkout/15469
What's in store for the Future?
The global roller screw market is likely to grow on an astounding note between 2021 and 2031 – Persistence Market Research