What Is Rocket Dollar?
Founded in 2018 by Rocket Dollar is an investing platform designed for investors looking to put their retirement money to work. With Rocket Dollar, you can quickly rollover funds from an existing IRA or create a new account with any of their partner custodians and access alternative investments.
Some options listed in the Rocket Dollar dashboard include cryptocurrencies and precious metals. Still, you can invest in more unusual options like farmland and peer-to-peer loans. Rocket Dollar offers two plans – Rocket Dollar Silver & Gold –and for just $15-$30/month, takes care of tax filings, including Solo 401(k) form 5500, Fair Market Value form 5498, and more.
In this quick Rocket Dollar summary, I will go over all the best features of this platform. If you want to read a more in-depth analysis, check out our full Rocket Dollar Self-Directed IRA review.
Pros & Cons of Rocket Dollar
Pros
No minimum deposit to open an account
Invest in alternative investments like crypto, farmland, and precious metals
Cash deposits insured by the FDIC
No fees for rollover or transfers from other IRA custodians
Automatic tax filings
Very low monthly fees ($15-$30)
Comprehensive educational resources
You can Bring Your Own Deals (BYOD)
Cons
High upfront setup fee ($360-$600)
Rocket Dollar Plans
Rocket Dollar offers two subscriptions with very affordable fees: Rocket Dollar Silver and Rocket Dollar Gold. Both subscriptions provide complete checkbook control to pick and choose your investments and track everything from the Rocket Dollar dashboard. There are no minimum investments to open a Rocket Dollar account. You can fund your account directly or rollover from an existing account at no additional cost.
The Rocket Dollar Silver subscription offers access to Traditional & Roth IRA and Solo 401(k) accounts, online document storage, free transfers from other IRA custodians, flexible investment options with their Bring Your Own Deal (BYOB) policy, and Fair Market Value reporting. For this subscription, there's a $15 monthly fee plus a one-time $360 fee to set up your account.
With the Rocket Dollar Gold plan, you'll have access to all the benefits from the Rocket Dollar Silver subscription, plus access to expedited services and transfers, four complimentary wire transfer every year, assistance when converting Roth IRA accounts, and tax filing for Solo 401(k) form 5500. The fees for this plan are $30/month plus a $600 one-time fee.
Supported IRAs
Rocket Dollar supports most IRA accounts – Traditional, Roth, 401(k)'s, SEP-IRAS, and more –but some are available for Rocket Dollar Gold users only. Creating an IRA account is very easy, and the only requirement is that you're younger than 70 years old.
After you create your Rocket Dollar Self-Directed IRA account, you can fund it through a rollover from an existing IRA account, rollover from a 401(k) plan, or transfer an old IRA. You'll have complete checkbook control in choosing your investments, and Rocket Dollar will take care of opening a bank account in your name at Solera National Bank, one of Rocket Dollar's partners.
Invest In The Most Profitable Alternative Investments
With Rocket Dollar, you can invest in six of the most successful alternative investments and access all the tax advantages of IRAs. Some of the unique options available on their SDIRAs include:
Small businesses and startups
Peer-to-peer loans
Cryptocurrencies
Precious metals
Private Equity
Real estate
Farmland
For the complete list of alternative investments available, check out our full Rocket Dollar review.
Educational Resources For Beginners
For new investors, Rocket Dollar has a lot of educational resources, including detailed information on setting up your IRA account and everything you need to know about these tax-advantaged retirement accounts – The Rocket Dollar Guide to Self-Directed Retirement Plans. The most popular educational resources include:
The Rocket Dollar Podcast
Guide & Webinars
Research Hub
Knowledge Base
In the Rocket Dollar Podcast, they bring professional investors, researchers & analysts, and even CEOs. In the Rocket Dollar Podcast, they bridge topics like How Diamonds Can Fit Into Your Portfolio, Uncorking the Secret World of Fine Wine and Rare Spirits Investing, and Build Your Real Estate Empire with CEO Dana Dunford, with crucial insights directly from the experts.
Rocket Dollar Fees
Rocket Dollar Silver Account: $15/month (plus a one-time $360 setup fee)
Rocket Dollar Gold Account: $30/month (plus a one-time $600 setup fee)
Sign-Up Process
Rocket Dollar is only available for US citizens with a US phone number and mailing address. Other than that, there are no special requirements to get started; here are the steps to open your account:
Visit Rocket Dollar's website
On the top right, click Start Investing
Enter your US-based phone number
Fill in some of your basic information
If you use our link to sign up, you'll get a discount of up to 15% on your Silver and Gold account, plus the option to join their referral program and earn commissions every time one of your referees joins using your link.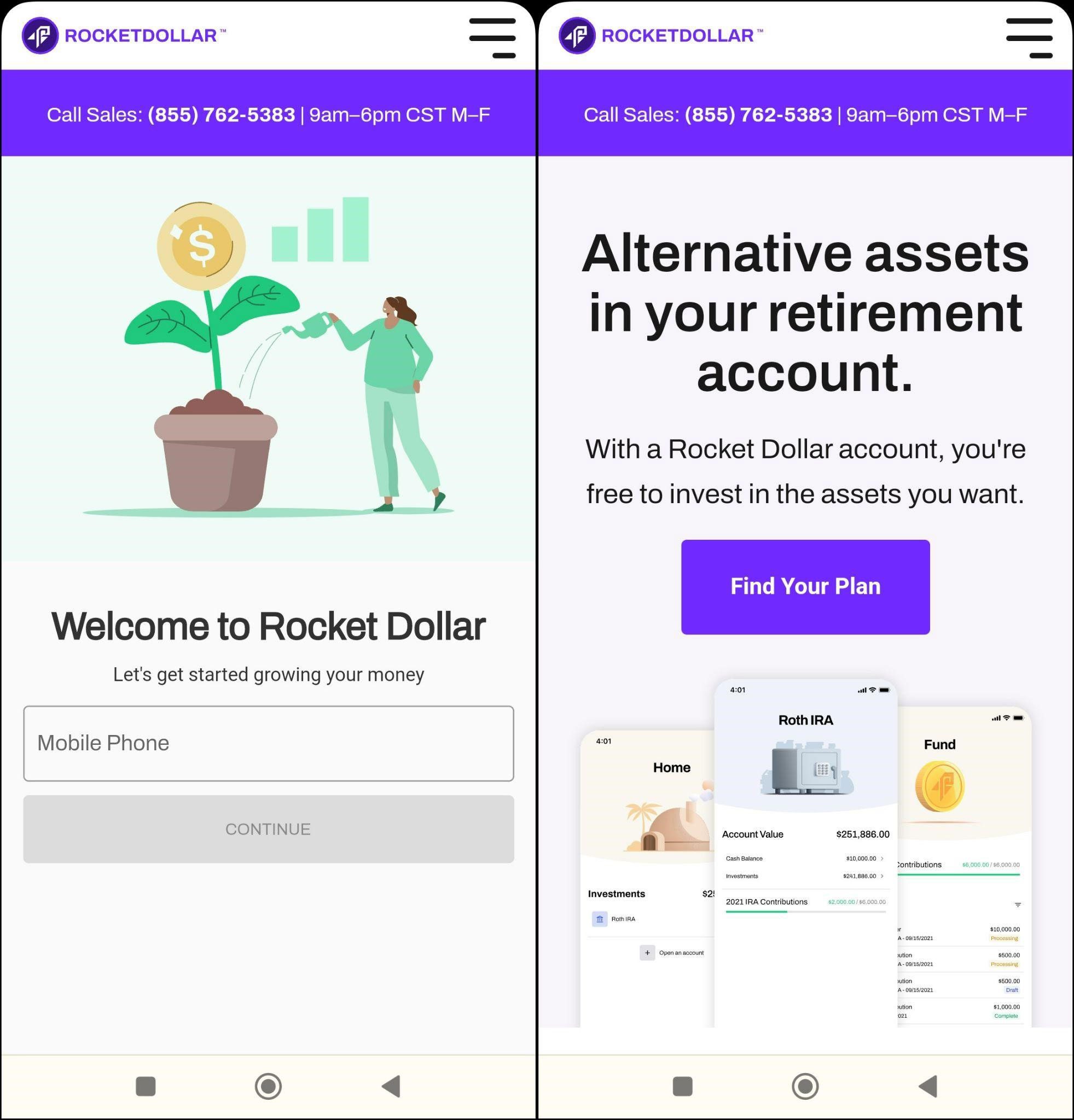 Final Thoughts
Rocket Dollar is the perfect investing platform for self-directed investors looking to take control of their retirement fund and put it to work. It's our top recommendation for experienced US investors looking to access alternative investments, diversify their portfolio, and keep fees at a minimum. For its low prices and flexible investment options, we recommend Rocket Dollar for beginner and experienced investors alike.