What Is Rocket Dollar?
Rocket Dollar is an investing platform for investors looking to put their retirement savings to work. Rocket Dollar was founded in 2018 by Henry Yoshida, Richard Dude, and Thomas Young. Their main goal was to offer investors complete access to unique investment opportunities and full control over their investments quickly and easily. Some options available are real estate, private equities, and crypto, among many others.
Rocket Dollar is compatible with five self-directed accounts, including IRAs, Roth IRAs, and Solo 401(k), and provides complete checkbook control. It offers two plans users can choose from and competitively low fees compared to the industry standard.
In this quick Rocket Dollar summary, I will go over the best benefits and features of this platform and fees – if you're looking for a more in-depth breakdown, here's our full Rocket Dollar review.
Pros & Cons of Rocket Dollar
Pros
No minimum opening deposit
Bring Your Own Deal (BYOD)
Insured by the FDIC
No transfer fees when moving in from another custodian
Tax filing documentation
Insured by the FDIC
Supports unique investments like crypto, real estate, and P2p loans
Cons
Upfront account setup fee ($360-$600)
Requires a deep understanding of investing
Features & Benefits Of Rocket Dollar
1) Rocket Dollar Plans
Rocket Dollar offers two plans: Rocket Dollar Silver and Rocket Dollar Gold. Both plans provide checkbook control so you can have complete flexibility in your choice of investments and access to a dashboard to track all your investments. There are no minimums to get started, and you won't pay any fee when transferring from another custodian. Here are some additional features each plan offers:
Rocket Dollar Silver is the basic plan; it has a one-time setup fee of $360 plus a $15/monthly fee. It supports three self-investing accounts – Traditional IRA, Roth IRA, and Solo 401(k) –, online document storage, and limited reporting with Fair Market Value reporting on Form 5498.
Rocket Dollar's premium plan, Rocket Dollar Gold, has all the benefits of the silver plan plus expedited transfers and services, priority support, and tax filing documentation for Roth IRA and Solo 401(k). Additionally, you'll have four free wire transfers per year (which regularly cost $10-$25). The fees are $600 to set up your account plus a $30/monthly fee.
Keep in mind Rocket Dollar doesn't offer financial advice – you are entirely on your own choosing your investments. We recommend using Rocket Dollar with an investment picking service like The Motley Fool or a research platform like TradingView.
2) Supported Account Types
Rocket Dollar supports five different accounts, including Traditional and Roth IRAs, beneficiary/inherited IRAs, 401(k), and SEP-IRAs. Keep in mind Roth and SEP-IRA are only available for Gold users – that means you will need to sign up for Rocket Dollar Gold to invest using these accounts. All other accounts are available for both Silver and Gold accounts. Here's the summary for self-directed accounts:
Traditional IRA
Roth IRA
Solo 401(k)
Beneficiary/Inherited IRA (Gold Only)
SEP-IRA (Gold Only)
Keep in mind you will have complete checkbook control when choosing your investments; when you sign up, Rocket Dollar will open a bank account at their partner Solera National Bank.
3) Supported Investments
Most brokerages out there are very limited when it comes to investing through a retirement plan; most offer the usual stocks, bonds, ETFs, and mutual funds. Rocket Dollar takes a different approach and provides unique options for investors. With Rocket Dollar, you can diversify your retirement portfolio by investing in:
Real Estate
Cryptocurrency
Small Businesses & Startups
Peer-to-peer Loans
Private Equity
Precious Metals (Silver, gold, palladium, and platinum)
They have a very extensive list of assets; you can check the complete list on their website. If you're looking to invest specifically in precious metals, we recommend a specialized platform like Money Metals; it supports six different precious metals – in all shapes and forms – and offers competitive rates.
4) Rocket Dollar Security
Rocket Dollar is partnered with Solera National bank and offers insurance through the Federal Deposit Insurance Corporation (FDIC) for banking cash deposits and fraud, for up to $250,000 per person. They also conduct regular SOC2 Type II audits to ensure integrity, confidentiality, and privacy is maintained.
All Rocket Dollars accounts are covered (including Checking, Savings, and Money Market Deposit Accounts), and so are Certificates of deposit. Keep in mind the coverage is applicable for cash deposits; after you invest, you are not covered, and as with any investment, there's some risk involved.
Rocket Dollar Fees
Rocket Dollar Silver Fees: $360 setup fee, plus $15/month
Rocket Dollar Gold Fees: $600 setup fee, plus $30/month
Assets Under Management (AUM) Fee: Free
Transfer Fees: Free
Domestic Outgoing Wire Transfer Fees: $25
Domestic Incoming Wire Transfer Fees: $10
The setup fee is paid once when you sign up, and it's used to set up your account. After that, there's a monthly flat fee depending on your plan. Suppose you upgrade from the Rocket Dollar Silver Plan to the Gold plan; you only have to pay the difference between the setup fees.
Rocket Dollar doesn't charge any fees if you want to transfer cash assets from a retirement account to a Rocket Dollar account or from Rocket Dollar to an external account.
Sign-Up Process
Rocket Dollar is available for citizens in the US, and there are no special requirements other than having taxable income or an old retirement account.
Visit Rocket Dollar's website
Open the menu in the top right and click Get Started
Enter your email
Fill in some of your basic information
If you use this link to sign up, you can get up to 15% of your account sale price, and after you verify your account, you can even set up your affiliate link to earn a commission for every friend you refer.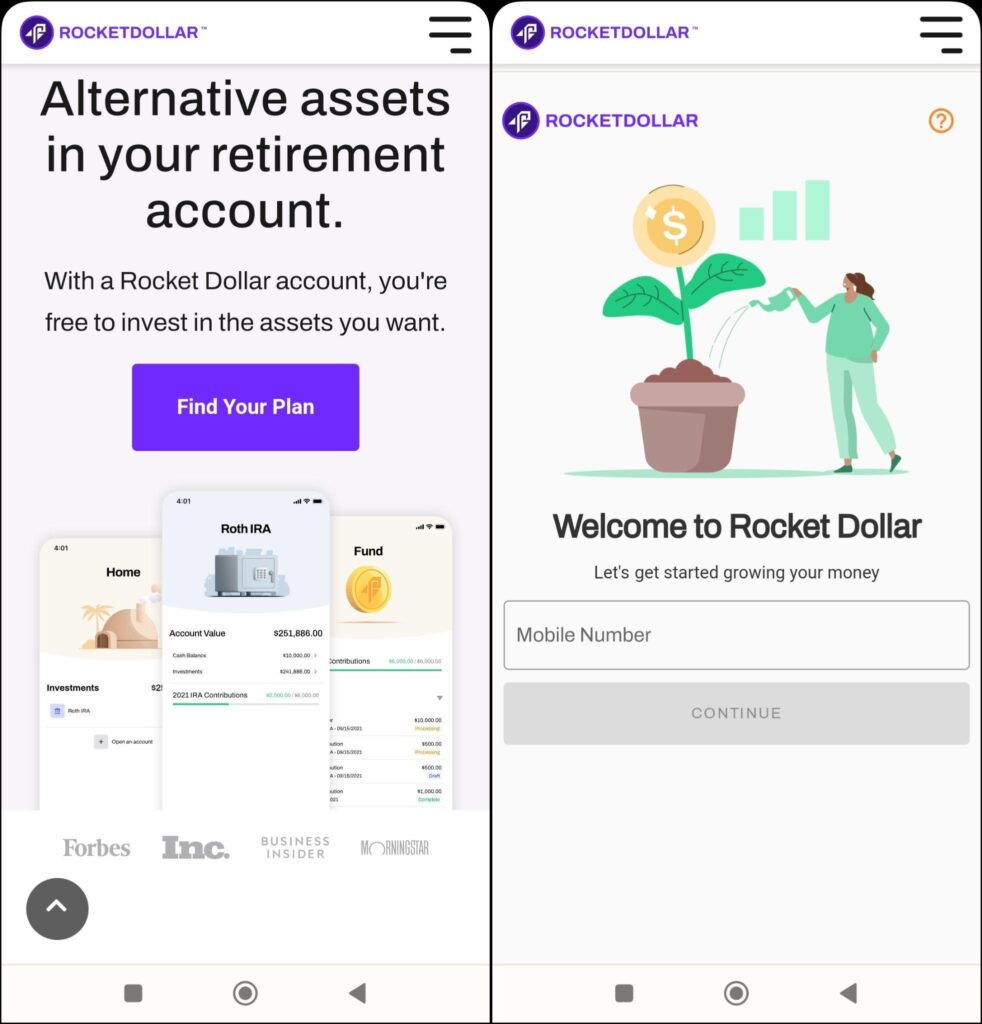 Final Thoughts
Rocket Dollar is an investing platform for self-directed investors who want to take control of their retirement savings. It is an excellent platform for experienced investors who wish to access unusual investments like crypto and P2p loans while keeping fees at a minimum. Rocket Dollar doesn't offer financial advice, so if you are a new investor, it's worth looking into a stock picking service and using it alongside Rocket Dollar to increase your success.