High-quality road infrastructure is the need of the hour amidst rapid industrialization backed by urbanization. This has, in turn, increased spending on the same road infrastructure since the last few years for enabling traveling and trade, along with encouragement of education. This calls for road marking equipment. The scenario is expected to bring in growth-oriented surprises in the road marking equipment in the upcoming period.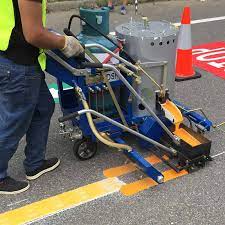 The key participants in the road marking equipment market include: RME, United Pavement Marking,, Inc., EZ-Liner, HOFFMANN, Graco Inc., MRL Equipment Co., BORUM A/S/, STiM, Arrow Striping and Manufacturing, Toyo Nainenki Kogyosha Co., Ltd., CRM s.r.l., Sibestar s.r.l., ROCOL (part of ITW), and Toyo Nainenki Kogyosha Co., Ltd.
Coming to the latest offerings, Hoffmann, in May 2021, did unveil its new-fangled cloud management system for its road marking equipment. It claims to help operators manage equipment on common platform through smartphone app or Internet. The same Hoffmann, in 2020, did launch road marking equipment H10-2 along with new-generation road marking equipment H18-2. On the inorganic growth front, The Borum A/S, in October 2018, entered into partnership with Core Equipment to distribute, maintain, and service Borum road marking equipment all across Canada.
The Asia-Pacific is the major revenue generator to the road marking equipment market. Japan, India, and China are the torchbearers. Europe holds a noteworthy share in the road marking equipment market. The UK, Italy, France, and Germany dominate the market in Europe. North America is already going steady with regards to road marking equipment market.
The road marking equipment market, by type, spans hand-propelled, self-propelled, and truck-mounted. Coating-wise, it's cold paints, thermoplastic paints, and likewise. Technology-wise, it's airless road marking equipment, airspray road marking equipment, and thermoplastic airspray road marking equipment. Equipment-wise, it's road construction contractors (government and private), construction companies, airports, and sports infrastructure.
CLICK HERE TO GET A SAMPLE REPORT (INCLUDING FULL TOC, TABLE & FIGURES) – https://www.persistencemarketresearch.com/samples/27388
Out of these, sports infrastructure has been doing the rounds since the last 3-4 years, especially with sports events like Tokyo Olympics in the year 2021. Also, several sports festivals were conducted in 2021 (instead of 2020) due to the outbreak of Covid-19. Sports stadia are found in the highest number in the US, followed by the Europe. Sports activities are, in fact, encouraged right from the school in these regions. The developing countries like India are also taking a cue on this count. Going forward, India is bound to account for a good amount of market share with the awareness rising substantially.