Optimizing production workflow is crucial for any industrial company hoping to reduce costs and production line times while maintaining and even improving quality and precision. Using high speed camera with high fps imaging technology to monitor, record, and analyse the production steps is an innovative yet proven method to achieve this.
What is a high speed camera?
Advances in high frame rate speed cameras, including thermal imaging and even incorporated LED lighting, can have a major impact on the production line in order to identify problem areas and even find areas of improvement. This product focus on high frame rates, and good resolution imagining on the production process allows for detailed playback with high definition and sharp imaging. The cameras can also use a wide range of accessories, including:
Magnetic bases, clamps, or suction cups for fixation.
Trigger or wireless triggers for recording
Tripods.
Wide-angle lenses for improved capture & recording views.
512GB and 1TB 12″ tablets for settings, recording and video playback
LED lights for better vision & lightning
Battery kits
What are the advantages?
A high speed camera provides a lot of advantages for industrial companies, such as:
Ease of use & highly configurable
Ease of use for software and configuration are essential, and the software program controlling the cameras is simple yet powerful, allowing for any necessary data recording parameters required by the operator or production manager. For example, configurable recording frame rates range from 225 to 2,500 fps with resolutions from 800×600 to 1280×1024. FPS is connected to the selected resolution, but several combinations are possible to order to maximize recording and video playback.
Easy installation with powerful practical accessories
The cameras are not only highly configurable but also compact in size, and the various attachment accessories allow them to be quickly installed and also uninstalled in any environment or space. Battery-powered LED lighting, though an option, can be extremely useful in production areas without adequate or poor lighting or areas with no readily available power source. The tablets in 512GB and 1TB formats allow for manual or automatic recording depending on operator requirements.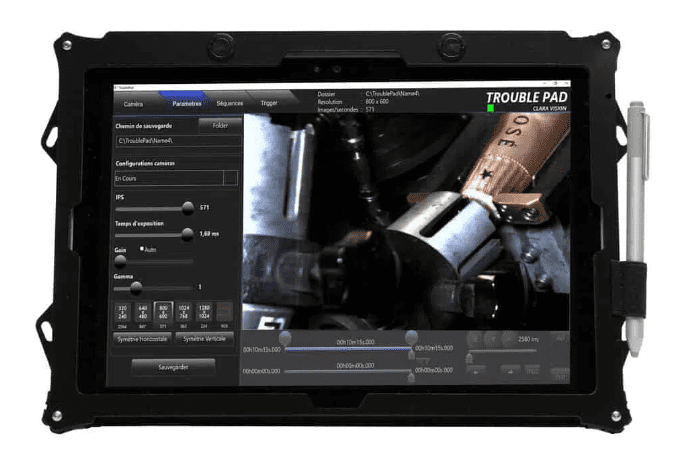 Adaptable solution for all types of industrial production lines
Having a solution that is flexible, easy to put in place and remove without impacting the production line process, and which also provides indispensable imaging data to identify flaws and problem areas or simply improve areas already running well. Captured video data can be viewed remotely in real time or saved in the cloud negating any need to physically access the cameras once in place unless to move them. This data can also be studied by the production team or used in collaboration with AI, which can quickly and efficiently sort through data, and then propose modifications that can be implemented and then monitored.
Stand alone or complement
The high-speed camera solution can seamlessly be used as a complement to an existing vision system or as a complete stand-alone solution. Whatever option the modulable and adaptable design can be used or deployed in small production units or in large high-scale industrial sites.
Industry standards, security & quality
As the light high-speed camera units are self-contained systems, they pose no pollution or contamination risks to any product in industrial sectors such as food manufacturing or pharmaceutical production. Direct Remote viewing or cloud video uploads removes the need for physical intervention and therefore further reduce contamination or production downtime risks. The high speed cameras are extremely useful for data capture of a new product and how they perform in existing or new manufacturing production lines.
This frees up qualified personnel for other tasks in the manufacturing or production process, resulting in large labor cost reductions and time savings. The quality control process is very important in the manufacturing industry and the high speed cameras also have an important part to play here. Quality specifications can be easier investigated, and proved by images and real-time vision of any product on any part of the production line either for a customer SLA or the manufacturing company itself for internal audits for example.