Aging is an intimidating process that can take a toll on your overall confidence. Who doesn't want to turn back the clock and get rid of wrinkles and loose skin? With a sea of advertised solutions in the market, ranging from creams to expensive cosmetic treatments, it's easy to fall for their empty promises. However, what if we tell you that the Revita Beauty 5-In-1 Skin Therapy Wand claims to be the solution to all your problems?
Read on to find out if this skin therapy wand is as effective as it claims and is worth all the hype.
What is the Revita Beauty 5-In-1 Skin Therapy Wand?
If you've ever gone through some Revita Beauty reviews, you'll know the company is dedicated to finding you youth-defining skin solutions that won't break the bank. Their Revita Beauty 5-In-1 Skin Therapy Wand is an easy-to-use portable device that aims to rejuvenate your skin and give you that celebrity glow in the comfort of your own home. With the wand's 5 facial therapy settings, you get a whole spa at your fingertips.
Limited Time Exclusive Offer
Claim 70% Off On RevitaBeauty Therapy Wand! Click Here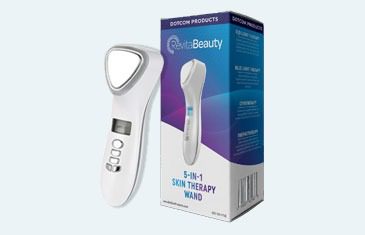 How Does the Revita Beauty Skin Therapy Wand Work?
The Revita Beauty Skin Therapy Wand has the following 5 settings, each based on a specific skin therapy:
Red Light Therapy
30% of your body's protein is made up of collagen, which helps your skin cells retain water and firmness for a more youthful look. The protein, unfortunately, decreases with age leaving you with wrinkles and fine lines. The Revita Beauty skin wand uses near-infrared light to increase collagen production so you get a visibly radiant and smooth look.
Blue Light Therapy
The blue light therapy setting of the skin wand is great if your skin is prone to pimples. It works by using a certain wavelength of blue light to initiate bacteria-killing reactions in your skin. Regularly using the wand on this setting, your skin is cleaned of all the pimple-causing bacteria, leaving you with clear and blemish-free skin.
Cryotherapy
We've all seen the skin hack on the internet in which you put your spoon in the freezer and then use it to gently massage your face. Well, the cryotherapy setting of the skin wand is an elevated version of that hack and helps you depuff your skin as well as reduce the size of your pores to help you look less tired.
Thermotherapy
On the thermotherapy setting, the Ravita wand gently heats your face to expand the skin's blood vessels, allowing for enhanced blood and nutrient flow. With increased blood circulation, new skin cells rise to the skin's surface, making it silky smooth.
Microcurrent Massage
If your main worry is sagging skin, this setting is for you. In this setting, the wand uses low-level currents to sculpt and stimulate the deep layers of your skin. The regular stimulation of the muscles under your skin reduces the appearance of any loose skin by making it firm.
For best results, the company recommends using the wand on your face at least three times per week for a maximum of 20 minutes/day.
Why Use the Revita Beauty 5-In-1 Skin Therapy Wand?
With regular use, we've found the Revita Beauty's skin wand to offer the following benefits:
Reduced wrinkles and fine lines

Firmer and clearer skin

Your face looks less tired and puffy

Much cheaper than cosmetic treatments

Travel friendly
How Much Does the Revita Beauty 5-In-1 Skin Therapy Wand Cost?
As mentioned in other Revita Beauty 5-In-1 Skin Therapy Wand reviews, the wand prices depend on how many devices you buy. Following are the three pricing options:
| | |
| --- | --- |
| Number of Wands | Price |
| 1 | $99.95  |
| 2 | $79.95 each |
| 3 | $69.95 each |
Note that there are no additional shipping charges, and you can get a Journey Protection Package for each wand for only $3.75. We were especially pleased with the brand's 60-day guarantee.
Where Can You Purchase the Wand?
With the Revita Beauty 5-In-1 Skin Therapy Wand sold out in most retail stores, the best place to buy the device is on the official Revita Beauty website.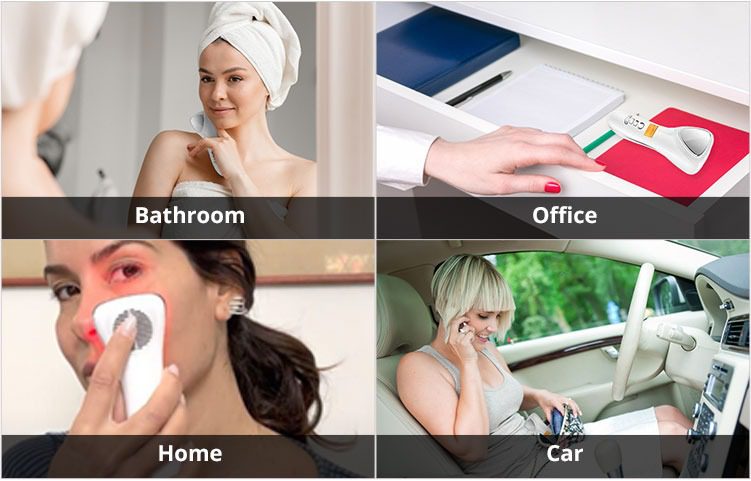 Our Verdict on the Revita Beauty 5-In-1 Skin Therapy Wand 
The Revita Beauty 5-In-1 Skin Therapy Wand is the best skin therapy wand if you're looking to elevate your regular skincare routine. We especially liked how all 5 settings are effective yet gentle on the skin, unlike other devices on the market. Your skin feels rejuvenated after every use, saving you from unnecessary expensive spa trips.
Do note that the wand shouldn't be considered a miracle device that makes your skin as new as a baby's overnight. The device also shouldn't be considered a replacement for professional cosmetic procedures like scaling. That being said, the wand gives excellent results on regular use and is extremely convenient because it can be used and carried anywhere.
Claim 70% Off On RevitaBeauty Therapy Wand! Click Here