The Web3.0 world is experiencing rapid growth. With such unbelievable development, numerous Web3.0 projects relating to cryptocurrency tokens, NFTs, and blockchain games are being launched almost daily. Most projects here must coordinate their approaches to attracting interested and ideal audiences.
This is where the Web3.0 marketing agencies take charge and help a project reach its potential and deliverables. One marketing agency hitting the headlines in the Web3.0 world is Lunar Strategy.
What's so spectacular about this team of Web3.0 marketing experts, and how does it help its clients? Let's unpack why Lunar Strategy is one of the world's most exciting Web3.0 agencies you should probably keep your eye on.
A Little About Lunar Strategy

Lunar Strategy was founded in 2019 by Tim Haldorsson with the fundamental objective of delivering unrivaled value to Web3.0 projects to achieve their full potential.
Evaluating the crypto space highlights one glaringly obvious flaw: thousands of projects creating all kinds of innovative and creative missions, but there is no plan of attack from a marketing point of view. That's where Lunar Strategy comes in!
To solve this problem, a team of seasoned marketing experts was assembled to help Web3.0 investors reach new highs with their Web3.0 projects. Having at present built a fantastic reputation in the space and worked with clients with as large as $1 Billion in revenue, the future looks bright for Tim and his team of innovators.
Lunar Strategy is pioneering the journey into unknown destinations by working exclusively with DeFi, GameFi, Play-to-Earn, Crypto, Blockchain, NFT, Metaverse, and Web3.0 clients.
The Range of Marketing Services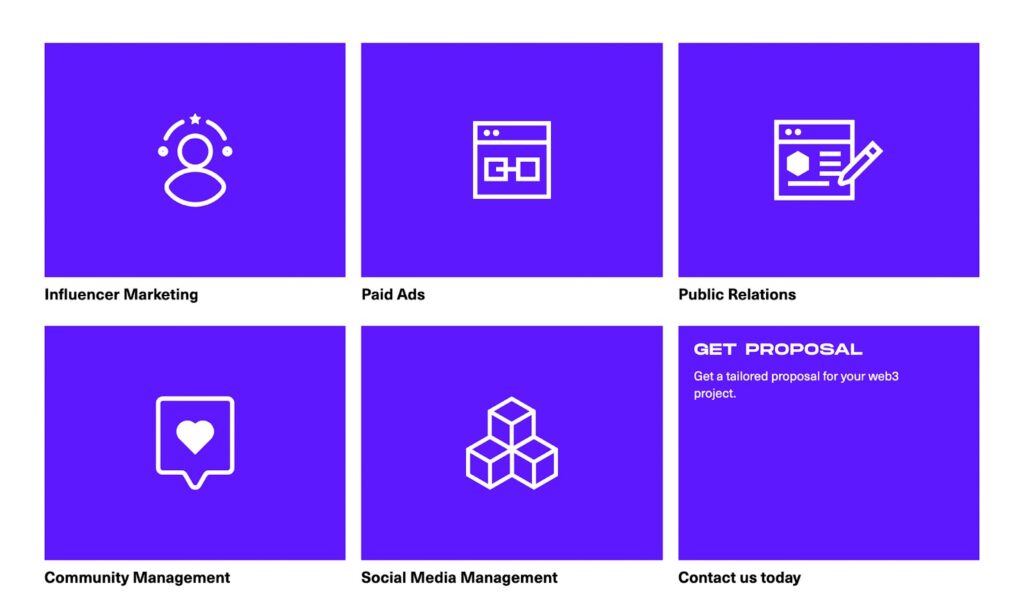 Offering a set package available for each department or a bespoke service tailoring each offering to the needs of your project, Lunar Strategy aims to understand your goals and what success in this space would look like to the people developing it. 
The company believes a strong community is one of the core reasons behind a project's success. Therefore, Lunar designs a marketing plan to create a thriving, long-lasting community that stays engaged, eager, and loyal to the project.
For a more precise understanding with regards to what exactly Lunar Strategy offers, take a look at their specialist departments that offer market-related prices:
 

Crypto Influencer Marketing:

The company believes in developing authority and brand recognition through partnering with industry thought leaders and contributors.

 

Crypto Paid Ads:

Paid ads spread awareness about a project to a targeted niche, which, in turn, helps drive interested investors to the community.

 

Social Media Marketing:

Lunar Strategy helps businesses manage their social media handles, communicating with the current following and attracting potentially interested investors!

Developing a Sound Web3.0 community

: It's the backbone of success. Therefore, the Lunar strategy aims to curate and maintain a value-added community.

 

Blockchain PR:

Lunar strategy creates press releases that engage and inform the audience of the latest project updates.

 

Digital Strategy:

From web design to SEO marketing, Lunar strategy designs and implements a holistic marketing plan that drives visitors and increases the project's success rate.
For more on the range of services offered by Lunar Strategy, click here to see their solutions.
Past Client's Success Rate
Lunar Strategy utilizes an array of strategies, methodologies, and, most importantly, industry-wide connections that drive the success rate of its client's projects. Working across this space has engaged the Lunar team in collaboration with world-first innovators, all of which remain actively growing and thriving to this day. 
The notable feature that helps Lunar Strategy stand out is its valuable expertise, skillset, dedication, and communication. The team's vision is centered around providing value, with every action taken on a client's project and every strategy looked at intending to create this both for the project and for the end user.
Understanding the timeline, expectations, and deliverables is core to the relationship with Lunar Strategy – with daily communication, tracking of performance on deliverables, and a dedicated account manager to see your project through to completion, your project's marketing will be the least of your concerns.
You can view their case studies here to learn more about their past performance. 
Lunar's Strategy Contribution to the Web3.0 Space

Consistently providing free guides to the community and providing extremely useful content on the Web3.0 space, Lunar Strategy is one of its kind. 
The company is driven by helping passionate marketers enter the Web3.0 space and increase their skill set.
Offering ease of access to the team is also another unprecedented feature of the Lunar team, with a Discord setup aiming solely at providing value to its community in the form of trends, information on other Web3.0 industry leaders, and an overall blueprint on how to get involved and succeed in the Web3.0 space.
Lunar Strategy has even launched an educational course, "the Lunar Academy," to help new marketers holistically develop the skills needed to enter the Web3.0 space.
Parting Thoughts!
The Web3.0 revolution is currently in its infancy stage, with not many marketers shifting their effort to prepare for and set the foundation in the marketing revolution, Lunar Strategy is the exception, and the company has already started achieving excellence with elite-level clientele from all around the world.
The competent team, the success stories, and the numerous community contributions make Lunar Strategy one of the best in their field.
So, crypto-investors looking to launch the next Bored Ape Yacht Club or Axie Infinity, don't hesitate to contact this leading Web3.0 marketing agency. 
You can follow this link to book a meeting directly with the Lunar Strategy team.