Technology's evolution has brought many unbelievable inventions to make your life easy. Back in the 90s, we usually saved data in Hard Drives, but the size of drives was shrinking over time. Nowadays, people use their smartphones to store data on their SD Cards. The data people from worldwide stores may contain videos, documents, images, and more. This is because storing data in SD Cards is easily accessible and easy to carry; however, with many advantages, the chances of accidentally formatting your SD card are high. Therefore, it becomes challenging for many people to Recover Formatted SD Card Free. If your SD card has been formatted accidentally or due to a virus and some malware, and you are willing to recover formatted SD card files, then we've got your back. First, you should stop using your card and remove it from your device. so, you don't use it again until you recover the data.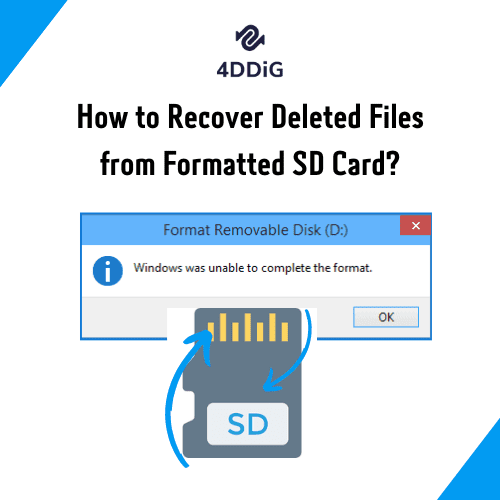 Can You Recover Formatted SD Card Files?
Back a decade ago, recovering formatted SD card files was a big deal. Data couldn't be fully recovered, but over time, things have changed, and lots of new tools were being introduced to recover files from formatted SD Cards easily; however, a few conditions applied. Besides, it also matters how much the card was used after getting formatted accidentally. So, to reduce the factor of losing your data, you have to follow the steps: 
Avoid Using Your Formatted SD Card: Once your SD card gets formatted accidentally or you delete the partition by mistake, you should stop using your card to store data instantly until you recover your data. Getting almost all or most of your data is possible if you act quickly. 

Remove the Card from Your Device: You should turn off your device or unmount SD Card quickly once it gets formatted until you perform a data recovery operation. 
Method 1: Recover Deleted Files from Formatted SD Card using 4DDiG
Gone are the days when data recovery from formatted SD card was a dream. Now, data recovery is easy, thanks to 4DDiG. Many people worldwide are searching for guides on How to Recover Formatted SD Card Files, the solution lies in this guide. Undoubtedly, 4DDiG is a one-stop solution to perform Data Recovery to bring the data back from Internal/External Drives, SD Cards, laptops/PC, and more. In addition to this, 4DDiG can do the following:
Recover multiple deleted file types, up to a thousand of them, such as pictures, videos, audio and others.

Supports recovery of files from sd cards, external drives,  and other windows-based devices in case of accidental deletion, formatting, system crashes, or other data loss.

Support Windows 11/10/8.1/8/7 and macOS Ventura, macOS Monterey, macOS Big Sur, macOS 10.15 (Catalina), macOS 10.14 (Mojave), macOS 10.13 (High Sierra), macOS 10.12 (Sierra).

Friendly interface and no malicious ads.
To recover deleted files, you have to follow 3-simple steps as follows: 
Step 1: Select the Formatted SD Card
Download and Install Tenorshare 4DDiG for Windows or Mac for free following easy steps, and run the program. Insert your Formatted SD Card into a Card Reader or connect it to your Computer using your mobile phone. Next, open the 4DDiG software and select the location of the formatted sd card.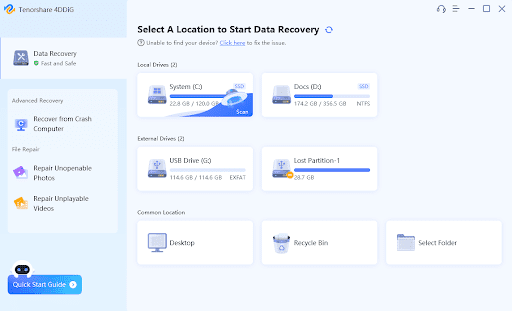 Step 2: Scan the Formatted SD Card
After selecting the partition, 4DDiG examines the formatted SD Card to recover the missing data; however, you have two options, such as Stop and Pause. You can use stop the scanning when 4DDiG figures out all of your files in categories, including Deleted Files, Lost Locations, and more. Besides, you can switch to file view and see whether the files are recovered entirely or if you need to run another scan.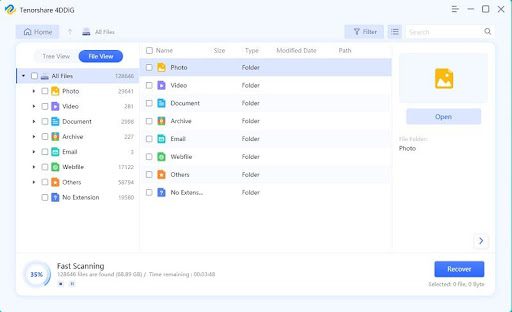 Step 3: Preview and Recover Data from the Formatted SD Card
Once the scanning process gets completed, you have to preview and recover your lost data to a secure location. We suggest you don't save data on the same SD Card where you lost them.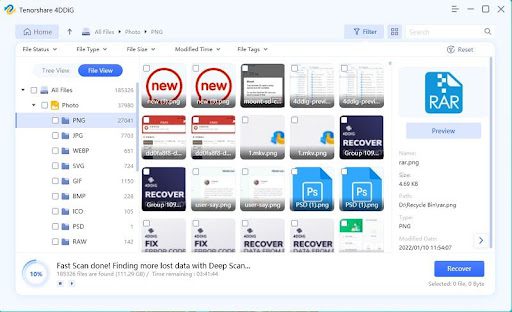 Method 2: Deleted Files Recovery from Formatted SD Card via Command on Windows
You would be happy to know that the command line is acknowledged as one of the best ways to retrieve lost data from an SD Card. 
Open the Run box by merely holding Windows + R key on the keyboard. 

You can also type "cmd" into the search box on the left side to open the command prompt window. 

Next, command chkdsk G:/f/x/r.

You can change or replace the alphabet with another one associated with your SD Card Drive. 

Press "Enter" to complete the process. 

Method 3: Restore Files from A Formatted SD Card with a Terminal on Mac
First, head to Mac's utility folder and run the terminal application. 

Use the cd command in the terminal to navigate to the SD card. 

Now, enter the command mv filename../ and replace the file name with the file you are willing to recover. 

Afterward, hit the return button and type quit to exit the terminal. 

Visit the folder to see if your file was restored or not. 

How to Prevent an SD Card from Becoming Formatted?
You can use the following methods to prevent an SD Card from getting formatted. 
Format the card when you purchase it. 

Use the format option instead of using Deleted All. 

Eject the card before pulling it out from the reader. 

Avoid using the phone when the battery is about to end. 

Keep Card stores safe.

Don't forget to use unmounts option before removing the card. 
FAQs
1) How Can I Recover My SD Card after Format?
You can use different methods to recover your formatted SD Card files, including 4DDiG, Windows Command-line, and Mac Terminal options. One of the best ways to recover your SD Card is using 4DDiG because it comes with one-in-all solutions and helps you recover your lost data in three easy steps. 
2) How Do I Recover a Formatted Sandisk SD Card?
To recover a Formatted Sandisk SD Card files, you have the following options: Use Recovery Software, Go with the Windows Command option, and use the Terminal of Mac OS. Furthermore, you can use mobile applications to recover your Formatted Sandisk SD Card files. Of course, you can also choose to free download 4DDiG in your computer to recover formatted Sandisk SD card files.
3) How Can I Recover My Formatted SD Card in Android?
Recovering formatted SD card files is now possible following three different methods.
Local Backup: You will probably be familiar with the backup option and if you have turned it on and formatted your SD card, then the chances of getting your data back is high as you only have to restore files from local backup. 
Recover from Google Account: Google allows you to back up your files by navigating the settings option on your phone. So, whenever you come to a situation where you lose your data, then you use your Google account to restore your data. 
Use Data Recovery Sofeware: You can use the software to recover formatted SD files on your Android Phone. First of all, you need to unplug the sd card from your Android phone, insert the card reader, connect your card reader to your computer, install  4DDiG on your computer and open it, use 4DDiG to recover the formatted SD files on your Android phone.
Conclusion
If your SD card appears as formatted, you don't need to worry, as there's always hope you can recover your lost files. Furthermore, you can quickly fix it and keep using your card as prior. However, that was almost everything you should do about how to recover a formatted SD card. Although recovering lost files from an SD card seems challenging, it's not as tough as it sounds. Therefore, we suggest you use 4DDiG to quickly recover deleted files from formatted SD card.