As a real estate agent, you're in charge of your own business. That means you're the captain of the ship — your boss. With that responsibility comes a lot of flexibility in your workday. But with that flexibility also comes the potential for disorganization. 
Since all of your success boils down to your actions, you have to keep detailed notes, run your marketing campaigns, and forge relationships with prospects on both sides of the home-buying process. 
Not everyone can make all of that work using note cards and a physical planner. Additionally, not everyone can keep on top of an Excel spreadsheet either. That's why you need powerful workplace software like a CRM to help you manage your customer relationships and be ready to pounce at every opportunity. 
But what is a CRM? And how can they be used specifically in the real estate world? That's what we're going to be exploring in this article. 
What is a CRM?
CRM stands for Customer Relationship Management, and it helps you track all your customers, clients, and prospects. 
A CRM can be one the most important tools of any real estate website, every bit as vital for your online success as real estate SEO services. Every business requires good customer relationship management to achieve success, especially in today's business environment, as the world emerges from a global pandemic and industries are growing once more.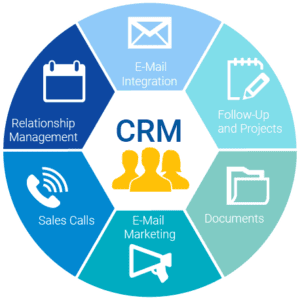 You can track your customers from one central dashboard with a CRM platform. Additionally, you can take notes on all outreach efforts and interactions, assign future actions, and even track the customer journey. 
With a CRM, you can have your entire business spread out in front of you. You can analyze how much potential profit is sitting in your pipeline, the value of each lead, and where all of these leads are in the buying and selling process. 
On top of that, CRMs have marketing automation features that can come in handy when it's time to start reaching back out to leads and following up on inquiries. 
Now that you know what a CRM is, let's start talking about how having one could benefit your real estate business. 
Why Should You Use a CRM for Real Estate?
Build Relationships
The primary function of a CRM is relationship management. As a real estate agent, you must build meaningful relationships with your customers if you're going to succeed. You're assisting with one of the biggest and most important purchases in a person's life, so there's going to be a lot of trusts placed in your ability to get the best price possible. 
That trust comes from the kind of close-knit relationship that a quality CRM can create. 
A real estate CRM tool will allow you to keep track of the preferences of your customers or potential customers. This includes minute details that were told throughout the buying or selling process. For example, if the customer tells you that they plan to purchase a giant television, make some recommendations for satellite TV packages. If they mention meaningful days like birthdays or anniversaries, make a note of this in your CRM and set reminders to reach out to them when those occasions roll around. 
Under each customer profile, you'll have a space to take notes and set follow-up reminders. This is where you can jot down all the relevant information about your customers and endear yourself to them as a trusted friend and confidant. Review this information before each interaction, and casually bring these things up so that the customer never has to repeat themselves. 
Audience Segmentation
You can use a CRM to get a view of your entire pool of leads. But, on top of this, you can use the power of the CRM platform to segment your audience based on their place in the customer journey. 
Your prospects who are actively searching for a home and have expressed interest in specific properties would be considered high-priority leads who need more direct attention. On the other side of the coin, those who are just starting the home-buying process, who haven't even been pre-approved by a lender yet, would be considered low priority since they're nowhere close to conversion.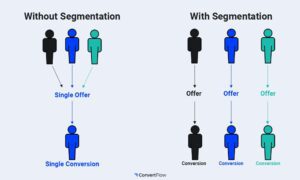 However, you can't ignore those lower-priority leads either. You simply need to market to them differently. Segmentation can help with that. By creating a marketing plan for low-priority, mid-priority, and high-priority leads, you can use your CRM to organize the audience for more efficient and organized marketing outreach. 
Lead Scoring
You can set up your CRM to automatically score your leads, which also aids in their segmentation. For example, you can assign point values to certain actions taken by a lead. 
Requesting information or attending an open house might be a certain number of points. Booking a tour or getting a pre-approval letter could also carry a point value. You'd have to set certain point levels for the segments you create. 
For example, anyone with one to ten points could be considered a low-priority lead. From 11 to 20 could be a medium priority or warm lead. Finally, anything over 20 points is considered a hot lead or someone with high priority who is just about ready to purchase or sell a home.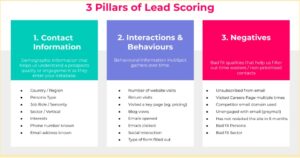 The best thing about a CRM is that once you enter the actions your customers take into the platform, the points will be assigned automatically. If they pass a certain segment threshold, the system automatically moves them into the next tier. That means you won't have to worry about keeping track of the point values and moving leads around your pipeline manually. The CRM does all the work for you so that you can keep your focus trained on more important matters, like outreach. 
Follow Up Reminders
With a CRM helping you keep track of your tasks, you'll never have to worry about missing a follow-up opportunity again. You can set parameters for your audience segments, and the system will remind you when it's time to reach back out to certain people. 
Your real estate CRM will also let you know what kind of outreach is needed. If you need to send a gentle touch email to soft leads, you can do that. If you need to call one of your hot leads to follow up on an offer they put in, that will also pop up in your central dashboard. 
After you communicate with a prospect in any way, take notes about the encounter in your CRM on their customer profile. 
An example could be: 
Sent a touching email encouraging them to get a pre-approval letter so that we can start discussing the budget. Will follow up in two weeks.
Or, if you're communicating with a hot lead, you might try something like: 
Spoke on the phone today. Let them know that I sent in their offer. Discussed possible outcomes and how flexible they're willing to be with it. They're willing to go up another $25k but can't afford any more than that. They're concerned about the cracks in the back patio. 
Once those actions are complete and documented, the next step is to set a follow-up. You can schedule your next outreach and attach any notes to it that you think you might need. 
Marketing Automation
Certain marketing outreach actions can be automated when using a CRM. For example, if you need to send out touch emails to your leads, or a regular newsletter about the local real estate market, you can set this action up to occur automatically. 
You'd specify the date, time, and audience segment you're reaching out to. Remember, based on the segment, you might want to change up the content to speak to their specific needs. Additionally, you can take an extra step and have the CRM attach the prospect's name to the email. 
This ensures you're sending out the right information at the perfect time every single time. Your CRM can connect with your email client or your email marketing platform to send out these messages, so you'll never have to lift a finger and can focus on tours, open houses, and phone outreach. 
Conclusion
As a real estate agent, you're an army of one. You have great flexibility in your career and the potential for great failure. The pathway to failure is paved with disorganization, and a CRM is the best way to stay organized. 
As a real estate agent, you can use a CRM platform to: 
Build relationships with your customers

Segment your audience based on their place in the buyer's journey

Score your leads based on specific actions

Set reminders to follow up with customers

Automate marketing outreach to stay on top of your plans
By investing in a CRM for your real estate business, you could create a more profitable self-sustaining operation for years to come.