Compared to US$ 7.3 Billion in 2022, the Global IoT fleet management sales are predicted to be worth US$ 22.2 Billion in 2032. During the forecasted period of 2022 to 2032, the industry is anticipated to grow at a CAGR of 11.5 percent. The Y-o-Y growth rate from 2021 to 2022 is predicted to be 19.6 percent. The use of cutting-edge networking technologies in fleet management can be credited with the market's growth. Advanced technologies like GPS, cloud computing, and big data analytics enable the development of software that is likely to present participants with several attractive prospects.
The need for sophisticated techniques to manage the fleet has increased with the introduction of vehicular internet access. Additionally, the market is expected to grow significantly throughout the projected period due to expanding digitalization, rising demand for real-time fleet monitoring, and other factors. Market participants are taking several steps to provide a cutting-edge software solution to manage the fleet. For instance, eBikeGo introduced a built AI and IoT-based fleet management system in August 2021. The EBG-Matics technology analyses vehicles and riders to increase efficiency.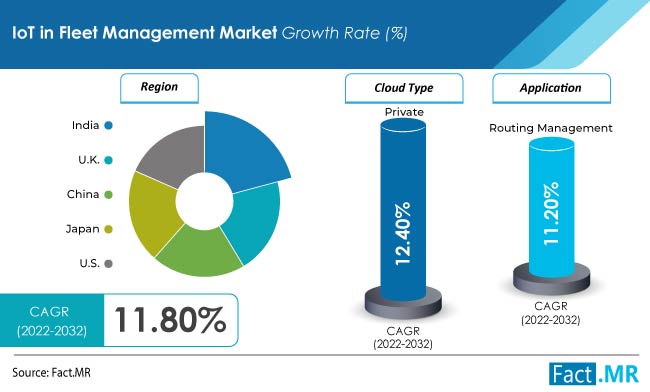 Key Takeaways from the Market Study
By 2032, the global IoT fleet management industry is expected to be worth $22.2 billion.
The global IoT fleet management market anticipates a growth of 11.8 percent between 2022 and 2032.
By 2032, the US market will be worth US$5.2 billion.
By 2032, the UK market will grow by 12.8%.
India's industrial sector would grow at a CAGR of 13% between 2022 and 2032.
China's market value is anticipated to reach US$ 1.5 billion by 2032.
Japanese market to expand at a CAGR of 12.5% over the forecast period
From 2022 to 2032, the Private sector will grow at a 12.4 percent rate.
During the evaluation period, the routing management segment is expected to grow by 11.2 percent.
Comparison Analysis
Key participants in the global IoT fleet management are concentrating on increasing their influence through a variety of strategies, including product development, teamwork, and mergers and acquisitions. Recent significant player developments include:
FieldAware field service automation software, a developer of telematics and fleet management software, was acquired by GPS Insight in December 2021.
Geotab Inc. and Eleos Technologies in California strategically partnered to launch "UNIFY" in January 2020. Transportation software as a service is offered by Eleos Technologies. The UNIFY platform intends to provide FMCSA-compliant ELD and customized fleet management systems for augmented solutions and insights.
For Better Understanding: Get Sample Copy