The customer-driven team at Raven, led by tech entrepreneur Stefan Diasti, has reiterated their commitment to delivering the best possible paperless experience to customers, especially small businesses, as the company recently partnered with The Neat Company. The goal is to provide direct integration between Raven Scanners and NeatFiles.
Raven and Neat bring together the industry's most highly rated document scanners with Neat's cloud-based bookkeeping and document management software. The partnership will enable small business owners and other categories of users to scan directly into NeatFiles or NeatBooks, with a large 8" touchscreen display built into Raven Original and Raven Pro Scanner models providing an updated experience with additional capabilities for Neat users.
"We're excited to provide a new scanning solution for Neat's small business owners. This partnership strengthens our paperless mission by providing small businesses complete financial document management and bookkeeping solutions," said Raven CEO, Stefan Diasti.
Overview Of The Global Intelligent Document Processing Market
A recent report by MarketsandMarkets Research put the size of the global intelligent document processing market at $0.8 billion in 2021 with a projection that it will hit $3.7 billion in 2026. The market is driven by the rising need for enterprises to process large volumes of semi-structured and unstructured documents as well as increasing investments in digital transformation and the rising adoption of cloud-based document processing solutions. However, many of the available solutions do not particularly address the concerns of users, especially for small business owners, in terms of comprehensiveness and user-friendliness. Consequently, the collaboration between Raven and The Neat Company seeks to change this narrative by providing users additional opportunities to organize their scanned files in a more streamlined and efficient manner.
Features of The Raven and The Neat Company Integration.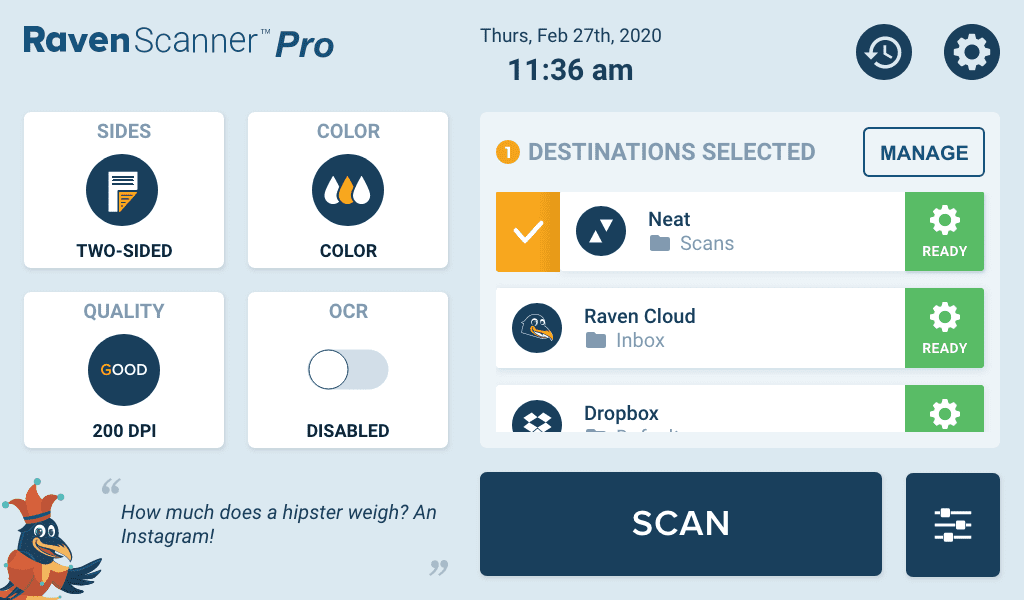 The partnership is particularly timely, coming after Neat took a departure from the scanning hardware business in 2016, with customers demanding a modern solution for quality paper scanning into NeatFiles and NeatBooks. The integration will allow users to leverage the significant hardware upgrade in Raven Scanners, with an increased touchscreen size from 2 inches to 8 inches and scan speeds of up to 60ppm as well as modern networking like 2.4ghz and 5ghz WiFi bands and wired Ethernet LAN connections.
The collaboration will strengthen Raven's paperless mission by providing small businesses with complete financial document management and bookkeeping solutions. Another benefit of the collaboration includes no computer requirement due to Raven Pro and Raven Original Scanner models standalone capabilities, enabling them to set up and scan directly to Neat or any other destination.
The collaboration will also allow users to enjoy Raven's simple and intuitive interface, which is designed to orchestrate powerful, market-leading features such as AI-enabled optical character recognition (OCR) making documents fully searchable – handwritten or typed. Other features of Raven are a document scanner model for all types of use (personal to enterprise) and all price points, ranging from the Raven Compact Scanner to the Raven Pro Scanner and direct connection to Raven Cloud, Dropbox, Google Drive, Evernote, Box, SharePoint, OneDrive, OneNote, Quickbooks Online, Email, FTP, SMB Share, Fax and USB Flash Drives.
The plethora of features and functionalities of Raven Scanners have made them the highest-rated document scanners on Amazon, amidst rave reviews from customers across the globe.
For more information about the Raven-Neat integration and the solutions offered to ensure a smooth paperless transition, visit – https://www.raven.com/. Raven can also be found across social media, including Facebook and LinkedIn.