The rainwater harvesting system market is being driven by an increasing usage of water in the farming sector. The countries producing surplus food include the US, Brazil, China, and India. They are reported to have reached, or are atleast close to reaching the upper limits of their water resources. Also, increasing population is contributing towards an excessive usage of water. This factor is expected to accelerate the rainwater harvesting system market in the upcoming period.
As rainwater exists in soft form and doesn't impact the plants negatively, operating costs of the farmers could also be reduced. As such, water irrigation, along with various emerging sustainable practices will be flourishing in the upcoming period.
Additionally, rainwater harvesting system is imperative where rainfall is moderate-high. As commercial and industrial premises are subject to higher consumption of water, the rainwater harvesting system market is expected to stand tall going forward.
How is the Rainwater Harvesting System Market dispersed?
The global rainwater harvesting system market, by type, spans dry systems, rain barrel systems, wet system, and green roof systems. By harvesting system, it's above-ground and underground. By service provider, it's independent supplier and OEMs. By sales channel, it's new sales and aftersales (pipes, storage tanks, filters (plastic + metal), and pumps. By application, it's agricultural, residential, commercial, and industrial. By product, it's dry system, rain barrel system, wet system, and green roof system. By installation, it's indirect gravity, indirect pumped, and direct pumped.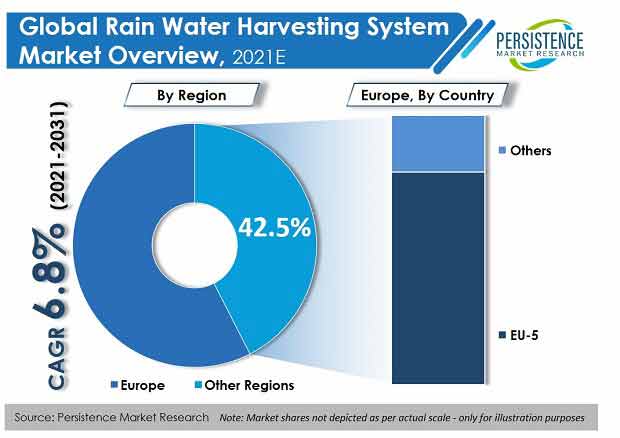 Region-wise Analysis
Europe holds the largest market share with Germany leading from the front. This could be credited to the growing interest in the promotion of household rain collection, especially at local level. Plus, subsidies and grants in various cities & towns in Germany encourage households for creating water wells and rainwater tanks. Also, it needs to be noted that Germany's biggest project implies rainwater harvesting at "Frankfurt Airport" that does help in saving close to 100,000 cubic meters of water every single year. North America is going steady with respect to this market.
However, the Asia-Pacific is expected to grow at the fastest rate in the rainwater harvesting system market. This could be reasoned with countries like China and India in dire need of rainwater harvesting systems for residential and agricultural sectors. New Zealand and Thailand are also not behind.
GAIN COMPLETE ACCESS TO THE REPORT – https://www.persistencemarketresearch.com/checkout/28396
Competitive Analysis
The key players in rainwater harvesting system market include Kingspan Group PLC, Graf Group, WISY AG, Stormsaver Ltd., Ecozi Ltd., Molloy Precast Products Ltd., D&D Ecotech Services, N.S. & Associates, Water Harvesters, and Barr Plastics Inc. Coming to developments, Watts Water Technologies, in March 2021, did sponsor installing an integrated water system to make provisions for clean water to residents of a Vietnamese city. Collaboration between Planet Water Foundation and Watts Water is likely to provide potable water for this region. StormStation from Stormsaver Ltd. has been into operation since April 2018. It comes across as a one-piece equipment combining rainwater controls, storage, and pumps – all in one unit.