In the vast world of social media automation and content curation, I have used Quuu for several years. This tool caught my attention as it promises to help content marketers streamline their social media posting and giving the ability to find high-quality content to share with followers.
As a content marketer, I find it essential to discover tools that simplify my work and increase my productivity. So, I was eager to see if Quuu delivered on its promises. I decided to dive deep into the platform, exploring its features, pricing, and overall ease of use to provide an informed review of the service. Keep in mind that I do have an affiliate arrangement with them.
Throughout my journey with Quuu, I considered its potential use cases for businesses, marketers, influencers, and individuals. In the coming paragraphs, I will share my experience and thoughts on Quuu's effectiveness for content creators looking to enhance their social media presence.
What Is Quuu?
As someone always looking for practical content marketing tools, I use Quuu and Quu Promote, a platform combining content curation and social media scheduling. In this section, I'll discuss the key features of Quuu and how it can benefit my content strategy.
Content Curation
One of the challenges I face in maintaining a solid online presence is finding high-quality, relevant content to share with my audience. Quuu does the heavy lifting by offering a curated content discovery system. The platform uses my chosen categories and interests to deliver fresh content from various sources, including articles, blog posts, and videos. This saves me time and ensures that the content I share aligns with my followers' interests.
Quuu also stands out because it relies on artificial intelligence and human curators. This approach minimizes the risk of sharing irrelevant content, as real people review and handpick every piece. In addition, it helps surface valuable content that might not otherwise gain visibility through standard Google searches.
Social Media Scheduling Tool
Beyond content curation, Quuu also functions as a social media scheduling tool. This feature simplifies sharing curated content across my social media channels. I can manually schedule posts or let Quuu's automated scheduler handle them.
Furthermore, Quuu integrates seamlessly with popular social media management tools like Buffer and Hootsuite, allowing me to manage my content sharing and scheduling in one place. This integration ensures I can maximize my efficiency and maintain a consistent posting schedule without needing multiple tools.
By using Quuu in my content marketing strategy, I've streamlined my content discovery process and automated my social media scheduling. The platform offers a valuable solution for staying up-to-date with relevant topics while optimizing my online presence.
Quuu's Features
As an avid user of social media scheduling tools, I was excited to try out Quuu and explore its features. In this section, I'll discuss some of the most notable features that set Quuu apart from other tools.
Content Categories
One of the first things that impressed me about Quuu was the extensive list of content categories. With over 500 niches, it offers curated content to suit various interests and industries. This feature enables me to easily discover and share relevant content that appeals to my target audience.
Scheduling and Integrations
Quuu's scheduling feature is quite efficient, allowing me to plan and organize my content sharing with just a few clicks. The platform integrates seamlessly with popular social media management tools like Buffer and Hootsuite, making scheduling and posting content across multiple platforms a breeze.
The hands-free scheduling option is particularly appealing, as it enables Quuu to automatically select and share content on my behalf based on my selected categories. This saves me time and maintains an active presence on my social media channels without the need for constant manual input.
Hand-Reviewed Content
Unlike many other content curator tools, Quuu prides itself on delivering only hand-reviewed content. This means that a team of experts carefully vets each piece of content before it becomes available for sharing.
As a result, I can confidently recommend and share content, knowing that it is relevant to my audience and high quality. This feature has made Quuu an indispensable part of my social media strategy.
Quuu Promote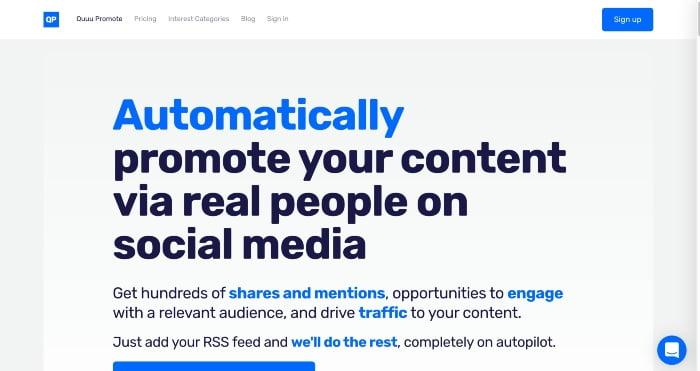 Click here for a free trial
Quuu Promote is an excellent tool that has helped me increase my content's visibility, engagement, and reach. In this section, I'll discuss the different promotion strategies I've employed using Quuu Promote and how I track my performance to measure success.
Promotion Strategies
When using Quuu Promote, I found the following promotional strategies particularly effective:
Curated content sharing: Quuu Promote allows me to submit my content, which then gets curated and shared by influencers in my niche. This increases my content's reach and builds trust with my target audience.
Targeted promotion: I can choose specific categories relevant to my content, ensuring that my promotional efforts reach the right people.
Optimized sharing: Quuu Promote's algorithm ensures that my content is shared optimally, resulting in better engagement and increased traffic.
Measuring the success of my promotional efforts is crucial to know what is working and where I can improve. Quuu Promote provides me with comprehensive analytics to track my performance. These include:
| Metric | Description |
| --- | --- |
| Clicks | The number of clicks on the shared links to my content. |
| Engagement | Total likes, shares, and comments on the shared links to my content. |
| Traffic | Amount of traffic directed to my content from the shared links. |
| Retweets | The number of times my content is retweeted. |
| Likes | Number of likes on my shared content. |
| Mentions | The number of mentions of my content on social media. |
Keeping an eye on these metrics has allowed me to make data-driven decisions for my content promotion and improve my overall marketing strategy with Quuu Promote.
Pricing and Plans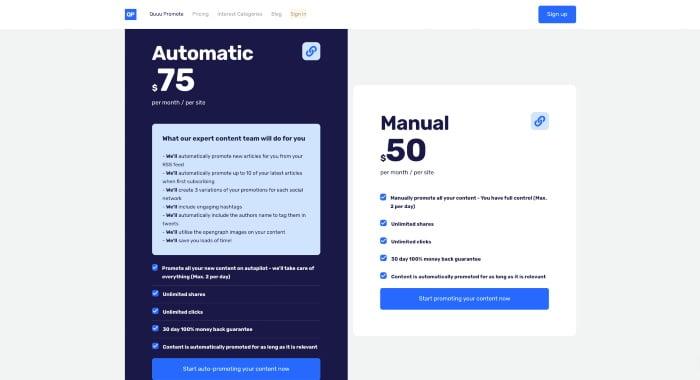 In this section, I'll discuss the pricing and different plans offered by Quuu. When considering using a tool like Quuu, it's essential to understand the costs involved and determine if the value matches the price.
Quuu offers three primary plans: Free, Pro, and Business. I'll provide a quick overview of these plans, highlighting their differences and costs.
Free Plan: The Free plan allows you to access a limited number of content suggestions (up to 6 per day) and share them manually on 3 of your social media platforms. It's a good option for those just getting started but lacks some of the features available in paid plans.
Pro Plan: The Pro plan costs $29 monthly or $5 if paid annually, allowing you to automate the posting process using their scheduling features. With this plan, you receive unlimited content suggestions and can connect up to 10 social media profiles. Additionally, you can collaborate with your team and gain access to priority support.
Business Plan: The Business plan is priced at $15.83 a month if paid annually (otherwise a hefty $79 per month) and offers everything in the Pro plan, plus some advanced features like custom SEO settings and the ability to connect up to 100 social media profiles. This plan is ideal for larger businesses or teams needing more sophisticated features and support.
It's worth noting that there is a free version of Quuu, but it has limited functionality compared to the paid plans. However, it can be a great way to test the platform before deciding whether to invest in a paid plan.
Understanding the costs and features of each plan will help you make an informed decision when selecting the most suitable option for your needs. Remember to evaluate the value Quuu provides compared to its cost before deciding on the plan that best suits you and your business.
Comparing Quuu to Competitors
Let me delve into how Quuu fares against its competitors, Buffer, HubSpot, and Hootsuite.
Buffer
Buffer is a popular social media management tool that allows users to schedule posts and manage multiple social profiles from one place. Compared to Quuu, Buffer offers more extensive social media platform support and scheduling options. However, Quuu's standout feature is its content curation, which provides users with relevant, high-quality content suggestions based on their preferences.
While Buffer has a limited content curation feature, Quuu's is more robust and focused on this aspect. On the other hand, Buffer provides better analytics tools, which can give users more insights into their social media performance.
Here's a quick comparison:
Content Curation: Quuu has the edge
Scheduling Features: Buffer is more comprehensive
Analytics: Buffer provides better insights
HubSpot
HubSpot is an all-in-one marketing, sales, and service platform that offers a variety of tools, including social media management. As a more comprehensive solution, HubSpot covers a broader range of digital marketing features beyond social media, making it more of an all-encompassing option."
When it comes to content curation, Quuu is more specialized and efficient. HubSpot's social media management module is an integral part of its larger suite of tools, while Quuu is solely focused on content curation and social media sharing. This makes Quuu a more dedicated solution for enhancing its content curation efforts.
In summary:
Content Curation: Quuu specializes in this area
Range of Features: HubSpot covers a broader scope
Hootsuite
Hootsuite is another social media management platform that allows users to schedule content, monitor their social media activity, and analyze their performance. Unlike Quuu, Hootsuite does not have a dedicated content curation feature. Instead, users must find and curate content themselves or rely on third-party integrations for suggestions.
Quuu shines in the content curation department, offering users a more streamlined and efficient way to discover and share high-quality content. While Hootsuite offers better post-scheduling options, Quuu's content curation makes it an attractive option for those prioritizing this feature.
A brief comparison:
Content Curation: Quuu takes the lead
Post Scheduling: Hootsuite offers more flexibility
Effective Use of Quuu
In my experience with Quuu, it has been a handy content marketing tool. To make the most out of Quuu, I'd like to share some tips and tricks and best practices I have discovered along the way.
Tips and Tricks
The key to success with Quuu is ensuring that the content shared is high-quality and relevant to your audience. I always take the time to review the suggested content and ensure it aligns with my brand and audience needs. This way, I can provide value to my followers and maintain trust.
When using Quuu, I found it helpful to customize my sharing schedule, ensuring the content is posted at the most opportune times for my audience. Monitoring the performance of shared posts has also been a valuable strategy for understanding what kind of content resonates with my audience.
Best Practices
Throughout my use of Quuu, there are a few best practices I've picked up on:
Choose the correct categories: Make sure the topics selected in Quuu align with my target audience's interests. This ultimately increases content visibility and engagement.
Quality over Quantity: Focusing on sharing high-quality content rather than the sheer number of posts is essential. Sometimes, less is more, which rings true when curating a valuable content experience for my audience.
Engage with your audience: When I actively engage by responding to comments, I noticed that it led to higher audience interaction and interest in the shared content.
By adhering to these tips, tricks, and best practices, I've effectively used Quuu to reach the right audience and enhance my content marketing strategy.
Pros and Cons
In my experience with Quuu, I have encountered several pros and cons worth mentioning. Hopefully, this will help you understand what to expect when using this social media sharing tool.
Pros:
Quuu offers various content suggestions in various categories, giving me ample choices to share and engage with my audience.
The platform's user-friendly interface makes it easy for me to navigate and schedule my social shares.
Quuu integrates well with popular social media scheduling tools, making it convenient for me to manage my content across different platforms.
Being part of their community helps me find great content and gets my content shared by others, increasing my social reach.
Cons:
While Quuu offers a free plan, it has limitations on the number of suggestions and categories I can access. To fully benefit from Quuu's offerings, I needed to upgrade to their paid plan.
As the platform's content suggestions are mostly in English, users who cater to non-English speaking audiences might find it less useful.
Since Quuu mainly focuses on content curation, I still need to invest time and effort in creating original content and building meaningful connections with my followers.
When considering the ratings and reviews from fellow users, it becomes evident that the pros certainly outweigh the cons. Many people appreciate the diverse range of categories available for content curation and the ease of integration with other tools. However, some users have raised concerns over the limitations of the free plan and the predominantly English content suggestions.
Frequently Asked Questions
First, let me cover some of the commonly asked questions about Quuu:
| Question | Answer |
| --- | --- |
| Which social media platforms does Quuu support? | Quuu currently supports Facebook, Twitter, and LinkedIn. |
| Can I customize the content suggestions? | Yes, you can edit suggested content before it's published on your social media accounts. |
Now, let me address other questions that people usually have about Quuu:
How does Quuu ensure content quality? Quuu sources content from a network of approved content providers who undergo a rigorous quality vetting process. This helps ensure that you only receive high-quality content recommendations.
Can I schedule content ahead of time? Yes, you can schedule content to be published at a specific date and time. That way, you can plan your social media content calendar more effectively.
Can I connect multiple social media profiles? Yes, you can connect multiple social media profiles to your Quuu account, making managing all your profiles from one platform easy.
What if I have questions or need support? Quuu offers a comprehensive FAQ and customer support service. If you have any questions, contact their team for assistance.
I hope this section has given you a better understanding of Quuu and answered popular questions about the platform. If you have more questions, don't hesitate to explore Quuu's website or contact their support team.
Conclusion
In my experience, Quuu has been a valuable tool for managing my social media content curation. The platform offers a wide range of curated content from various industries, making finding relevant and high-quality articles, videos, and more easy.
One of the aspects I appreciate about Quuu is its time-saving capabilities. The automation feature allows me to schedule content in advance, ensuring my social media profiles remain active and engaging. Plus, the handpicked content by other professionals in my niche aids in maintaining an authoritative presence online.
Of course, it's essential to balance curated and original content. Integrating Quuu into my social media strategy has made it easier to allocate time for content creation while maintaining a consistent online presence.
To summarize, I find Quuu a user-friendly platform with helpful features designed to improve content curation efficiency. Using responsibly and in combination with original content can positively impact one's social media presence and credibility.