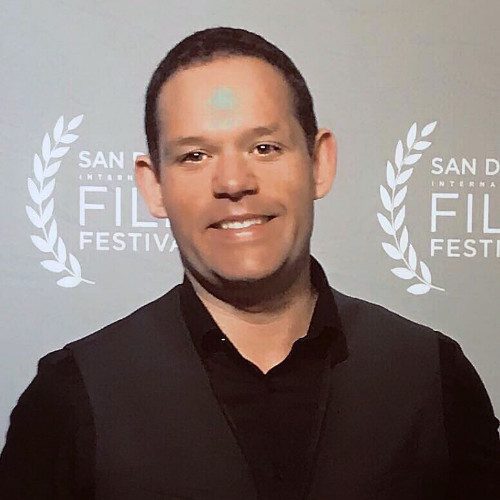 Corey Hertz is the Chief Product Officer of Filmio, an entertainment platform that leverages blockchain technology to be a gamified creative incubator, market validator and distribution launchpad for creators, fans and other players in the ecosystem.
Please tell us your name and about yourself.
My name is Corey Hertz and I'm the Chief Product Officer of Filmio. I'm a technology enthusiast and innovator with an expertise in product and agile project management. I've cultivated and grown multiple cross-department teams that have been instrumental in building award-winning and profitable products within the telecom and unified communications world for over a decade.  
Filmio is the brainchild of myself and others who recognized that many of the problems facing the entertainment industry can now be addressed by leveraging the extraordinary capabilities of blockchain technology to build more fair, transparent, democratic and community-driven ecosystems.
What is Filmio?
Filmio is a gamified ecosystem that functions as a creative incubator, market validator and distribution launchpad. We leverage blockchain technology to create a democratic, transparent and tokenized ecosystem where creators and fans connect in new and exciting ways to produce pre-validated and de-risked content with their own motivated and collaborative fan bases already attached.
What are the main problems Filmio seeks to solve in entertainment?
The current entertainment ecosystem does not work as well as it could for creators, fans, and other players. Presently, there are few avenues through which creators can elicit feedback from fans, receive project validation from experts, and find funding and distribution options due to limited access to studios, production companies, and other industry gatekeepers. At the same time, fans are expected to watch content and enjoy it, but lack opportunities to provide feedback to creators about the type of content they actually enjoy. We thought, why not bring these two groups together?
Filmio offers creators opportunities to post their projects on the platform and receive feedback from fans at any stage of project development, so whether creators have only completed a treatment or already have a trailer, they can get the feedback they need to improve their projects and set themselves up for the best chance of commercial success. Using tokenization, a capability enabled by blockchain technology, Filmio rewards fans for participating in project reviews and evaluations. So not only do fans get more of a voice in the creative process, but they also are remunerated within the ecosystem for their contributions.
Centric to the Filmio Decentralized Platform is a first-of-its-kind prevalidation metric called the Go ScoreTM, based upon an evolving algorithm that aggregates all fan feedback, social interactions and a variety of other important platform metrics. This metric not only represents fan involvement in the creative process, but it also supports filmmakers, financiers, and other industry players with a comprehensive measure for predicting a project's success that has never before been realized in entertainment.
The entire slate of projects published to the Filmio platform will comprise a database of searchable material, discoverable by production companies, distributors, and studios. In this manner, Filmio intends to be a launchpad for talented creators to get discovered and gain more opportunities.
Why is blockchain technology best-suited to addressing these problems?
Traditionally access to resources and data have been two of the biggest hurdles for an independent filmmaker attempting to get their project funded, produced and released. Our novel use of blockchain technology removes these barriers by democratizing the funding of a project through a tokenized economy, and puts the most important data in the hands of the very people who need it most, the filmmakers. Add the ability to scale a world class streaming service quickly and cost effectively, and you have created a path forward to success for a driven filmmaker.
What is the technology behind the ecosystem?
Filmio is being built using the EOSIO blockchain and Node.js for optimal scaling, speed, data storage, real time feedback and developer education. Leveraging EOSIO allows us to benefit from the innovative work done by Block One to fast track our development. Areas like user friendliness and developer friendliness are way ahead of the pack.
Tell us about the FILM token and FAN tokens, how does it work and what are the benefits?
Filmio employs a dual-token model: FILM tokens are security tokens that are fully SEC compliant and will be used to facilitate fundraising and provide holders with passive income from our revenue streams, while FAN tokens are utility tokens that can be used for services and vote on projects within the Filmio ecosystem.
What makes Filmio distinct from the other blockchain-for-entertainment projects?
We've seen multiple projects that seek to address problems plaguing certain facets of the entertainment industry using blockchain technology, but Filmio comprises the only end-to-end solution in the form of a decentralized, democratic, inclusive and transparent ecosystem that works for all stakeholders. We've looked at the challenges facing creators, fans, investors, distributors, production companies, and studios and have sought to address the needs of all these players in a fun and gamified experience.
How important is it for blockchain projects to "go mainstream" and how does Filmio intend to accomplish that?
It's inevitable that blockchain technology will "go mainstream" just as AI, VR, and other transformative technologies are now being incorporated into products and services of diverse industries. The real question is how to achieve mass adoption, as decentralized platforms such as ours depend on participation from a large group of engaged users in order to be successful. This need for adoption is why we are highly focused on usability and customer support. Decentralized platforms need to be easy-to-use and also so fun and enjoyable that users keep coming back.
At what stage of development is the Filmio platform and what is next on your roadmap?
We have a testnet that's fully integrated with EOS and used for private demos and are heads down cranking away on our MVP, which is slated for public beta release in Q1/Q2 of 2019.
Do you have any more information for our readers?
To stay up-to-date on our progress, check out our website, follow us on social media, and join our Telegram.
Website: https://film.io/
Twitter: https://twitter.com/filmio_inc
Telegram: https://t.me/Filmio_official