The best prospects for using a vacuum mop that performs both tasks are homes with hard floors, such as solid or engineered hardwood, tile, laminate, vinyl, stone, or parquet. Vacuum mops should not be used on carpeted or rug surfaces, as well as other upholstered spaces like the inside of a car or furniture.
If you're looking for a lightweight vacuum that performs well on fabric surfaces, you'll adore our Puppyoo T12 Pro Rinse Cordless Vacuum.
The Quickest and Easiest Way to Mop and Vacuum Hard Floors in One Step The kit comes with four extra brush heads, allowing it to be used for a variety of house cleaning tasks. Cleaning hard floors, carpets, stairs, windowsills, sofas, beds, desks, and curtains are just a few of these applications. The Combined Storage and Charging Dock make it simpler than ever to store the device and charge it rapidly.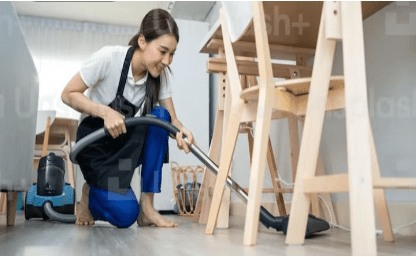 Features:
The main swivel cleaner brush is made of a thinner material and can rotate 180 degrees to the side and 90 degrees to the up or down, which solves the issue of cleaning below furniture and beds.

 It can also be rapidly transformed into a portable vacuum cleaner, giving you a flexible cleaning option for use both inside and outside the home. A strong LED headlight located on the brush's handle shines a light on the trash that is concealed on hard flooring.

The large-capacity battery for the cordless vacuum cleaner comprises 8 cells and 3000 mAh. With this battery, the gadget can be used for a longer time without losing power. The infrared sensor can determine the amount of dust present and the state of surfaces in auto mode. The battery life and cleaning power are balanced in the strong mode. In this mode, you have up to 12 minutes to remove dust that is resistant to strong suction. • Inside, there is a high-efficiency 6-stage fully sealed cyclone filtration system that uses the most recent 7 concentric cyclone groups to catch 99.9% of fine particles as small as 0.3um. The Eco mode allows for up to 70 minutes of daily cleaning. Dust and allergies are some of these tiny particles. The "Magnetic Dust Bin construction "prevents secondary air pollution during dust bin emptying.
The several benefits of vacuum mops
You might be debating if investing in a vacuum mop is truly a good investment.
Save time and effort.
The ability to cut the time you spend cleaning in half is without a doubt one the most important advantages of utilizing a vacuum mop. This suggests that you'll have more freedom in your life to engage in the pursuits that make you happiest. You can sweep, vacuum, and mop your floors with a single quick and effortless motion when you use a vacuum mop combo. The days of cleaning your floors separately with a mop, vacuum, and sweeper are long gone.
Better performance and a cleaner atmosphere
The traditional cleaning approach is characterized by the use of a mop and bucket. According to studies, this method is not only time-consuming but can also result in the growth of bacteria because it necessitates users to constantly mop with unclean water while the device is in use. The Sensitive Choice-certified filter bag on the vacuum mop allows it to capture 99.9% of allergens and get rid of difficult dirt, pet hair, and bacteria from the floor. The system's water tank may be refilled.
Keep some space in the closet
Two-in-one vacuum mops are practical, cordless, space-saving cleaning products that take the place of numerous large cleaning appliances that would otherwise occupy important closet storage.
Overall, the wide range of tasks that this cleaning equipment is capable of performing speaks words about its excellence. Discover the power of the vacuum mop while unwinding in the knowledge that the elegant and fashionable 2-in-1 system has your cleaning under control.
utilizing the vacuum sweeper
You are now prepared to go to the next stage of cleaning after finishing the required vacuum mop preparations. It's crucial to bear in mind the following advice when using the cleaning system:
Vacuum Engineering
You have the versatility and ease needed to clean your hard floors thanks to the vacuum design and oscillating cleaning cloth. Even while the effective microfiber cloth snatches and removes difficult dirt, dust, pet hair, and other particles, you won't have any trouble navigating around nooks and crevices.
Moisture content
Make sure you pick the right amount of moisture. You can select between the various moisture levels by pressing the green pedal.
• Level 1 Moisture is the bare minimum that moisture-sensitive floors will tolerate.
• Moisture level 2 refers to a quantity of water that is deemed suitable for the general scum present on the majority of hard flooring types.
• Moisture level 3 describes the greatest water that most types of hard floors can withstand when there is a lot of dirt present.
Adding liquid to the vacuum's tank
Yellow LED lights will appear after a predetermined length of time. This signifies that the fuel tank is empty and that it is now ready to be replenished. According to our advice, the cloth should be altered each time the tank is replenished. Make sure the vacuum is turned off, then take out the dirty cloth and repeat the procedure.