Dr. C.W Park and Collaborator Dr. Debbie Macinnis Articulate Concept of Brand Admiration
For over a quarter of a century, Professor C.W Park has taught at The Marshall School of Business at USC, the University of Southern California. His contributions to the field of marketing have been groundbreaking. C.W Park also served on the editorial boards of the Journal of Consumer Psychology and the Journal of Marketing and was the editor of the Journal of Consumer Psychology for five years. His original works include dozens of scholarly articles and a book, Brand Admirations: Building a Business People Love (Wiley).
Nothing illustrates Dr. Park's contributions to the field better than his concept of brand admiration, which he developed with his friend and colleague Deborah Mcinnis. This basic concept has opened doors for dozens of researchers in the field.
What Is Dr. C. W. Park's Concept of Brand Admiration?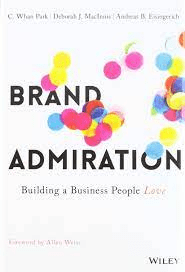 When we think of a brand, we think of a name, that could be represented by a symbol or a design, that differentiates one entity from another in the marketplace. The idea is that, within companies, there can be different levels of brands. For instance, with General Motors, there is the company-level brand, GM. There is a business unit brand, Chevrolet. There are many product brands, for example, Chevy Volt. And there are many product variants, for example, the Chevy Volt Hybrid. When we are thinking about branding, we are thinking about all of those entities, not just a single one.
Dr. C.W Park and his collaborator Debbie Mcinnis spent a great deal of time conceptualizing how companies can build brands, no matter where they are in the product hierarchy.
Dr. Park and Dr. McInnis broadly define the brand in terms of products, places, and people. Good brands provide value to the company, and much of the researchers' work has been about showing exactly how brands provide value to the company.
In a nutshell, brand admiration adds value to the company. Brand admiration is a psychological state, that describes how customers feel about the company. The salient characteristics of an admired are, number one, that people think about that brand, even when they are not exposed to advertising or promotional content. The notion of brand name salience or top-of-mind recall is keenly important to marketers, who seek to develop brands that become the first thing customers think about when they are searching for a product.
Secondarily, brand admiration generates a feeling in customers that the brand is part of the self. The brand brings something to them that other brands do not bring. This connection can be at a variety of different levels, which Dr. Park articulates. Admired brands can generate feelings of trust, love, and respect, true goals of brand marketing.
C.W Park and Dr. Debbie MacInnis, whom Park describes as a colleague and a friend and a delight to work with.
Dr. C. W. Park Wins the Jagdish N. Sheth's Impact on Practice Award
For his collaboration in developing the concept of brand admiration and many other contributions to the field of marketing, Dr. Park recently received the Jagdish N. Sheth's Impact on Practice Award.
Jagdish Sheth authored or coauthored over 350 articles and books, and built the Center for Telecommunications Management at USC.
"This is a huge honor," humbly noted Dr, C. W. Park on receiving the award. "I know firsthand how much Dr. Sheth has done for this community, this school, and the world of business. I love the idea of following in his footsteps. If I could have a similar career, I would be more than proud. To the outsider, an award may not seem like a huge deal, but this is highly motivating."