Hesitation when choosing a cryptocurrency trading platform is quite reasonable in many cases. Often, users give up the idea of opening a trading account on a certain platform because of a lack of information in the media or poor transparency of the platform. But what about PrimeXBT? Can we say that PrimeXBT is legit or should we conclude that this fact is not evident?
The purpose of this PrimeXBT review is to answer these questions and satisfy your need to learn more about PrimeXBT and its trading conditions. When working on this review, we considered three key sources of information:
PrimeXBT reviews from real clients.

Media coverage is expressed in reviews of other experts.

Our own findings based on open-source information and official data.
If you consider this approach viable, get down to what we've managed to find out using our methods.
PrimeXBT Reviews From Real Clients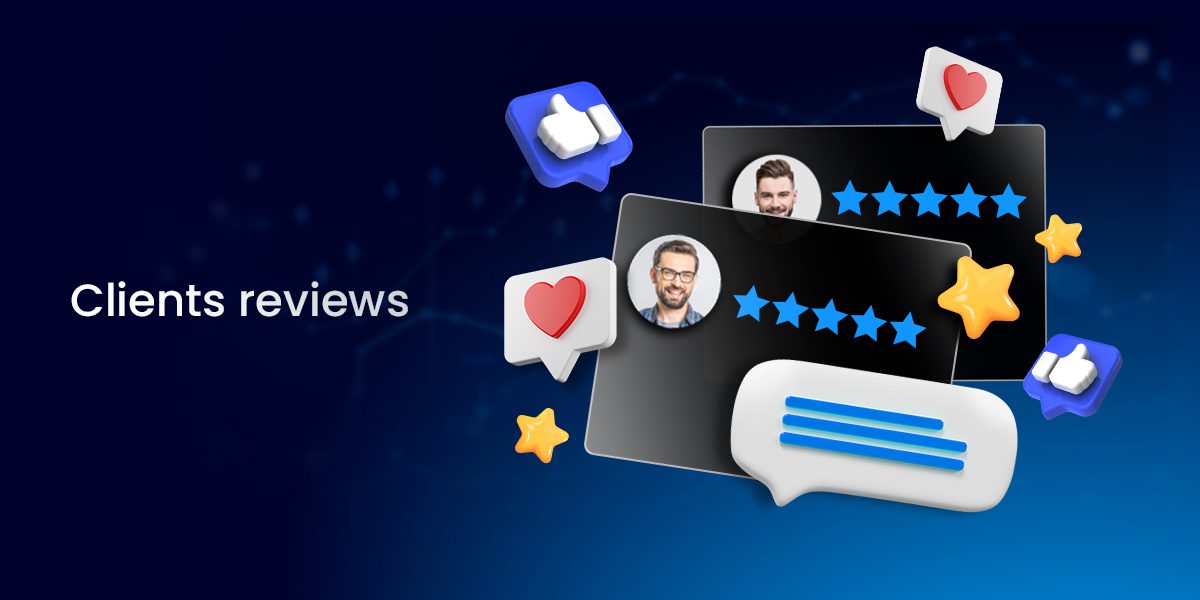 Each review from a trader described his or her personal experience and attitude to the platform and its trading conditions. That's why we decided that the most objective way to access PrimeXBT testimonials would be to compare the average scores of the company on different review platforms, while also considering the number of these reviews. Here is what we've managed to find out on PrimeXBT using this approach:
| | | |
| --- | --- | --- |
| Platform | Average Score | Number of Reviews |
| Sitejabber | 4.8 | 88 |
| G2 | 4.4 | 28 |
| Capterra | 5 | 32 |
| Reviews.io | 4.7 | 120 |
| Trustpilot | 4.3 | 21 |
| Producthunt | 4.6 | 150 |
| Google Maps | 4.7 | 47 |
| Revain.org | 4.6 | 97 |
Özgün A on Revain.org: "PrimeXBT is a mid-level crypto exchange platform built using blockchain technology. I have to say from the beginning, I don't like websites because they are too complex and disorganized. However, you can see the instant changes of crypto pairs and the transaction volume of crypto coins. On PrimeXBT, you can see detailed graphics and in-depth analysis of cryptocurrencies. It provides support for 16 languages."
Anthony Andrews on Producthunt: "I have been thinking about doing crypto trading for a long time and was looking for a smart exchange. My Brother advised me to try PrimeXBT. He himself uses this site and, apart from a few minor flaws, is pleased with it. I initially liked the fact that there are a bunch of articles."
Trading Conditions and Execution
PrimeXBT is often referred to as a cryptocurrency exchange. However, that's a misconception because PrimeXBT offers access not only to the cryptocurrency market. Except for 41 cryptocurrency pairs, you can trade 51 forex pairs and 14 CFDs. Stock indices and commodities are also available for the purposes of investment diversification.
PrimeXBT offers market execution for both the main trading terminal and copy trading platform. In addition to market orders, you can choose the following order types:
Limit orders: A buy limit order can only be executed at the limit price or lower, and a sell limit order can only be executed at the limit price or higher.

Stop-loss orders: Set a specific price and which you are willing to buy or sell a certain security. When the asset reaches that point, the trade will be executed automatically.

OCO: A pair of conditional orders stipulating that if one order executes, then the other order is automatically canceled.
Commission and Fee Structure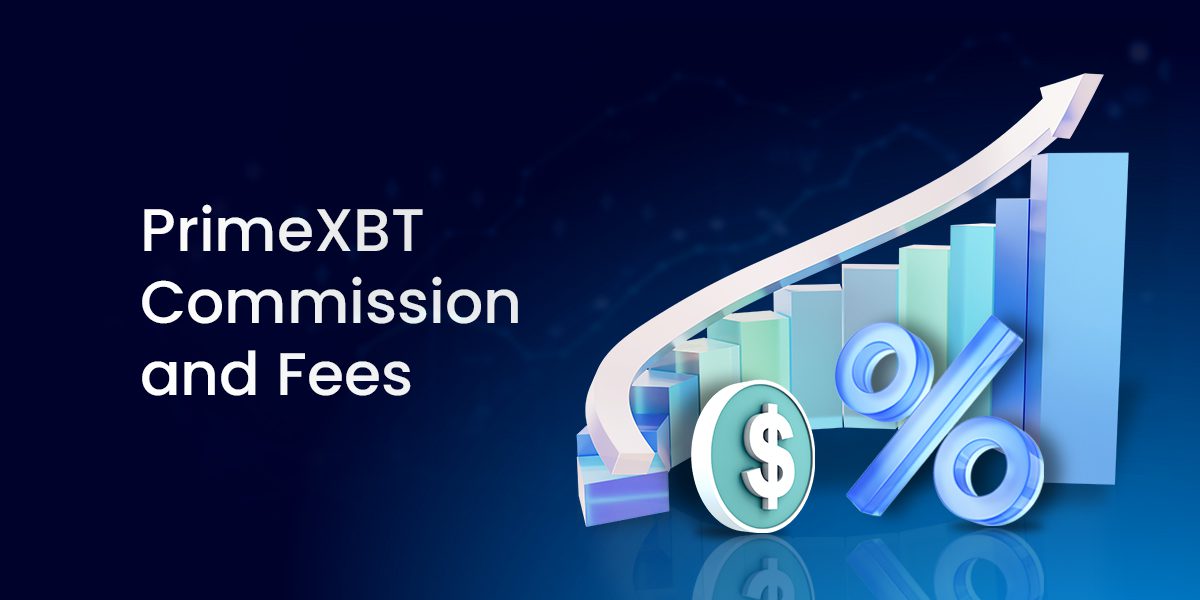 | | | |
| --- | --- | --- |
| Asset | Market | Commission |
| BTC/USD | Crypto | 0.05% |
| ETH/USD | Crypto | 0.05% |
| EUR/GBP | Forex | 0.0001% |
| EUR/USD | Forex | 0.0001% |
| USD/JPY | Forex | 0.0001% |
| NASDAQ | Index | 0.0001% |
| EUR50 | Index | 0.0001% |
| CRUDE | Commodity | 0.0001% |
| NAT.GAS | Commodity | 0.0001% |
| GOLD | Commodity | 0.0001% |
Leverage Options and Limitations
| | | |
| --- | --- | --- |
| Asset | Min. Order Size | Max Leverage |
| ADA/USD | 0.01 ADA | 1:20 |
| BNB/USD | 0.01 BNB | 1:10 |
| BTC/USD | 0.001 BTC | 1:200 |
| DOGE/USD | 0.01 DOGE | 1:20 |
| ETH/USD | 0.01 ETH | 1:200 |
| ETH/BTC | 0.01 ETH | 1:200 |
| LTC/USD | 0.01 LTC | 1:50 |
| SOL/USD | 0.01 SOL | 1:20 |
| XRP/BTC | 0.01 XRP | 1:20 |
| SHIB/USD | 100000 SHIB | 1:5 |
Copy Trading Services on PrimeXBT: Covesting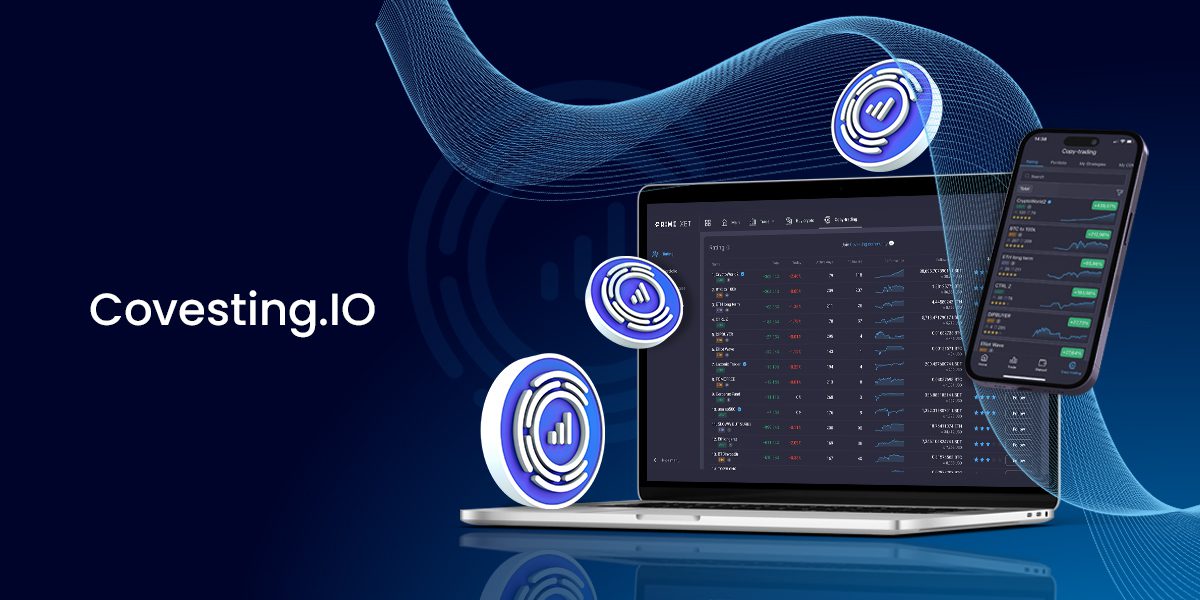 Except for offering a web-based terminal for executing trades in different markets with various order types, PrimeXBT also offers the possibility to share and copy trading strategies. Similar to many trading platforms, this service is available through a separate module. In the case of PrimeXBT, this is the Covesting module. Here are the key findings about Covesting:
Covesting.io is a Distributed-Ledger Technology Service Provider that currently lists strategies shared by over 400 experienced traders. It's registered under the jurisdiction of Gibraltars' FSC.

With Covesting, PrimeXBT clients can earn staking rewards. For this, they need to buy the utility token called COV and stake it through special yield accounts.

Covesting is free to use and provides the same trading assets and instruments as the partnership platform. In this case, we refer to PrimeXBT, meaning you can automatically duplicate trades of successful PrimeXBT clients and earn a 70% share of profits from every successful trade. 
Security Infrastructure
Cybersecurity is a key factor you need to consider when making research on any cryptocurrency trading platform. To ensure that all "PrimeXBT scam" claims are false, you need to make sure that the platform's cybersecurity framework is potent enough to provide proper customer asset protection.
From the official information on the website and customer reviews, we've found out that PrimeXBT ensures several layers of asset protection using the following solutions:
A dual-factor authentication: While not offering the KYC procedure, which may potentially cause sensitive data leakage, PrimeXBT verifies its users through the method of so-called "two factors".  This feature can be set up after registration to protect the authorization process

Withdrawal address whitelisting: To put it simply, PrimeXBT won't allow you to withdraw funds from your account to a specific address if this address wasn't previously added by you to a special white list.

Wallet Security: Thanks to the cold wallet solution, PrimeXBT can limit the probability of hacking attacks to a minimum. Besides, all transactions of funds from your cold wallet will be executed manually by the company's professionals. This can slow down the withdrawal process, which is quite a frequent complaint in client reviews, but this will not be an issue for you if you value your asset protection more than the time of processing.

Pros of PrimeXBT
Low commissions and competitive trading conditions: From the table above, you can see that PrimeXBT can be considered one of the most loyal trading platforms in terms of fee structure. Its makers' and takers' fee is just 0.05% with no entry fee required.

Wide range of tradable assets and instruments: With PrimeXBT, you can invest not only in cryptocurrency projects but in other instruments such as stock indices and stocks. You can also speculate on foreign exchange rate fluctuations. This selection of tradable assets enables great diversification opportunities for a trader.

Advanced risk management tools: Many PrimeXBT clients complain about the high and unmanageable leverage of PrimeXBT. On the one hand, it does create additional risks but on the other hand, PrimeXBT offers enough risk management tools for users with low risk tolerance. Limit and stop-loss orders are the most common ones.

User-friendly interface: To benefit from PrimeXBT cryptocurrency trading services, you don't need to download and install any sophisticated solutions. The platform is launched from your web browser. It has a highly customizable dashboard and convenient navigation for traders of all levels.
Cons of PrimeXBT
Limited fiat deposit methods: To deposit money through a bank wire transfer or debit card, you need to use special converter services that charge additional fees because PrimeXBT offers only blockchain-based deposit methods. E-wallets are also unavailable here.

Lack of support for certain blockchains: Although PrimeXBT is considered one of the leading Bitcoin trading platforms, its selection of blockchain networks remains quite limited. You can make deposits only in BTC, ETH, USDT, and USDC.

Potential challenges with spread volatility: In their reviews, PrimeXBT traders often mention that they encounter extreme spread volatility, especially during nighttime trading, which makes trading with PrimeXBT more costly. 
Overall Assessment of PrimeXBT
Based on the study of customer testimonials, reviews from media and industry experts, and official open-source information, we've managed to draw these three key findings on PrimeXBT:
PrimeXBT is legit

, operating in accordance with specific requirements under certain jurisdictions, excluding the USA.

The overall reputation of PrimeXBT among clients is positive, which is evident from testimonials published on review platforms and special forums.

PrimeXBT has to look for improvements in terms of blockchain support and leverage conditions to reach a wider audience.
Make your own decision on whether PrimeXBT is worth working with based on these findings and your own research!
FAQ
How can I deposit funds into my PrimeXBT account?
PrimeXBT supports a limited number of blockchain networks to enable deposits from users. This includes BTC, ETH, USDT, and USDC. To deposit money through standard banking methods, use converter services.
What is the maximum leverage offered by PrimeXBT?
PrimeXBT offers leveraged trading up to 100x. Although this tool can greatly increase your buying capacity, make sure you know how to utilize it properly in order to avoid potentially higher losses.
Is PrimeXBT available in my country?
This depends on whether PrimeXBT is eligible under your jurisdiction. Currently, the company doesn't accept traders from the US, Canada, Japan, Russian Federation, and some other countries. The complete list of the restricted jurisdictions is available on the official website of PrimeXBT.