PREMA is the world's first NFT comprehensive application platform, which can provide users with convenient NFT transactions and NFT multi-functional application services. PREMA's NFT solutions have been widely used in digital artworks, digital collections, virtual games, Internet of Things and real-life scenarios, PREMA Wallet is known as one of the most convenient entrances to the Web3 network world. 
Non-fungible token (NFT) is a proof of asset rights and interests based on blockchain technology. It has non-replicable uniqueness and can facilitate the circulation of all digital assets on the chain. At present, NFT in the market is mainly based on the on-chain digitization of assets such as art collections and game props. There are fewer NFT of financial assets represented by stocks, equity, trusts, etc., and NFT based on social service scenarios such as bills and digital electronic cards. The cases of converting traditional physical assets into corresponding NFT and relying on the blockchain to realize transaction circulation are even rarer.
Different from the current NFT release platform, PREMA's goal is no longer limited to digital art collections and game asset transactions, but to further empower NFT through the PREMA Wallet application, making NFT not only a general digital asset in Web3 and Metaverse, but also a tool that provides information and data services for daily life, and can be converted between the two.In the solutions such as AQR and NFC proposed by PREMA, NFT has a wider range of applications, is more specific and real, can serve society, and generate actual social and economic benefits. It has great potential in many fields such as supply chain finance, logistics system, sharing economy, tourism, etc., and can even affect the development of an industry, so the PREMA NFT project is worthy of our attention. It builds a bridge between the real and digital economy, which will change the way people interact with digital assets.
It's worth noting that NFT is still a relatively new technology, and its use and adoption will likely continue to evolve and expand over time. The success of the PREMA NFT project will depend on many factors, including the development of effective solutions for storing and managing NFT, the adoption of NFT by a wide range of industries and businesses, and the development of user-friendly applications and platforms that allow people to interact with NFT easily. If the PREMA NFT project can overcome these challenges and successfully expand the use of NFT, it could have great potential to impact various industries and change the way people interact with digital assets.
First, let's take a look at the background and platform structure of the PREMA project, which is very important for every investor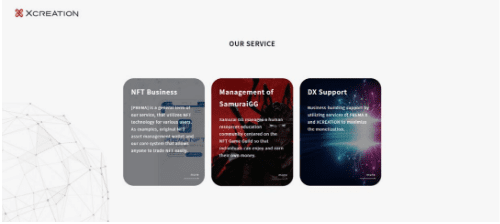 PREMA is a Web3 platform operated by PREMA project, a project team that provides NFT/blockchain content development and services. The project has launched a variety of NFT digital products, such as Japanese Comedians Collectable Card series with a total sales volume of more than 2 million pieces. Last year, it jointly developed the NFT asset management wallet "NFT asset management all-in-one machine" and "multi-chain NFT trading system" with Nihon Technology Solution. 
Currently, the PREMA platform consists of two sections: PREMA Wallet (multi-chain wallet) and PREMA X (NFT market). PREMA Wallet currently supports eight types of blockchains and the supported settlement methods include cryptocurrency, credit card, PayPal and operator settlement. PREMA X is a comprehensive NFT trading market, which can connect wallets or use credit card transactions with one click, and supports users to trade NFT and issue NFT contracts. In addition, PREMA's traceability system and PREMA Chain are being developed simultaneously, so the PREMA project is still in the early stages of development.
The technical core of the PREMA platform is AQR and NFC, and AQR is a patented product of A/T Communications. This technology ensures data security when scanning QR codes (QR codes). NFC is a near-field communication technology that can transmit data by placing different devices at a distance of 10cm. NFC technology is also used to complete data transmission by placing devices near the card reader. It has a wide range of uses, including common transportation IC cards such as bus cards.
The AQR data protection measure is to divide the data into truncated data and chaotic data after super-randomization. The two kinds of data will be stored separately. Only when the two kinds of data are combined and read can the whole picture of encrypted information be obtained. Therefore, even if the server is hacked, hackers cannot steal digital assets with only partial data. AQR data security technology and NFC near-field communication technology can be used to securely store and transfer data including NFT between devices or systems. By combining these technologies with the PREMA wallet application and traceability system, it is possible to create a system that allows NFT to be securely associated with physical facilities and products in the real world.
NFT tokens can connect virtual and real-use scenarios. For example, in the context of universe blockchain games, using QR code and RFID tag technology, NFT can be associated with physical objects in the real world (including various facilities and products). Physical facilities and products associated with NFT assets in the Metaverse can use the PREMA wallet application and traceability system to track and verify the authenticity and ownership of physical goods as they move through the supply chainor manage distribution and deliver physical goods by using smart contracts. This will have significant benefits in increasing transparency, accountability, and trust across industries and supply chains, and provide a secure and verifiable record of the movement and ownership of physical goods.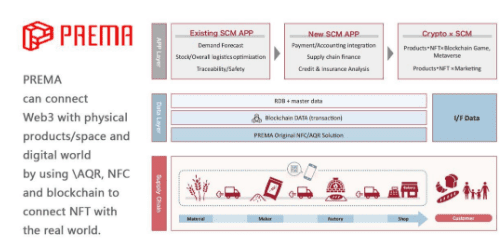 At this point, NFT has the property of representing a unique item. An NFT can represent an item and complete the traceability of the item. The NFT contains metadata about the source, brand, journey, and warehouse location of the product, which means that physical objects can be used as a medium to simply and safely sell NFT in existing sales channels, bringing major innovations to the existing market. For example, in October, PREMA and Nihon Technology Solution jointly launched the sake sales system "Shurin" using NFT for encrypted payment, which has NFT data label traceability and pre-order functions. 
For example (hypothetically): 
⚫ A bottle of sake. It is assigned an NFT that you can quickly scan on its bottle (cap). 
⚫ Include time-stamped metadata about when, where, and how the Shurin brewed, or other important information. 
⚫ As the product moves through the supply chain, the NFT is scanned and new time-stamped metadata is added. This data may include its warehouse location and the time of arrival or departure. 
⚫ Once the sake reaches its final destination, the store (buyer) can scan them and mark them as "received". You can view detailed historical records and confirm the authenticity and logistics journey of sake with the winery through the contract system. 
The above case is completely achievable in the PREMA system. This is just a simple case description of recording item information in logistics. The above is an exploration and consideration of the actual application scenarios of NFT in future development, and it is also a vision for PREMA. 
At present, PREMA tokens are listed on 8 exchanges, including KuCoin and Gate, with a price of US$0.004115 and a maximum supply of 10 billion (fixed), which is still in the early stages of development. 
Learn more about PREMA: 
PREMA official website: https://prmx.io/ 
PREMA Wallet official website: https://premanft.com/en/home-en/ 
Instagram: https://www.instagram.com/prema.io/ 
Discord: http://dsc.gg/official-prema-discord 
Telegram: https://t.me/OfficialPREMA 
Twitter: https://twitter.com/prema_en 
Medium: https://officialprema.medium.com/