What Is PowerX Optimizer?
PowerX Optimizer is a proprietary stocks and options trading software launched by Markus Heitkoetter, founder of Rockwell Trading. As Rockwell Trading's flagship product, PowerX Optimizer is designed to simplify the options-investing process for all types of investors. It takes a mathematical approach to recommend exactly what to trade and when to trade, so investors can maximize profits and minimize risk exposure.
PowerX Optimizer scans over 18,000 North American stocks, ETFs, and cryptocurrencies and gives concise and actionable information. The interface is straightforward to use, and whether you're a beginner or an experienced investor, you won't have any trouble getting used to the platform.
Unlike most platforms that give stock advice, PowerX Optimizer charges a one-time fee for lifetime access to all the features. In this PowerX Optimizer review, I will go over all the best features of this software so you can decide if it's the right platform for you.
Keep in mind this is a summary; if you want to read a more in-depth analysis, check out of full PowerX Optimizer review.
Pros & Cons of PowerX Optimizer
Pros
Scans 18,000+ stocks and ETFs listed in the US and Canada
Supports Stop Loss, Entry, and Profit Target order types
Tracks 140+ of the biggest cryptocurrencies
Intuitive and beginner-friendly interface
Pay once and gain lifetime access (plus a 30-day free trial)
Must-have tool if you invest using 'The Wheel Strategy'
Comprehensive learning resources and tutorials
Export your stock picks easily to your broker
Cons
High up-front cost
Options trading experience is highly recommended
PowerX Optimizer Features & Benefits
1) 18,000+ Stocks And ETFs Scanned Every 2 Minute
PowerX Optimizer uses proprietary software to scan over 12,000 US and 5,000 Canadian stocks and ETFs, plus over 140 of the biggest cryptocurrencies, every 2 minutes. Experienced investors have highly customizable filters and trackers, so you can find the stock that better fits your goals and track it over time to find the best time to move in. This platform is ideal if you're looking to use 'The Wheel Strategy' for trading options.
Beginner investors will find that the filter is user-friendly and very intuitive, and if you don't want to mess with it, you can set up the default option, which is what Markus Heitkoetter himself uses.
Some of the filters you can customize (among many others) are:
Strike price
Premium
Days to expiration
Drop (in percent)
Buying power
Additionally, it offers historical data on all its stocks for the past two years so you can backtest your strategies and see how well they perform in a realistic environment.
2) Charting Tools & Calculators
If you have some experience investing, you know how valuable good charting tools can be. PowerX Optimizer updates its charts every time new data comes in, and they're perfect for tracking 'safe trades' and minimizing risk.
Whenever you click on a stock, you will see a chart showing the lowest closing price of the last eight weeks plus the strike price of the option you're selling. As long as the strike price line is below the lowest closing price, you can be sure you're making a relatively safe trade. This is an invaluable tool for investors who don't want to take any risks.
If you have a bit more experience and would like to get into more profitable (and risky) investments, you can try out the Options Calculator to find out all the details about a stock before you place an order. PowerX will automatically make a recommendation based on your account size to optimize your profits.
If you'd rather go for a safer, less profitable investment, it might be worth considering investing in safe-haven assets like gold and silver – on a platform like APMEX.
3) Sync With Your Broker And Automate Orders
PowerX Optimizer is entirely web-based – that means all you need is a web browser to access all the features. It works on Windows, Mac, Linux, and all handheld devices. Couple that with how easy it is to synchronize with most brokers and export your orders, and you end up with one of the most flexible options trading platforms out there.
4) Educational Resources
With all the information out there, it can be overwhelming if you're a beginner. PowerX has that in mind and offers plenty of educational resources like video tutorials and user guides to help you get up to speed and make your first trade.
Additionally, Markus Heitkoetter himself conducts live Zoom sessions every Monday, and he answers all the questions about the platform and investing in general.
PowerX Optimizer Fees
One-time Fee: $2,997 (or $1,997 if you use our link)
Unlike most investing platforms, PowerX Optimizer charges a one-time fee to unlock lifetime access. You don't need to worry about subscriptions running out or hidden fees.
If you'd rather go for a more affordable options trading platform, you can try out Options Strategies Insiders. Keep in mind that in the long run, no platform can beat PowerX Optimizer's unique one-time fee for lifetime access.
Sign-Up Process
PowerX Optimizer is available for investors in the US, and the sign-up process is very quick. To create an account, visit PowerX Optimizer's website and fill in some of your basic information.
Make sure to use our link to sign-up if you want to unlock the 30-day free trial plus a 33% discount on the one-time fee; instead of $2,997, you will pay only $1,997.
Additionally, after you finish the trial period, you will unlock your very own referral code so you can start inviting friends and earning a generous commission.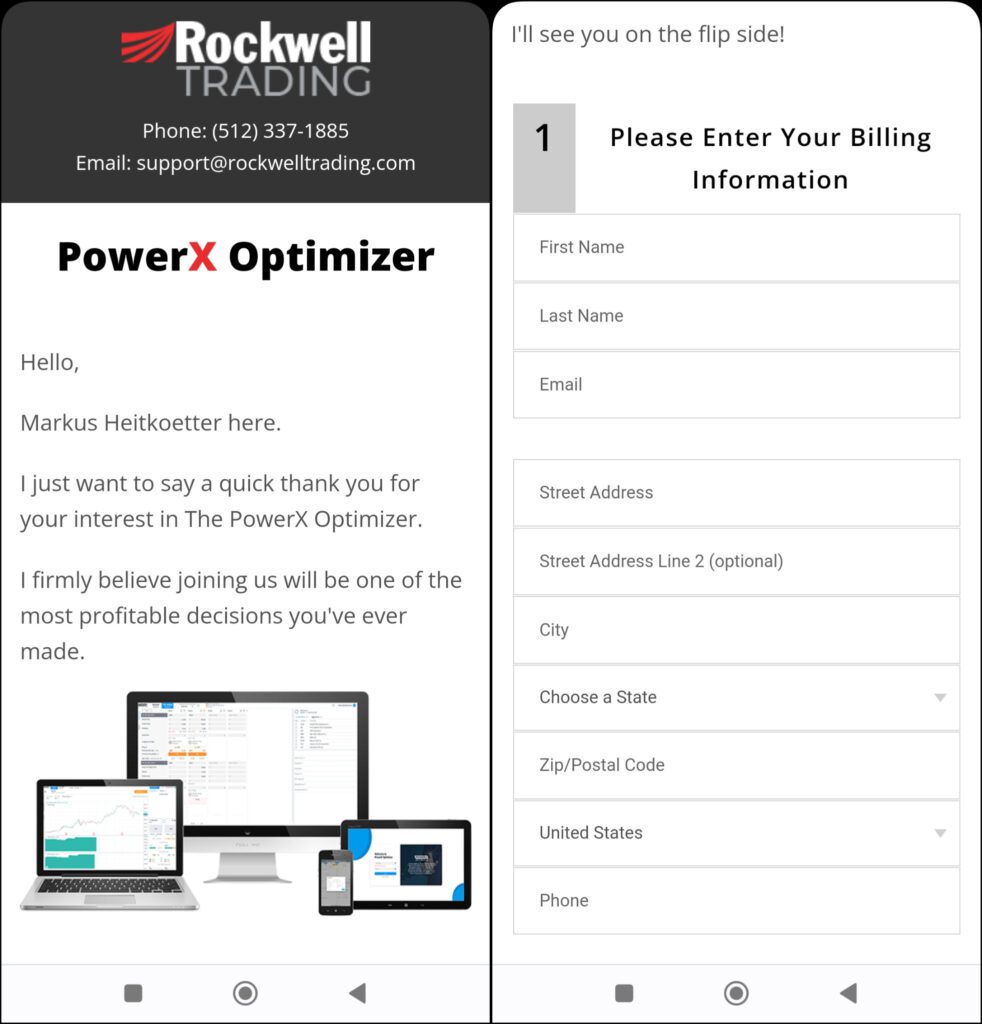 Trustpilot Reviews
PowerX Optimizer has excellent reviews from its users, and it holds a rating of 4.7 on Trustpilot. Here's what some of those users had to say:
"I found the software to be relatively intuitive, and was able to immediately use it to start making trades." – Gary A.
"I studied the wheel strategy quite a bit before deciding to buy PowerX Optimizer. The tool, combined with all the video resources Markus provides, along with the community of users has make this a terrific experience so far." – Gregg H.
"My biggest issue with trading was time it took to identify good candidates to trade. With PXO software my time is my own. It's easy to use and understand. It doesn't make the decisions for me, but presents options to consider." – Kenneth E.
If you are not entirely convinced by this particular service, even after reading these reviews, you can try one of the most established stock advisors: Motley Fool Options. It offers access to valuable growth and dividend stocks and has a more accessible subscription-based annual fee.
Final Thoughts
PowerX Optimizer is an excellent software for investors looking to get into options trading. If you can afford the upfront fee, it can be considerably cheaper than subscription-based stock advisors. PowerX Optimizer is very user-friendly, and it's highly compatible with brokers; you can easily export your stock information and place orders directly with your broker. Despite being marketed primarily for experienced options traders, beginners will find that it has robust learning resources, including guides and videos. Overall, PowerX Optimizer is one of the best investing software if you're looking to invest in options.