PosiGen is the nation's leader in providing solar energy and efficiency solutions to low-to-moderate income households and communities of color. PosiGen CEO Thomas Neyhart founded the company in 2011, and it either directly or indirectly employs roughly 400 workers in Louisiana, Connecticut, New Jersey, New York, and Florida.  PosiGen has installed over 18,000 solar and efficiency systems across the country, primarily in districts with a high proportion of low-to-moderate income families and communities of color. 
Recent Funding Rounds Under PosiGen CEO Thomas Neyhart
PosiGen recently completed several high-profile fundraising rounds. PosiGen CEO Thomas Neyhart stated that PosiGen's commitments to creating good jobs in underserved communities and enabling equitable access to clean energy are the driving forces behind the company's success. Making meaningful differences in the lives of the families the company serves has also helped spread the word about not just the financial savings but the social causes that the company is empowering. The company's commitment to these causes – and its success in the industry – have caught the attention of many investors and venture capital firms interested in participating in business activities aimed at PosiGen's target markets.
Under the guidance of Thomas Neyhart, PosiGen recently completed the second close of its Series D growth equity financing, worth roughly $60 million. PosiGen also secured working capital term loans to accelerate growth and provide efficiency upgrades to disadvantaged communities. Investments worth $24 million were secured from Mizzen Capital, LP, a private credit fund, Reinvestment Fund, a mission-driven financial institution, and Stonehenge Capital, a thought leader in investment capital. 
Onboarding Subject-Matter Experts to PosiGen
The investments and partnerships mentioned above will provide PosiGen with more than growth capital. They will also bring a slew of industry experts to the table. These include experts in renewables from renowned consultancies such as Kayne Anderson Capital Advisors, LP, as well as growth financing and social impact leaders from SJF Ventures. Experts in strengthening neighborhoods, scaling social enterprises, and building resilient communities are also involved. Together, these experts will assist PosiGen CEO Thomas Neyhart in spearheading PosiGen's community-focused, green energy and efficiency initiatives.
In addition to external consultants, PosiGen has added to the internal leadership team with the selection of Josh Storrusten as Vice President of Operations. A veteran in the renewables space, Mr. Storrusten will focus his efforts on growing PosiGen's business lines while helping to provide savings and growth opportunities to the underserved markets where the majority of PosiGen's clientele reside.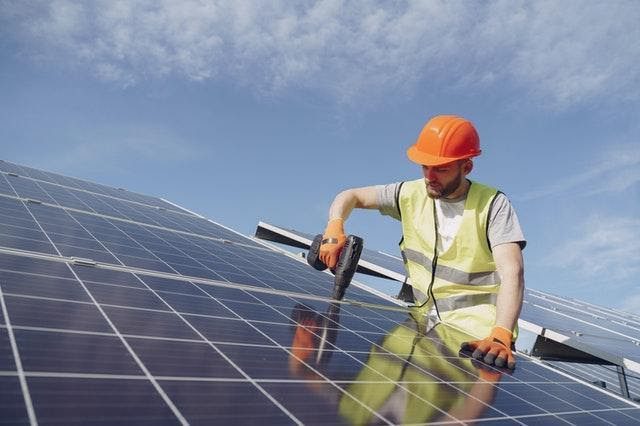 The PosiGen Business Model
PosiGen's recipe for success is simple: provide disadvantaged and marginalized communities with efficiency upgrades that can generate substantial cost savings with a fair and transparent clean energy component. The efficiency upgrades pay for themselves in no time, and the clean energy component is not only good for the environment but helps guarantee client buy-in. Real cost savings and exceptional customer care generate word-of-mouth recommendations, helping PosiGen keep customer acquisition costs well below the industry standard.
PosiGen was founded to close the clean energy access gap for low to moderate-income households and disadvantaged communities. However, the business has grown to be so much more. It provides people with a second chance to rebuild their lives after struggling with addiction or serving time. It provides real cost savings to families that can help spur community-level economic development. It also provides work opportunities to enterprising individuals; roughly 65 percent of the company's workers are women or people of color, many of whom hail from the very census tracts the company serves. 
About PosiGen CEO Thomas Neyhart
Thomas Neyhart, as the CEO of PosiGen, is a recognized leader in the clean energy space. He was named one of Goldman Sachs' 100 Most Intriguing Entrepreneurs of 2014, thanks in part to his successful track record of starting and running several businesses in multiple industries. He is a sought-after speaker at renewable energy and construction conferences and is a member of the Society of American Military Engineers.
PosiGen was named the fastest-growing energy company in American in 2014, and it was named to the Inc. 5000 Fastest Growing Private Companies List two years in a row. Under the leadership of CEO Thomas Neyhart, PosiGen has raised over $30 million of equity, $100 million of tax equity, and established credit lines worth over $100 million.
PosiGen was awarded the Patriotic Employer Award by the Office of the Secretary of Defense and the Blue Ribbon Award from the U.S. Chamber of Commerce, and in 2015, PosiGen was named one of 27 Coolest New Businesses in New Orleans by Business Insider. 
Final Thoughts
PosiGen has taken a new approach to community upliftment and business success, a path not commonly seen in the renewable energy space. The company is not only connecting low-to-moderate income households and communities of color to cost-effective energy solutions, thereby saving these communities substantial amounts every year. PosiGen also invests in its target communities, provides people with work opportunities, and helps to save the environment in the process.
The successful close of PosiGen's most recent funding rounds and the expansion of the company's operations are a testament to the viability of socially responsible business practices. PosiGen CEO Thomas Neyhart's vision for the company – providing services that make not just financial sense but deliver long-term social and community benefits – is at the center of everything PosiGen does. As the company heads toward 2022 and beyond, the company remains as committed as ever to helping disadvantaged and marginalized communities enjoy better access to clean, renewable energy and smart, effective energy plans.