If you want to make a career change in 2021 and try the IT field or if you are already part of this field but want to advance or change your job, then an IT certificate can increase your chances of doing so.
No matter what you want to do as a developer or manager, a certificate will not only help you get the job you want more easily, but will also improve your knowledge and prepare you for this job. So that you feel capable of doing the job.
Here is a list of some of the certificates you can get depending on the type of job you want to land.
Cato Networks SASE Expert Certification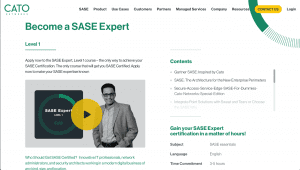 Having multiple cloud services and solutions in a project can become overwhelming in terms of managing them, especially if they are offered by different providers. Therefore, the need to have everything unified in a cloud solution has emerged.  Today this is possible through SASE, a new type of architecture that was introduced in 2019, which solves this problem by converging different cloud solutions into a global service.
Because this technology is relatively young, there are a lot of opportunities for those who want to acquire skills in the use and management of this type of architecture. This SASE Expert Certification is offered by Cato Networks, which offers the world's first SASE platform.
Certified Ethical Hacker (CEH v11)
If you are attracted to what hacking is in general and what it involves and you want to learn and do it yourself (but keep it legal), then you might want to try to get an ethical hacking certificate. As an ethical hacker, your responsibility is to attack the relevant system as a hacker would but only to expose any security vulnerabilities and test overall security.
There are multiple job roles that you can take as an ethical hacker and the certificate offered through the EC-Council, CEHv11, is one of the certificates that can help you show your skills in order to get a position more easily.
Through this course, you will become up to date with the latest techniques used by hackers and learn how to legally hack an organization.
AWS Certified Solutions Architect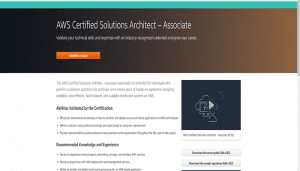 AWS is widely used at the enterprise level, but also at the startup level.
Offering a vast suite of solutions that covers all needs and having such widespread usage among companies, there is a need for software engineers with a greater degree of knowledge of AWS cloud computing to be able to design and deploy scalable systems that are also cost effective, secure and reliable.
The AWS Certified Solutions Architect offered by Amazon is exactly the certificate that can validate all these skills.
This certificate is not intended for beginners, but is intended for people who have one or more years of practical experience in designing systems on AWS architecture.
Certified ScrumMaster® (CSM)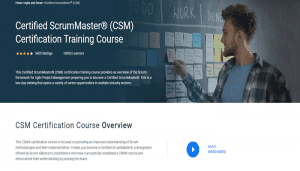 It may seem difficult to enter the IT field, but not all participants are required to have developer or engineering skills. Any team also needs someone who can facilitate its work. A ScrumMaster is responsible for facilitating teamwork. They must ensure that the team has all the necessary conditions to be able to work and follows the practices that the team has agreed to use.
Some of it's responsibilities may include things like clearing obstacles that the team encounters or establishing an environment where the team can be effective.
The practices that someone in such a position practices are not subjective things, but rather, they represent certain methodologies that require study. Therefore having a ScrumMaster Certificate not only adds credibility, but it can also make you more sought after.
Certified Data Privacy Solutions Engineer (CDPSE)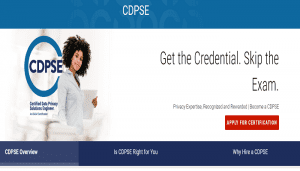 The regulations that apply to data confidentiality must be followed by all parties involved. Even at this moment, not all data collectors follow the privacy laws strictly. To do this there is a need for trained people who know not only this field very well, but also the laws that apply depending on the situation in which a company may individually find itself.
The Certified Data Privacy Solutions Engineer (CDPSE) provided by ISACA is designed to demonstrate that its holders have the necessary knowledge to manage a complex topic like data privacy.
Wrap up
Being part of the IT industry is something that requires training and preparation, no matter what area you want to be in. An IT certificate can help you stand out in front of recruiters, but most importantly it prepares you for the position you want to apply for.