During the correction period, investors lost more than $830 billion due to the fall in the rate of cryptocurrencies, while crypto whales received more than 120,000 bitcoins in addition, manipulating the collapse. What does a small private investor in cryptocurrency look like in 2021? PointPay blockchain bank conducted a study among more than 58,000 clients and found out the average age of active cryptocurrency investors in 2021. According to the study, investors and cryptocurrency holders have matured, while the number of women who love risk was 14%. 
From February to March 2021, blockchain bank PointPay conducted a study among platform users (58,000 respondents from 120 countries) and found out the average age of investors in that crypto wave. 
"The distinguishing feature of this cryptocurrency rally is that it attracted a lot of new investors. According to our estimates, those 43-45% of new investors who joined the market had never previously dealt with the cryptocurrency trade," says Andrey Svyatov, CEO of PointPay. 
"With a great deal of confidence, I can say that these are non-professional investors, they understand little about the market mechanics, but, nevertheless, they are sure that cryptocurrency has greater potential than, for example, a bank deposit. However, it is this audience that is prone to the greatest panic moods, as well as wrong actions with high-risk instruments, which are fraught with big losses."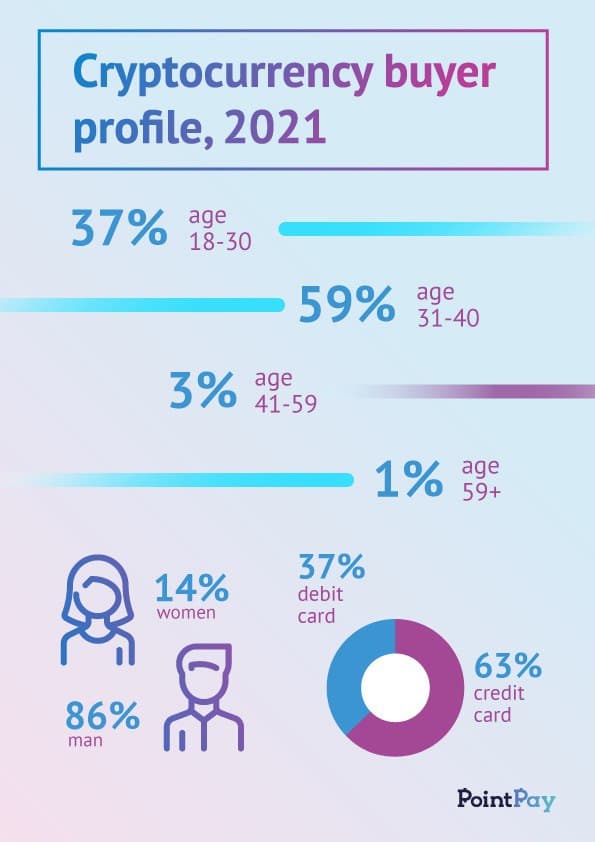 It is better for such investors to take training courses in cryptocurrency trading, or at least google the relevant information and consider it.
PointPay notes that crypto investors were significantly younger in 2018. In their opinion, then, about 60% of investors were under the age of 31.
Now the ratio has changed: 59% of investors today are between the ages of 31 and 49. According to PointPay analysts, in 2018, about 60% of private, small investors were young, while their investments were insignificant and stable. Most of them were related to the IT sphere and invested in top cryptocurrencies for several hundred dollars a month. The volume of their annual investments hardly exceeded $4,000. 
"Today, the ratio has shifted in favor of older investors. And this will reveal its pros and cons for the market. 59% of cryptocurrency buyers (from our sample) are between the ages of 31 and 40. They can make more stable investments, and invest not the last money in cryptocurrency. They have a fairly high level of debt burden, as a rule, at this age they already have a mortgage and a car loan, at least. And therefore, such people clearly understand where they want to put the return on investment. They are ready to spend from $6,500 yearly on cryptocurrency and won't rush to withdraw it from the account at the first market correction. They are much more inclined towards long-term investment," notes Andrei Svyatov. 
As for older buyers, from 41 to 59 years and more, they make up about 4% of all private cryptocurrency investors. This category tends to invest more in cryptocurrency — on average, up to $12,000 per year or more. It is also worth remembering that most of the well-known cryptocurrency whales today are also in adulthood. So, Tim Draper, who owns at least 30,000 bitcoins, is currently 62 years old. 
Another trend that the study showed is an increase in the number of women in the cryptocurrency trade. Compared to 2020, the number of women participating in the market increased by 4%, from 10% to 14%. For classic stock trading on the stock exchange, this indicator is slightly higher — about 20% of traders are women. 
"Women participating in the classic market have shown themselves to be balanced and successful traders, they take less risks and are more prone to order and consistency in trading," the study says.
Despite the fall of bitcoin by 50% of its ATH price, the cryptocurrency is such an attractive investment that the majority of buyers (63%) are willing to pay interest to banks in order to own it. 
The study was conducted on a sample of 58,000 respondents from 120 countries, based on the results of data provided by customers in an email survey in February – March 2021, as well as targeting data from the Tag Manager of PointPay advertising campaigns in March 2021.