Helsinki, May 18, 2023. It's time for Nordics to join the global Web3 community and come together at Aurora Conference.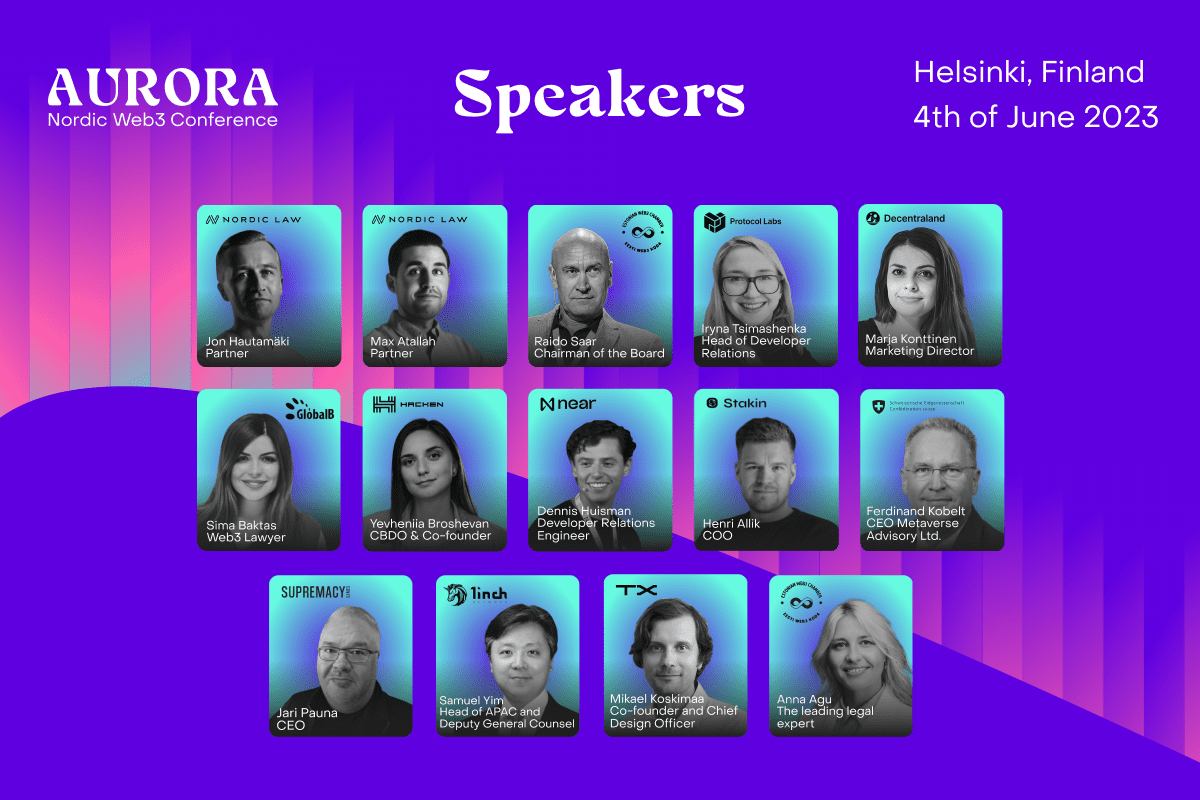 WHAT?
Aurora conference – the first-of-its-kind international gathering of Web3 builders, innovators, and leaders taking place in Helsinki, Finland on the 4th of June. 
The thought leaders will gather to discuss the future of Web3 and cutting-edge innovations with a non-hype approach at Aurora conference. Together they will explore the possibilities to govern Finland as a DAO in the next 10 years. And if Web3 is dead, what is next? 
The real-world use cases will help to identify the value and potential of Web3 in various industries and find the growth hacking strategy for existing business and connect with the future trends.
Some topics to be covered:
Is Web3 dead? And what's next?
Will Finland be governed by DAO in the next 10 years?
Can staking become a possible alternative to bank investments?
Growth hacking with Web3 tools
The inevitable convergence of AI and Web3
Immersive metaverse: is there any value?
AGENDA:
20+ Top-notch international speakers
Mixed format: keynotes, panels, workshops
Authentic Finnish experience
SPEAKERS:
Samuel Yim – Head of APAC and Deputy General Counsel, 1inch Network
Dennis Huisman – Developer Relations Engineer, Near 
Marja Konttinen – ex-Marketing Director, Decentraland
Jari Pauna – CEO, Supremacy Games 
Sima Baktas – Web3 Lawyer, GlobalB Law
Iryna Tsimashenka – Head of Developer Relations, Protocol Labs
Yevheniia Broshevan – CBDO & Co-founder, Hacken 
Ferdinand Kobelt – CEO Metaverse Advisory Ltd., Senior Advisor at the Swiss Federal Department of Defence
Mikael Koskima – Co-founder and Chief Design Officer, TX – Tomorrow Explored 
Anna Agu – Leading legal expert, Estonian Cryptocurrency Association 
Max Atllah – Partner at Nordic Law 
Jon Hautemäki – Partner at Nordic Law 
Aurora is a unique meeting point in Nordics for innovators, entrepreneurs, creative talents, and newcomers. The one-day conference provides the opportunity to discover the future of cutting-edge innovations such as blockchain & web3 technologies, including DeFi, NFTs, GameFi and AI from over the 20 leading industry companies who will share their vision for upcoming trends, innovative ideas, and products.
The exclusive hands-on experience in the workshop area from the industry pioneers, how to build and scale the web3 project.  
Meeting and networking are a must-have at all conferences. There will also be plenty of opportunities to meet and network with more than 300 people from the web3 community.
Some perks and fun activities during the day. Events are made to learn and have some fun! 
Aurora is a part and culminating event of the first Web3 Week Helsinki (26.05 – 04.06), which aims to bridge the gap in understanding of emerging technologies and bring mass awareness closer through varicose Web3 related-events. Web3 Week is co-produced by Web3 Builders, a Finnish startup known for its community-building events, education, consulting, and recruitment services, placing focus on the development of the Web3 ecosystem in the Nordics. 
WHY FINLAND?
Finland is famous for its strong technological infrastructure, innovation-friendly environment, skilled talent pool, government support, and strong crypto and blockchain community with leading-edge companies with roots in Finland such as Aave, Membrane Finance, Phaver, Equilibrium, Kleoverse.
WHERE AND WHEN?
The 4th of June, Finland, Helsinki – Kafé Koma, harbour front venue in the heart of the Helsinki city.
Buy tickets with a 20% discount using the promo code Incryptoland 
ABOUT THE AURORA CONFERENCE
For more information on the Aurora Conference, you can reach out via the following channels:
Website: https://aurora3.xyz/ 
LinkedIn: https://www.linkedin.com/company/web3.builders/ 
Twitter: https://twitter.com/auroraconf 
Instagram: https://www.instagram.com/web3.builders/
Media contact:
Anastasiia Kruglova, sales@aurora3.xyz
https://www.linkedin.com/in/asya-kruglova-936716133/