Cryptocurrencies are finally making it into the mainstream. Traders – both big and small – want to get in on the action. Crypto adoption is most certainly on the rise, with new projects and tokens constantly entering the space.In fact, the number of people holding cryptocurrencies globally doubled to about 220 million at the start of the year, injecting more money into the industry in 2021 than all previous years combined.
Phemex understands that cryptocurrency markets are constantly evolving. To cater to the increased demand for investment options within the crypto ecosystem, the platform has announced the addition of 59 new coins to its variety of trading pairs. These include some of the most popular cryptocurrencies, as well as some up-and-coming tokens that have the potential to make a big impact on the space.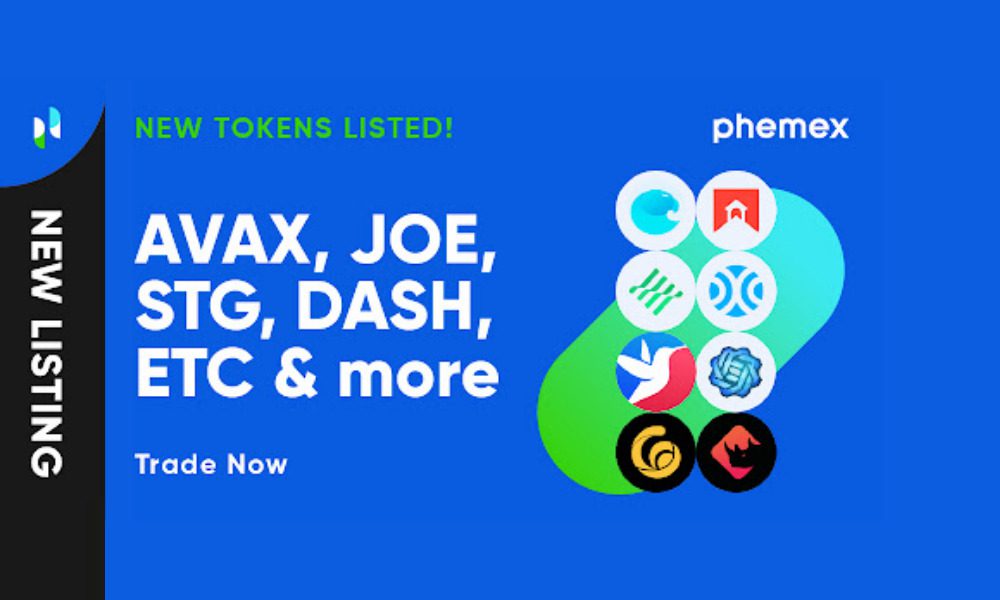 Notable Coins Listed on Phemex
With this new listing, Phemex gives traders and crypto enthusiasts access to some of the most popular cryptocurrencies in the market.
The Avalanche blockchain was developed by Ava Labs in 2020, a firm founded by distinguished cryptocurrency proponent and Cornell University professor, Emin Gun Sirer. The Avalanche network offers developers a myriad of advantages over other decentralized smart contract-enabled Proof-of-Stake blockchains, including higher throughput, custom, scalable VMs, and sub-second finality.
Over the last few years, the Avalanche ecosystem has expanded to offerings like decentralized exchanges, synthetic assets, prediction markets, stablecoins, ILOs, and private securities. Through its revolutionary consensus protocol and unparalleled decentralization, the Avalanche project is making waves within the crypto community, and could potentially become a much bigger player within the broader decentralized finance arena.
Here are some of the notable coins that will be listed:
Avalanche (AVAX)
Avalanche (AVAX) is a smart contract blockchain platform that focuses on fast transaction speeds, eco-friendly performance, and low costs. The Avalanche ecosystem comprises three blockchains, with each parallel blockchain specializing in different operations.
Distributing tasks between the chains helps keep the Avalanche platform agile, allowing it to solve one of the most crucial problems in the DLT industry – the blockchain trilemma — creating a network that is decentralized, secure, and scalable, with no compromises.
Trader Joe (JOE)
Trader Joe (JOE) is a decentralized finance (DeFi) protocol that continues to push out new developments. As an AMM-based DEX built on the Avalanche blockchain, the project's primary goal is to provide a clearing and trading service, but Trader Joe also provides other essential DeFi features like staking, yield farming, and lending.
Stargate (STG)
Stargate (STG) is a cross-chain bridge built on the LayerZero protocol, which enables native asset transfers between different blockchain networks.
The protocol is designed to eliminate the need for wrapped tokens, and lets users send tokens directly to blockchains that don't support them natively. The protocol is built around unified liquidity pools shared between chains, ensuring instant and guaranteed finality. Stargate's goal is to make cross-chain bridging a seamless process that requires only a single transaction.
Ethereum Classic (ETC)
Ethereum Classic (ETC) launched as a hard fork of the Ethereum (ETH) network after a community dispute that occurred after 2016's DAO hack. The Ethereum Classic blockchain supports smart contracts and decentralized applications, and maintains its own Ethereum Classic tokens.
The blockchain uses the Proof-of-Work protocol to validate transactions, which requires computing resources to mine ETC, and could continue to provide a revenue generation avenue for ETH miners who aren't too keen on Ethereum's shift to Proof-of-Stake.
Dash (DASH)
Dash offers cheap and fast payments to anywhere in the world. While the project is based on Bitcoin, it consists of a two-tier network structure. The first tier is a proof-of-work (PoW) system where mining devices solve complex mathematical problems to validate transactions.
The second tier includes masternodes. Anyone who proves ownership of 1,000 Dash can run a masternode. These masternodes are responsible for Dash's InstantSend and CoinJoin features, and they're also allowed to vote on governance and funding proposals.
Visit Phemex's website to see the full list of new tokens that have been added.
Start Investing with Phemex
Phemex gives traders and investors an opportunity to diversify their portfolios with a variety of assets. Apart from the already broad array of trading pairs available on the Phemex platform, you can now trade 59 more tokens, including some of the most popular cryptocurrencies on the market.
With advanced trading features and a dedicated academy portal to help newer traders get started, Phemex is committed to providing a great trading experience for all kinds of investors. It grants 24/7 customer service, a great community, and a wide range of tools to help make the most of your trading journey.
To support its new listings, Phemex is launching the AVAXPress Campaign, in which users can win AVAX through spot trading. 
Don't miss out on the opportunity to trade some of the most exciting coins in the market. Sign up with Phemex today!