A New Chapter in Pebblebee's Journey
In the dynamic city of Seattle, Pebblebee has been working tirelessly with a mission that is close to their hearts: to create a ubiquitous. global tracking ecosystem for everyone. This mission is not just about technology or innovation – it is about ensuring you can track the things most important to you in a more sustainable manner too. 
Pebblebee recently announced at Google I/0 2023 a compatibility with Google's Find My Device ecosystem. This partnership represents a synergy of shared vision and commitment to bringing people closer to the things they value most for the Android user. 
In line with this milestone, Pebblebee has introduced three innovative tracking solutions – the Clip, Card, and Tag. These products are not just trackers  but are designed to bridge the gap between individuals and their personal items from keys, luggage, sports equipment and others ensuring they are never out of sight or reach. They work universally with Google, bringing the reliability and accessibility of one of the world's biggest tech giants right into the palm of the users' hands.
Redefining the Future of Tracking
The collaboration with Google is not just another development for Pebblebee; it represents a giant stride in the company's mission to redefine the $4 billion tracking market. Over the past decade, they have come a long way, evolving from a fledgling startup into a trusted brand for millions of users worldwide. In fact, users have come to rely on Pebblebee for keeping track of their most valued possessions, whether it was their keys, wallet, pets, or even their loved ones.
Moving forward, Pebblebee aims not only to expand its services but to revolutionize the entire tracking industry. They envision a world where tracking transcends beyond platforms and borders, seamlessly integrating with the everyday lives of individuals and businesses.
The Trackable Industry Just Got A Lot Greener.
The problem, until now, is that most tracking devices are battery operated, resulting in batteries having to be discarded and replaced. Many of these batteries end up in the garbage and ultimately landfills. It's also an inconvenience to the user who has to purchase and replace the battery, as well as not knowing when their battery needs replacing.  
Pebblebee's line of item tracking devices are rechargeable. A quick 30 minute charge (with charging cable included) and your device is good to go for 6-18 months depending on the particular model. With Pebblebee, you never have to worry about replacing your battery and can always be assured that your device is charged up and ready to track what matters most when needed.
Continuing the Momentum: Pebblebee's Expansion
The partnership with Google represents the latest addition to a series of high-profile collaborations for Pebblebee. The company has previously announced notable partnerships with renowned sports brands, such as Peak Ski Company and Henry-Griffitts golf clubs, earlier in the year. Pebblebee's belief in working with diverse and esteemed partners is evident through these collaborations, showcasing their commitment to fostering valuable relationships.
On the other side of this, the partners have enthusiastically embraced Pebblebee's cross-platform compatible trackers, which not only offer sustainability but also align with environmentally friendly practices. As Pebblebee continues to expand and forge collaborations with additional brands, they maintain a high level of confidence that their rechargeable multi-form factor trackers will consistently establish new industry standards.
Meet the Clip, Card, and Tag
Pebblebee proudly introduced the Clip, Card, and Tag as their latest offerings that are poised to revolutionize tracking solutions. These devices have been meticulously designed with the user in mind and offer compatibility with Android through Google's Find My Device or the Pebblebee App. They encompass a wide array of features that enhance the effectiveness and convenience of tracking, such as:
Extended Battery Life:

The Clip, Card, and Tag have been engineered for longevity, boasting battery lives of 12, 18, and 8 months per charge, respectively.
Robust Connectivity:

Users can enjoy a generous range of up to 500 feet, ensuring a constant connection to their belongings.
Smart Notifications:

Equipped with loud audio tunes and vibrant, colorful LEDs, the devices offer smart notifications to aid in locating items.
Water Resistance:

Pebblebee has taken precautions to ensure its devices can withstand water exposure, making them resilient to the unpredictability of life.
Voice Assistant Compatibility:

Seamlessly integrating into users' lives, the devices are compatible with popular voice assistants such as Google Assistant and Amazon Alexa.
In addition to these features, the Clip features an integrated keyhole attachment, making it an ideal solution for tracking keys.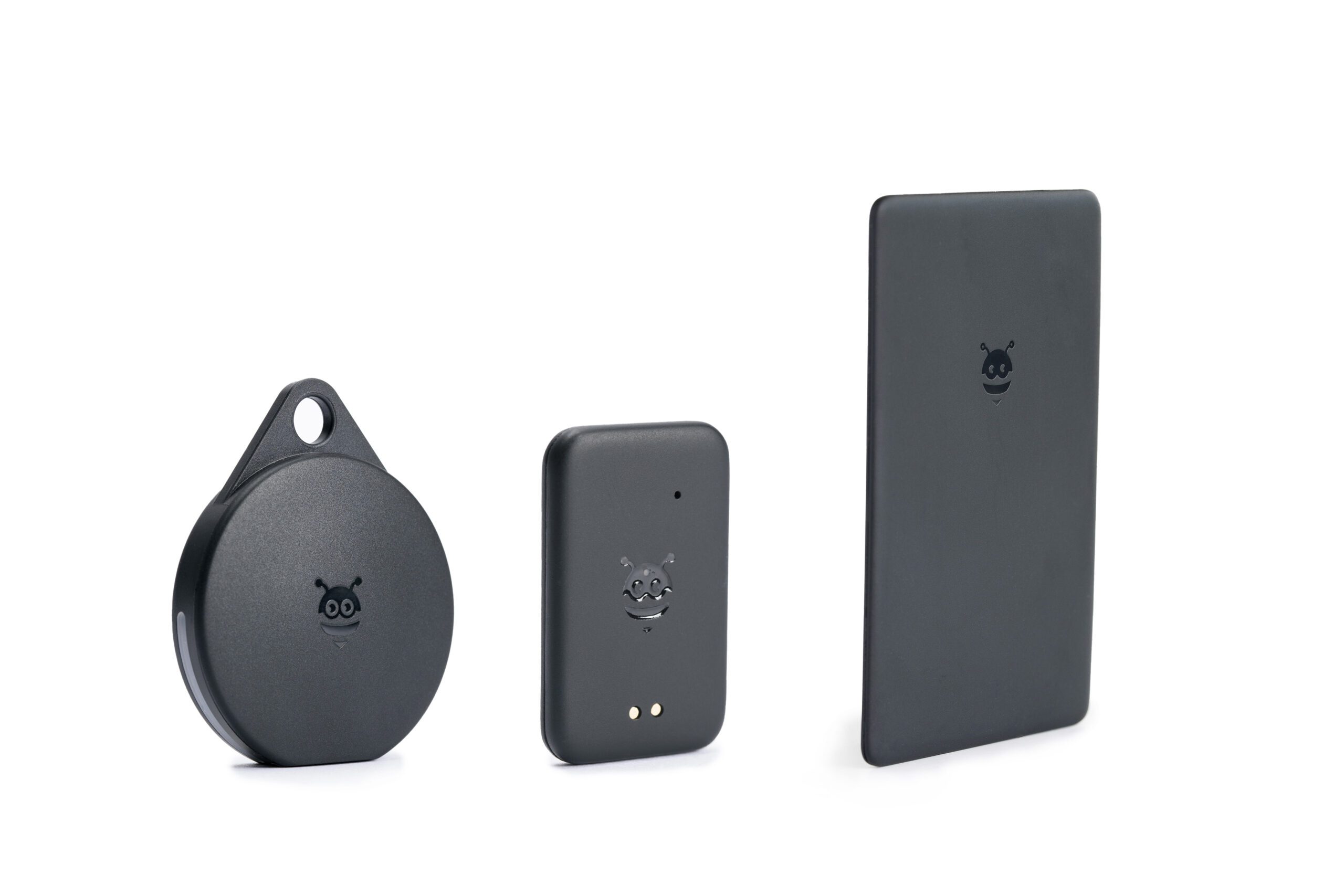 Pebblebee: The Universal Platform for Tracking
Pebblebee has always strived to transcend the role of a mere tracking solution provider. Their goal has consistently been to establish themselves as the premier platform for individuals to effectively monitor their cherished belongings, exemplifying their motto, Track What Matters Most™. 
As a result, Pebblebee takes immense pride in its distinctive position as the sole tracking solution that seamlessly operates across multiple platforms. They offer native compatibility with both Google's Find My Device ecosystem and Apple® FindMy™ MFi-certified trackers, ensuring a seamless tracking experience for their users.
The Company's Commitment to Sustainability
Pebblebee upholds a strong belief in the significance of sustainability. Their trackers, beyond being cross-platform compatible, prioritize sustainability and environmental friendliness. The company's commitment to creating innovative products is further exemplified by its rechargeable multi-form factor trackers, which serve as a testament to its dedication to developing items that are both innovative and environmentally conscious.
The Man Behind the Vision: Daniel Daoura
At the heart of Pebblebee lies the founder and CTO, Daniel Daoura. Daniel, a former aerospace engineer with extensive expertise in precision tracking, embarked on a journey in the tracking space driven by a clear vision. His goal was to develop multi-platform tracking solutions capable of monitoring various items such as keys, suitcases, pets, and more. Daniel's dream encompassed the creation of a unified and connected global tracking ecosystem, and today, as a Google partner, Pebblebee takes immense pride in witnessing the realization of his vision.
Looking Ahead: The Future of Pebblebee
As Pebblebee moves forward, its mission to Track What Matters Most™ remains at the core of every plan. With the exceptional ability to seamlessly integrate with both Google's Find My Device ecosystem and Apple® FindMy™ MFi-certified trackers, Pebblebee is uniquely positioned to provide businesses and everyday users with a straightforward and secure method to monitor their most valuable possessions.
The company maintains a relentless pursuit of innovation, consistently pushing the boundaries of what is achievable within the tracking industry. From its headquarters in Seattle, Washington, Pebblebee spearheads groundbreaking advancements. They warmly invite individuals to explore more about the company, its innovative solutions, and the array of patents they proudly hold.
Join Pebblebee on Their Journey
Join Pebblebee on its journey toward an exciting future. They extend a warm invitation for individuals to be a part of this adventure. To gain a better understanding of Pebblebee and its cutting-edge tracking solutions, they encourage everyone to visit its website pebblebee.com . Additionally, stay updated with the latest news and developments by following Pebblebee on social media platforms such as Facebook, Twitter, Instagram, and LinkedIn.