PDFLiner Review: Features That Make It Unique
Whether you are a beginner in working with documents or a seasoned user with years of experience behind your back, our detailed PDFLiner review might spread some light on your decision-making process. Enjoy reading and decide for yourself whether PDFLiner is the solution you need for your paperwork.
Why Should You Use PDFLiner?
Among various PDF-dedicated platforms that provide users with a package of handy functions such as filling out, editing, e-signing, sharing documents, etc., there are some that stand out. One such gemstone is PDFLiner, a versatile, user-friendly, and effective PDF editor that offers its users a multitude of helpful solutions to cover even the rarest needs. Wonder which peculiarities make this online editor worth considering? Here is a brief list:
1.   Simplicity
Using PDFLiner, you can avoid a lot of hassle such as downloading an app, printing out your files, scanning them, and even going to the post office to send them to the recipients. This solution runs ultimately online, so you can complete each operation in a mere moment.
2.   Security
Even the most popular service can't be recommended if it is not 100% safe, especially when it comes to working with sensitive data. With PDFLiner, all your docs are stored on secure servers. You can be sure that no leakage of your data will ever happen. Besides, you can password-protect your files for maximum security.
3.   Popularity
People tend to choose PDFLiner because of the e-signature and file-sharing features. You can effortlessly send any PDF with a user link created right on the platform. You might be surprised that this tool is used by more than 100 000 people in more than 150 countries!
4.   Friendly-user experience
A simple interface makes this solution suitable and convenient even for ultimate beginners who haven't used any online editors before. This makes it possible to complete any PDF-related task easily and on time.
5.   Advanced editing options
Though there are many specialized apps with editing functionality on the Web, with PDFLiner, you get access to an impressive bunch of tools such as changing the font type, size, and color, adding headers and footers, merging files, rearranging PDF pages, saving docs on your PC, and many more. All this is accessible on one website, so there's no need to address any third-party services.
6.   Affordability
Both free and paid versions are present on PDFLiner. Using it for free offers you a basic set of functions such as uploading, editing, and filling in any document you need. However, there are 3 subscription plans starting from $9 per month that allow you to benefit from a more extensive list of features and even invite up to five users to save more money in a year.
Top 5 Key Features in PDFLiner
Some features of this PDF editor online users appreciate much more than others. Let's get familiarized with the five top functions that deserve special attention.
1.   Convert PDFs
With PDFLiner, you can turn the PDF file you've been working on into a separate picture. It's not complicated to turn PDFs into JPEGs using a specialized online converter on the website. Except for the opportunity to convert PDF to JPG online, you can do vice versa.
2.   Split/rearrange PDF pages
This smart, feature-rich service offers you a PDF splitter to divide PDFs in half or separate several pages. This empowers you to create multiple files from one document. If you want to change the page order in your document, it's no problem for PDFLiner too. With it, you can easily reorganize the pages the way you like.
3.   Edit PDFs
When you launch the program, you get access to a multitude of helpful tools. After uploading your file, you can fill it in with text content, insert marks, drawings, and extra images there, highlight the piece you need, blackout the text you want to cover, whiteout some parts, and many more. You can add dates, pages, and fillable fields and erase those that don't fit. This way, you get the chance to edit PDF form the way you need—all using a single service.
4.   Sign PDFs
PDFLiner has one special function that is especially on-demand among users on the Web, which is an online PDF sign tool. With it, you can sign a PDF in a blink of an eye: All you have to do is to launch a "Signature Wizard" and choose whether you want to draw, upload, or capture your signature. This is exceptionally handy for business owners who have multiple contracts to sign as it significantly speeds up the document workflow.
5.   Pre-made templates
If you find completing a blank sheet from scratch somewhat tiresome but need a particular document, there are a lot of templates on the website. Choose the form you require and fill out the PDF online, saving precious time and effort. The library is enriched with numerous forms for insurance, legal, finance, real estate, and other industries—you only need to paste the title in the search bar to get the required template.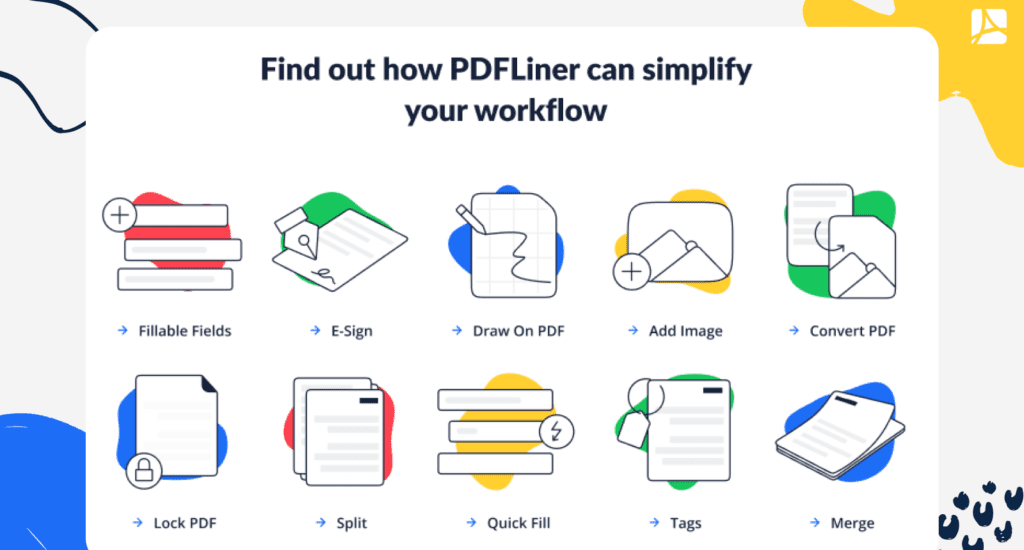 PDFLiner Blog: Articles on How to Work With PDF
PDFLiner has an informative blog that covers detailed PDF completing guides to support both occasional users and those who work with PDFs on a daily basis. You can satisfy your interest in various topics such as PDF-editing operations, filling out tax forms, completing sales invoices, signing business contracts, and the like. A smartly organized structure with visible subcategories makes the blog helpful for both home and business use:
all posts;
user guides;
PDF editing tips;
forms filling tips;
e-signatures;
reviews
The content is regularly updated as the team struggles to keep in touch with the needs of a constantly evolving community. Therefore, you can always find something new with each visit to the site.
Always in Trend
Tendencies come and go, but there is always something that can give you solid ground when it comes to managing your online documentation. Professional quality, a variety of tools, and utmost security will always back you up. If you choose PDFLiner, you'll get even more than that: a reliable PDF editor that constantly evolves and adjusts to the arising user needs. Created with people in mind, it gives you the chance to become a pro at working with your PDFs.