A new look is now available at Oklahoma City's Paycom Center. The new logo is green in color, and the Paycom Center's green lights light the streets of Oklahoma City for miles around. All these new updates and changes come after Paycom Center received a complete renovation during Covid last year. 
Paycom Center History
Paycom Center, previously known as Chesapeake Energy Arena, opened on June 8, 2002, three years after breaking ground in 1999. The original name given was Ford Center, which came from, you got it, a local car dealership in Oklahoma City. This name then changed to Oklahoma City Arena in 2010 before becoming Chesapeake Energy Arena in 2011. Today, those green lights signify none other than Oklahoma City's Paycom Center. The new name took effect in July 2021.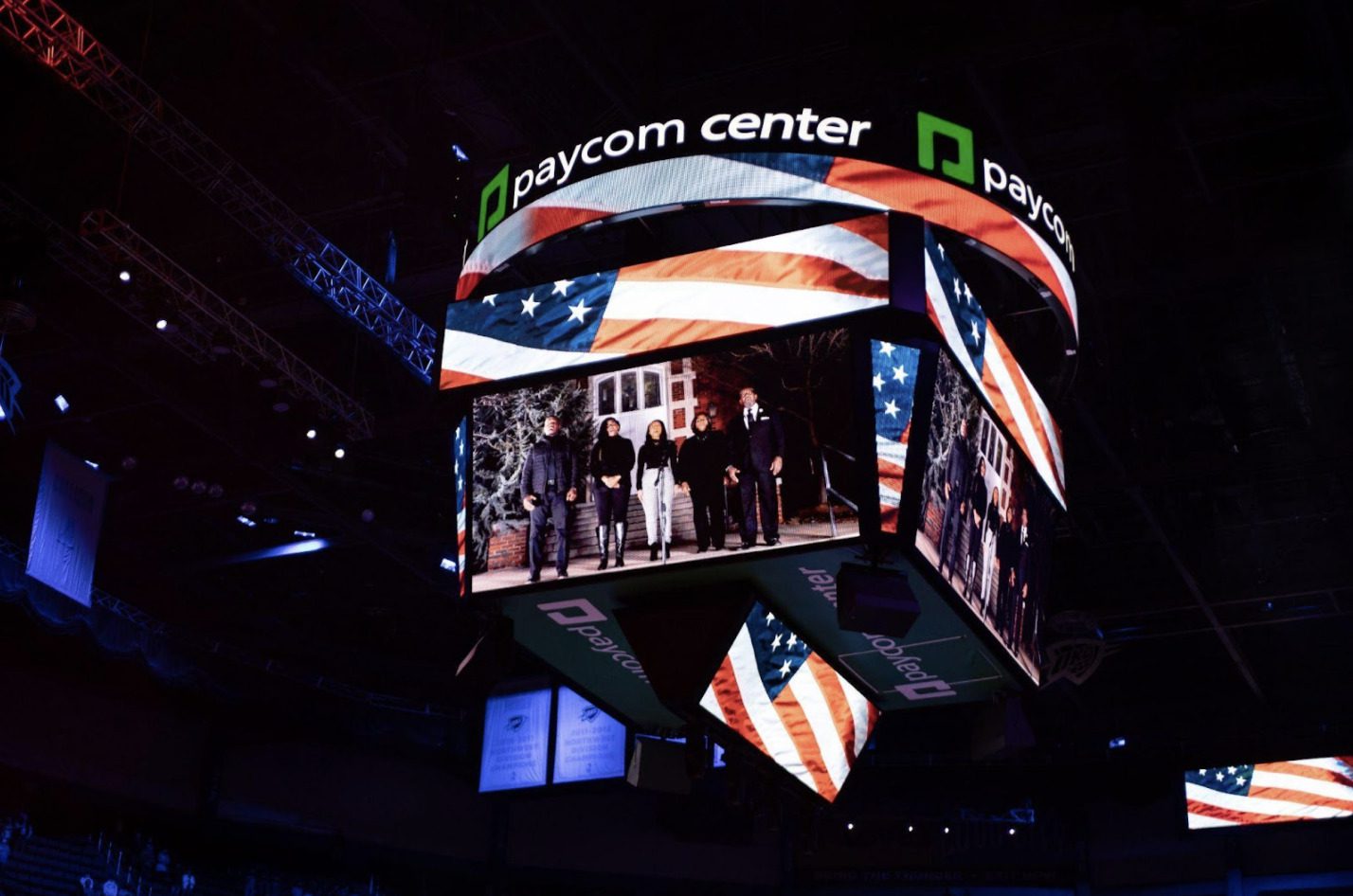 Initially, the stadium was considered a state-of-the-art facility, but its specifications were minimal for NHL and NBA matches. Since it had no major league tenants, it did not have any luxury amenities. The city built it in case a professional team was created in the future.
Paycom Center has undergone numerous improvements and renovations since its launch in 2002, including new speakers, restaurants, security features, and video boards. In addition, there are new bunker suites, terrace lounges and suites, clubs, team offices, a family fun zone, concession areas, a new grand entrance, and renovated locker rooms at the center. The center now has green lights that illuminate it, looking beautiful and attracting many fans.
Oklahoma City owns the Paycom Center, but ASM Global manages it. MAPS funded initial improvements. On March 4, 2008, Oklahoma City voters approved a one-cent sales tax to fund or support the major renovations.
Oklahoma City Thunder History
Paycom Center has hosted more than 1200 events and at least 10 million fans since its opening in 2002. In addition to other events, which explains why the Thunder, an American professional basketball team, calls it home.
The Seattle SuperSonics were dissolved in 2008, thus launching the Oklahoma City Thunder franchise. Howard Schultz, who previously owned the Seattle Sonics, sold the Supersonics to Clay Bennet and several other Oklahoma City investors in 2006. Bennet announced in 2007 that they would move a franchise to Oklahoma City after the lease with KeyArena in Seattle expired.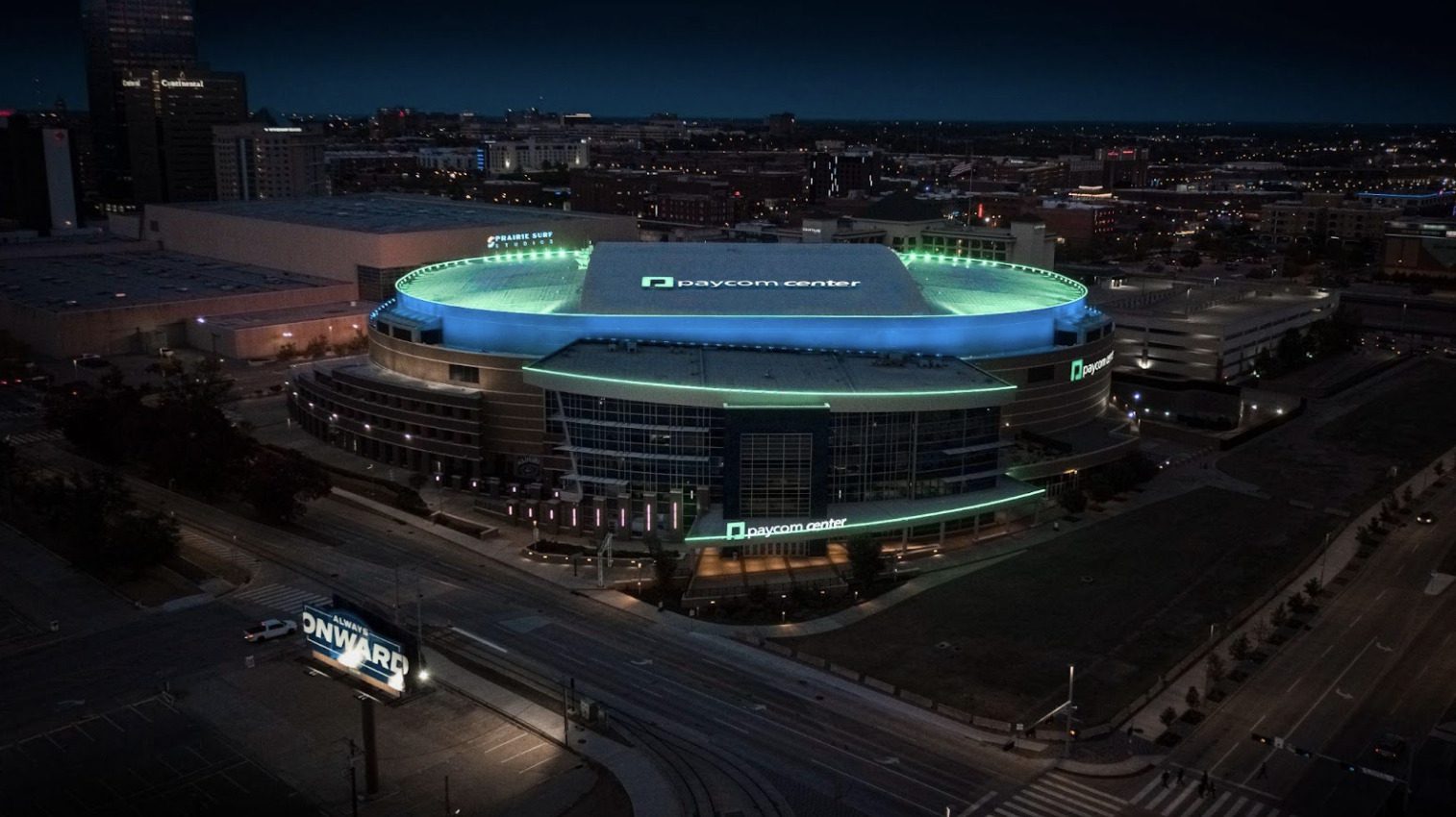 Many people opposed the move, which resulted in court proceedings, but later, the sides reached an agreement. It was agreed that the Supersonics logo, name, and colors would remain in Seattle, but other assets such as trophies and championship banners would go to Oklahoma City. The Oklahoma team chose the name Thunder due to the many powerful twisters seen in Oklahoma, otherwise known as Tornado Alley.
Based on the 2021-2022 basketball games, the team is 14-33, 5th in the Northwest division of the NBA. They are mainly focusing on player development and harnessing and maximizing young prospects.
Fast Facts You Should Know about the Paycom Center
Some interesting tidbits about the history of the Paycom Center include:
Managed by ASM Global 

Owned by the city of Oklahoma City 

Construction works began in 1999, and the center originally opened in 2002

It is home to the Oklahoma City Thunder basketball team

The most recent set of renovations was made possible by a temporary one-cent sales tax increase, which was voted on and approved by Oklahoma city voters.

Paycom Center sits on 586,000 total square feet of land

The Arena has more than 200 video monitors installed in bars, clubs, restaurants, restrooms, and suites to help all fans stay on top of the action

It is located in the heart of downtown Oklahoma City at 100 W. Reno Ave.

It has provided fun and amazing memories to millions of people and continues that tradition today.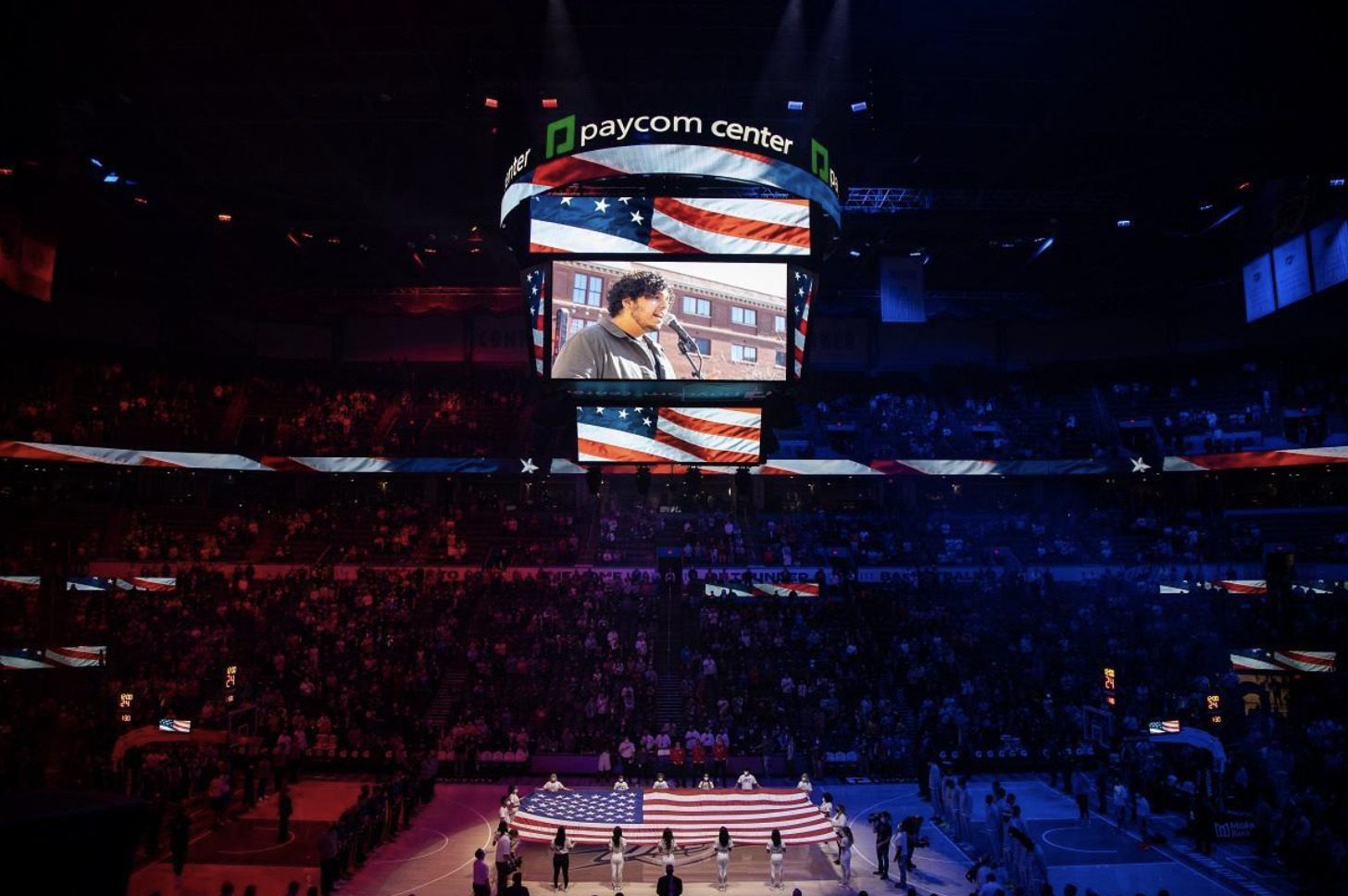 COVID Precautions
Since COVID continues to spread around the globe, all ticket holders to the Paycom Center for games must provide proof of full or partial COVID vaccination. They can also offer a negative COVID test, preferably taken 72 hours before visiting the Arena. Additionally, all fans are encouraged to wear face masks inside the arena.
As a Final Note…
If you're in Oklahoma City and you want world-class entertainment with concerts, sporting events, and more, look no further than that green hue hovering over downtown Oklahoma City. Those green lights burning up every Oklahoma City night belong to the new and improved Paycom Center. Come and join the fun.
For more information, visit the Paycom Center website at https://www.paycomcenter.com/.