Passwarden is a password management solution designed to help users securely store and manage their passwords and other data.  It offers such features as password generation and storage, multi-device synchronization, secure sharing of data, and more. The app is available for desktop and mobile devices, making it accessible from anywhere. Passwarden aims to stand out from the competition by offering a high level of security, an intuitive user interface, and competitive pricing.
One of the key selling points of Passwarden is its security. The app uses AES-256  encryption, considered one of the most secure encryption algorithms, to protect user data. Passwarden stores the encrypted data in the cloud, allowing users to access their passwords from multiple devices. The fact that the company does not store any user data on its servers, helps to prevent the users' data from breaches. 
In addition to encryption, Passwarden also offers two-factor authentication (2FA) to further enhance security. This requires users to enter a unique code generated by an authenticator app in addition to their password to access their account. The 2FA feature is optional but highly recommended to add an extra layer of protection to user accounts.
One of the features of Passwarden is its Security Dashboard, which provides users with a comprehensive view of their security status and helps them identify potential vulnerabilities in their accounts.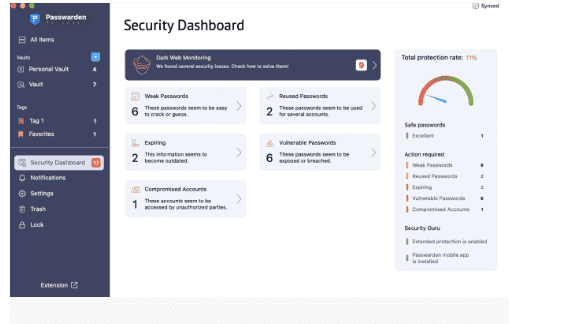 The Security Dashboard in Passwarden is designed to be intuitive and user-friendly, with clear visual representations of the various security metrics. The dashboard provides users with an overview of their password strength, highlighting weak and reused passwords. It also alerts users to any compromised passwords, so they can take immediate action to secure their accounts.
In addition to password security, the Passwarden security dashboard also monitors the overall security of users' accounts. This includes monitoring for any data breaches or security incidents that could put users' accounts at risk. If any issues are detected, the dashboard provides clear instructions on how to resolve them, so users can take action quickly and easily.
Passwarden also offers a unique feature called Duress Mode. It is designed to help users protect their data in situations where they may be forced to reveal their passwords or other sensitive information under duress. Duress Mode works by allowing users to set up a special password that triggers a hidden vault in Passwarden. When the duress password is entered, the hidden vault is unlocked, and the contents of the vault are displayed.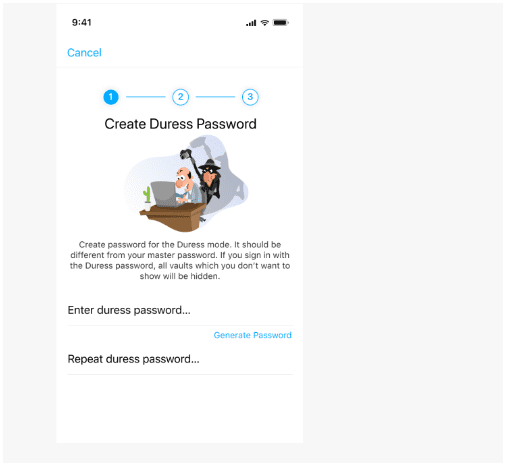 In terms of pricing, Passwarden offers both free and paid plans. The free plan allows users to store and manage up to 50 passwords, while the paid plans offer unlimited password storage and additional features. The pricing is competitive when compared to other password managers on the market.
Overall, Passwarden by KeepSolid appears to be a well-rounded password manager that offers a high level of security and convenience. The app's security features, ease of use, and competitive pricing make it a solid option for those needing a password manager.
Passwarden is also a part of MonoDefense, a comprehensive security solution designed to protect businesses and individuals against cyber threats. It offers a range of security features that work together to provide multi-layered protection against various types of security threats, as well as allow access to geo-blocked content.