When it comes to fixing technical problems on iOS devices, an unavoidable fact is that only some specific software can help us out. For example, you have to reset your iPhone on iTunes if it is somehow locked. But iTunes can only help you handle easy locked issues. Once you confront with another knotty problems, iTunes can't help you anymore. So, what you need is a professional tool to be your fail-safe solution.
Here Passvers iPhone Unlocker is recommended to you because it's an all-in-one solution for your locked iPhone. Most importantly, it is one of the best iOS unlocker tools right now with human-centered design and considerate services. Under the auspices of the unlocker, you can cope with any locked issues with no difficulty.
What is Passvers iPhone Unlocker
Simply speaking, Passvers iPhone Unlocker is a practical tool that is designed to help you recover your locked iPhone. As long as you connect your iPhone to your computer and follow the detailed introductions, you can use your phone as before. And this powerful tool is compatible with the iOS ecosystem and Windows. That is to say, be laptops or MacBooks, you can easily unlock your iOS devices.
In terms of its specialized functions – "Wipe Passcode", "Remove Apple ID", "Unlock Screen Time" and "Bypass iCloud Activation Lock" – can help you fix multiple locked problems in different scenarios. Meanwhile, these functions will not take a toll on your data, and they will protect your data from loss to some degree. 
Passvers iPhone Unlocker: Main Features
Clear User Interface
Humanized design is the best feature that you can't ignore. For some tech-savvy people, thinking about solutions is hard enough, not to mention complex steps. Passvers iPhone Unlocker has taken this point into account, so it provides detailed explanations on each interface for users.
High Success Rate with Simple Steps
You must like simple ways to fix your iPhone. So does Passvers iPhone Unlocker. This software simplifies redundant unlock steps, allowing people of different ages to recover their locked phones. Although the usage is easy, Passvers iPhone Unlocker boasts a high unlock success rate that can be on par with similar products in the market.
Good Compatibility
Except for compatibility between Windows and iOS mentioned above, downward compatibility is also supported. That is, many devices of the old version can be recovered by Passvers iPhone Unlocker.
Reliable Technical Support
If you meet any technical problems with Passvers iPhone Unlocker, you can contact its official, and the workers will give you replies on working time.
Meanwhile, Passvers iPhone Unlocker supports a wide range of devices and systems. You can view the detailed table to check your devices.
Windows
Mac OS
System
Windows 11/10/8.1/8/7
Mac OS X 10.7 or above (macOS Big Sur/macOS Monterey)
Supported Devices

iPhone: iPhone 4 or later

iPad: All models of iPad Pro, iPad Air, iPad mini, and iPad

iPod: iPod touch 1-7

CPU
1GHz Intel/AMD (32 bit or 64 bit)
RAM
256 MB or more of RAM (1024MB Recommended)
Hard Disk Space
200 MB and above free space
Why Passvers iPhone Unlocker is the Best
You may ask why you dare to say Passvers iPhone Unlocker is the best. For one thing, the mentioned features and supports safeguard the tool as guardians; for another, the four functions are considered as the backbones to help you resolve the real problems.
Fabulous Functions on Passvers iPhone Unlocker 
Wipe Passcode – One Click to Unlock Your Screen 
Wipe Passcode is a function that can remove the password on locked screen. Once you forget your screen password, you can unlock it in this way. Remember to back up your phone first, or your phone will be emptied and updated to the latest version. After backup, you can retrieve your iPhone as usual with one click.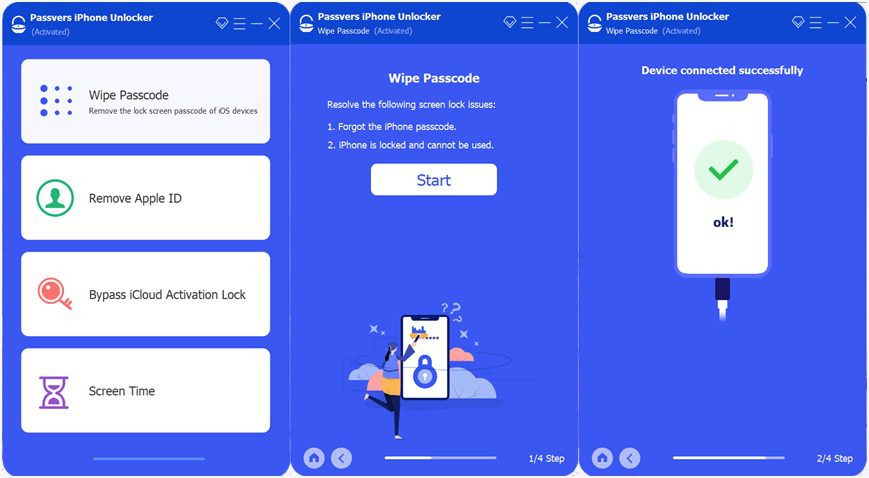 Remove Apple ID – Account is No Longer a Barricade
When it comes to removing Apple ID, it can be difficult. With the help of Passvers iPhone Unlocker, however, you can cope with the issue in a breeze. Firstly, you should check whether your iOS is 11.4 or later. if your phone is running iOS 11.4 or later, you have to enable Two-factor Authentication. Otherwise, the unlocking process could fail. After finishing the step, you can follow the introductions to remove your Apple ID.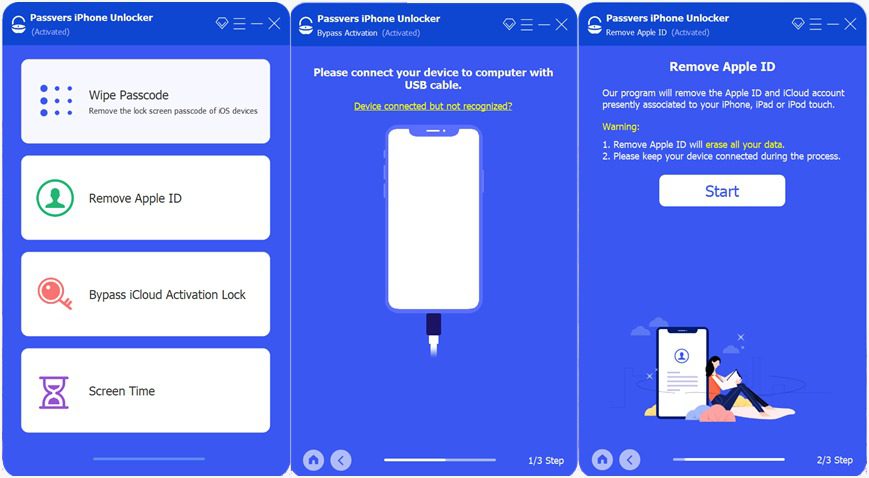 Remove Screen Time Passcode – Use Your iPhone More Freely
Screen Time is an excellent tool to record sessions on your iPhone. But this setting will be your trouble in opening your iPhone if you forget your password. In such a context, all you have to do is launch Passvers iPhone Unlocker to click the option of Remove Screen Time. This function requires less – Simply follow the displayed explanations, and you can remove constrictions of screen time.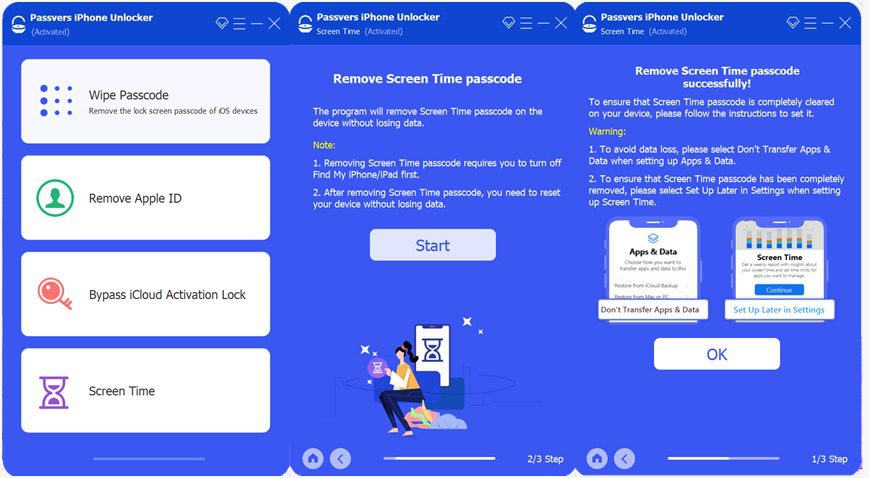 Bypass iCloud Activation Lock – An Overhaul for Your Devices
The Bypass iCloud Activation Lock feature is capable of bypassing the screen stuck in entering the iCloud passcode. If the activation lock is on the screen, you are requested to log in with the previous iCloud account, but unable to make phone calls, or use cellular network on the device. The only thing you can do is to download apps from Apple Store. If you want your phone to have an overhaul, you can try this function.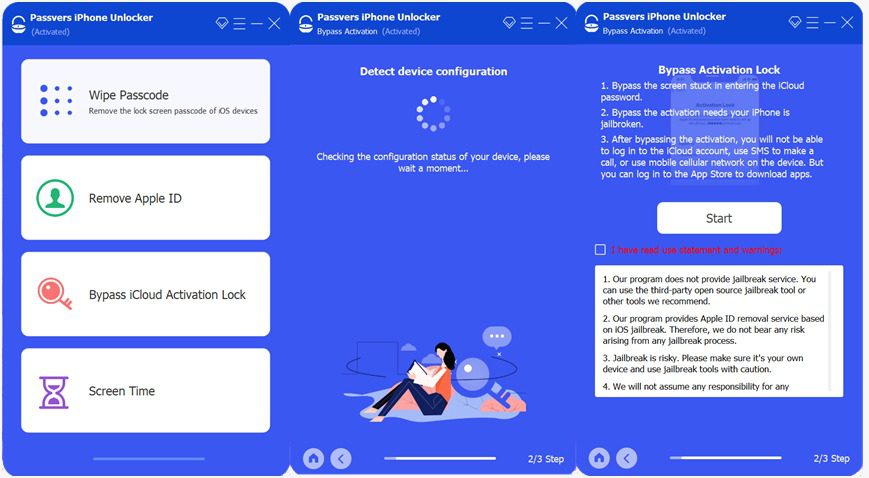 FAQs about Passvers iPhone Unlocker
Is Passvers iPhone Unlocker Safe?
Yes, it is safe to use. Passvers iPhone Unlocker stays true to offer convenience. Besides, you don't need to worry about privacy security because Passvers iPhone Unlocker doesn't scan your computer or your iPhone to steal your personal information.
Is Passvers iPhone Unlocker Free?
 No, though a free trial version is available, the trial version has some limitations compared with the full version. For example, the free trial version only provides the Free Quick Fix mode to fix your device. And Standard Mode and Advanced Mode are not available. If you purchase the full version, you can use all features without any limitations and get free upgrade and lifetime technical support from Passvers iPhone Unlocker.
Final Words
With Passvers iPhone Unlocker, you don't have to worry that you cannot get into a locked iPhone. And considering the hefty repair fee if you want to turn to the Apple official repair service, you can save a lot of money when you have download Passvers iPhone Unlocker.