Late last year saw the launch of the first halal decentralized finance (DeFi) platform in the world, MRHB DeFi. Shortly following an oversubscribed IDO, the company listed its $MRHB token on PancakeSwap, a leading decentralized exchange (DEX). A reward pool worth 5 million MRHB tokens was alloted to incentivize liquidity providers (LPs) for the first three months of 2022.
MRHB DeFi has now announced that the reward period has been extended a further three months until the end of June, along with an extra 2 million MRHB tokens thrown into the pool. The rewards will be divided among LPs supplying liquidity to the USDT/MRHB liquidity pool on PancakeSwap.
Muslim LPs can also rest easy knowing that, as MRHB DeFi is a halal crypto project, the reward is specifically provided as a conditional gift ('hibah muallaqah bi al-sharth'). This means it is considered acceptable by Islamic Fiqh.
LPs can support MRHB DeFi's vision of delivering ethical finance to the masses, including communities of faith-conscious people such as Islam, by supplying liquidity for the MRHB token. It is high time that a safe space is set aside in the cryptoverse that empowers people looking to make ethical financial decisions.
What else do LPs need to know?
It is very important that all prospective LPs understand that there is a certain amount of risk involved in providing liquidity on a DEX. The most important concept you'll need to know about is something called "impermanent loss". With this in mind, here are some useful links that LPs are encouraged to check out:
For those who prefer a more visual guide, please refer to this slideshow that walks through the steps of adding liquidity on PancakeSwap: https://mrhbdefi.medium.com/how-mrhb-token-holders-can-earn-passive-income-from-trading-fees-and-5-million-pool-of-mrhb-6848152d51c7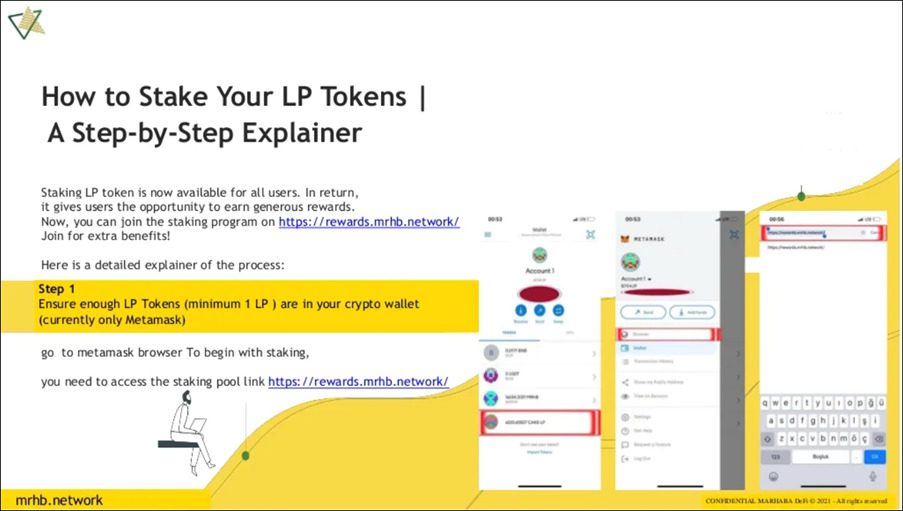 One last thing: Please always remember that scammers are everywhere in the cryptoverse. You can add funds to the liquidity pool directly on PancakeSwap — MRHB will never ask you to send funds or request your password. You should never share this kind of information with anybody on the internet! Lastly, please remember that only the information and links shared on the below-linked MRHB DeFi official channels should be trusted. Thank you.
MRHB.Network Official Channels
Website: https://mrhb.network
MRHB Reward Dashboard: https://rewards.mrhb.network
Twitter: https://twitter.com/marhabadefi
Telegram: https://t.me/mdf_official
Telegram Announcements: https://t.me/marhabadefi_ANN
YouTube: https://www.youtube.com/c/MarhabaDeFi
Medium: https://medium.com/@mrhbdefi
LinkedIn: https://www.linkedin.com/company/marhabadefi