The Pakistani startup TAG Fintech plans to expand internationally in the near future, as told by CTO of the company, Alexander Lukianchuk.
In 2021 the company targeted  the financial services market. In South Asia, TAG Innovation raised the biggest Seed round. The investors valued the Pakistani startup at $ 100 million. And the pre-seed investment round  was among the TOP 5 of the largest deals in the Middle East.
"The company became one of the most valuable fintech startups as a Y-Combinator graduate," — Alexander Lukianchuk said.
According to Alexander, the total amount of investments raised to date is more than $ 12 million.
TAG Fintech founder Talal Ahmad Gondal considers the suggested product essential for Pakistan, a country where more than half of the residents don't have a bank account and don't even have an opportunity to open it in a traditional bank. If we consider that the population of Pakistan is more than 225 million people then the potential audience for simple and efficient money services is simply huge.
This opens up broad perspectives for TAG Fintech. And if in 2021 the company was valued at $ 100 million, now with international expansion in mind the valuation can grow even further.
TAG Fintech is ready to expand – Alexander Lukianchuk
At the moment the team is working hard to restore the license . At the same time TAG Fintech is of great interest to investors from other countries in the region. And with a high probability the startup will expand beyond Pakistan which gives more opportunities for growth.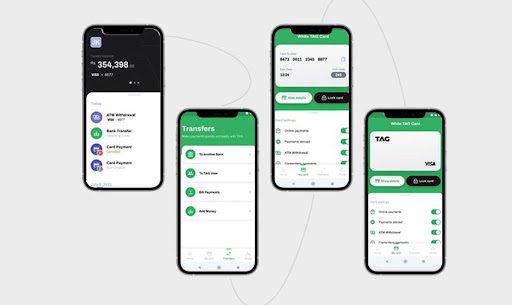 "Emerging markets now have a huge growth potential," says Alexander Lukianchuk.  "There is an audience, there is a demand for the services , but there are no high-quality financial services yet." Having experience in developing similar projects in Europe and the USA, the team is determined to implement such a service here in the Middle East. By providing access to simple and efficient banking to ordinary people, we help them make their lives better and more comfortable."
Neobanking from TAG Fintech
TAG Fintech company was founded in 2020 by Talal Ahmad Gondal, a Pakistani national who has built his career in Northern Europe.
The startup provides digital banking services. You can register and open an account in three minutes — as explained by TAG Fintech.
A VISA debit card is linked to the account. The license in Pakistan didn't allow providing classic banking services such as loans or savings accounts. However it provides all the possibilities for everyday use: mobile phones top-ups, utility payments, internal transfers by phone number, regular bank transfers. 
In the future, TAG Fintech plans to add support for Apple Pay and Google Pay to its feature set. once  these functions are available and unlocked in the region.