The market is flooded with self-monitoring wearables, but not all wearables offer the same features and functionality. The Israel-based startup Owlytics Healthcare and its research partner Tel-Aviv Medical Center ('Ichilov') recently announced the first validation stage of Multiple Sclerosis metrics for a remote monitoring and analytics solution that measures the effectiveness of drugs during clinical studies using cellular-based wearables and Artificial Intelligence.
The wearable device used in the study leverages machine learning based on personal pattern capture to assess people with chronic diseases like MS and Parkinson's. The machine learning capabilities enable the device to create a personalized profile for each patient. When the device detects a deviation from the personal pattern, it produces an actionable insight for the clinical caregiver, caretakers, and the patient. The solution is already being utilized by pharmaceutical companies as well as home care and senior living providers in the US, UK, Italy, and Israel.
The benefits are significant, says, Gill Zaphrir, CEO at Owlytics, "Continuous indoor and outdoor real-world coverage minimize clinic visits and reduce the clinical study cycle." The Owlytics device also aims to make data collection effortless using a web API that starts from a single snapshot condition score and continues to detailed reporting and an analytics toolset. "Data collection is done automatically. There is no need for the user to connect the watch to a device such as a mobile app on a daily basis to download the data," says Zaphrir.
The Owlytics analytics platform assesses multiple risk factors in the user profile, including fall risk for the elderly and the personal progression status of Parkinson's and Multiple Sclerosis patients. The platform also includes a patient self-reporting feature. "Symptom self-reporting is considered to be of high value in preventative care today, and also enables a cognitive status assessment related to the patient's response time," Zaphrir explains.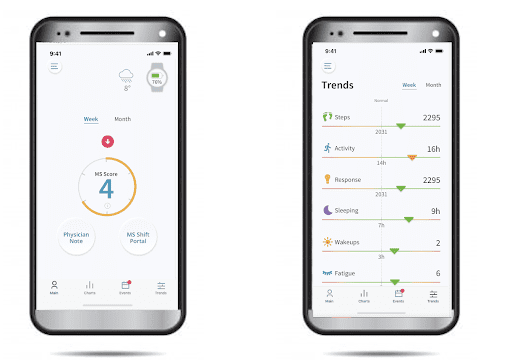 In addition to MS, the solution, which includes both the smartwatch wearable device, the AI-based cloud analytics, and the reporting, also supports Parkinson's disease patients and is helpful in risk management for fragile seniors. "Our solution is positioned to become the holy grail of common language between patients and clinicians in PD, MS, and AD diseases," concludes Zaphrir.