At the time of rapidly developing technologies, everyone has access to what even 10-20 years ago seemed to be used only in a narrowly focused environment. So intercoms have entered and firmly established themselves in our daily life, becoming a necessary attribute for a comfortable life. Today it is difficult to find an apartment building without this device. Gradually, with the development of mobile gadgets and other irreplaceable devices, analog intercoms and other intercoms increasingly do not meet the needs of the modern consumer. And analog and coordinate devices are being replaced by their modern counterparts IP intercoms. We suggest you familiarize yourself with the popular features and capabilities of these devices: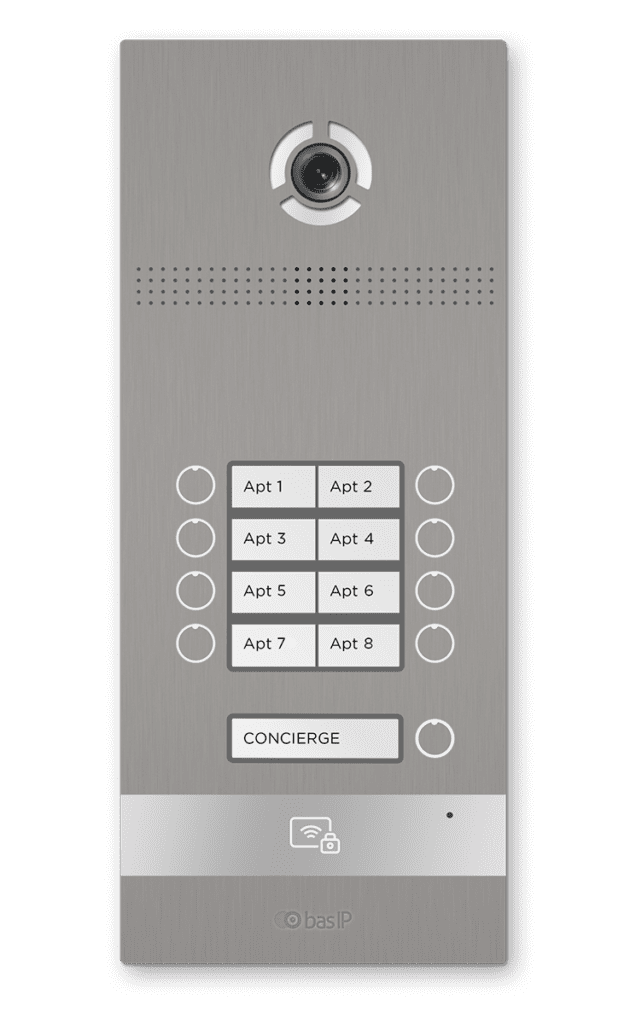 WEB interface or LAN connection. Ability to connect via WEB-interface
One of the key advantages of IP intercoms is the ability to connect devices via a local computer network via the Internet, including via a Wi-Fi network. Thus, territorial restrictions between the user, objects, and devices disappear.
Mobile app. Phone control via mobile app
The ability to connect your mobile gadget and/or PC and other devices connected to the same local area network or the Internet. This function will allow you to control the recording from the cameras, answer calls from visitors, or simply view the image from the cameras. Remotely from a smartphone, you can configure the operation of devices, restrict or allow access to viewing video from cameras online, provide archived video, and forward a call to different devices.
Scalability. Ability to scale the system
The next advantage of IP intercom is the ability to connect additional cameras or IP calling panels, for most models, which can also work as a regular IP camera. At the same time, the calling panel or monitor does not have to function in conjunction, as in the case of analog intercoms, let's say they are offline. The signal from the IP call panel can be sent to your personal mobile device, and in some cases, when this option is convenient for the customer, it acts as a monitor, eliminating the need to purchase a video intercom.
Room-to-room Intercom function
IP intercoms support the room to room Intercom function, allows you to connect several indoor monitors to the same network. Intercom settings allow you to address the signal from the call panel to all monitors at the same time or to a specific monitor of your choice.
Control of a blocking device with a lock, a barrier
Barrier control function
One of the most popular and successful features, combined with remote control, scalability, and mobile application, will allow you to provide access to visitors or guests from your phone to your office, apartment, or house.
User identification
In most models of IP intercoms, you can find a built-in RFID reader, which is necessary for user identification and subsequent access to the territory. Some models are equipped with biometric fingerprint readers. Also, device models with the hardware capability of user identification by facial geometry are beginning to appear on the market.
Instead of a conclusion
Having become acquainted with the advanced functionality of IP intercom, we can conclude that these devices meet the needs of users of all categories, thanks to a flexible system of configuration and functions of individual components. IP intercom is a modern and effective method that allows you to organize surveillance and security, both for small private facilities and for large distributed ones. We suggest you familiarize yourself with an overview of the features of the operation of call panels from various manufacturers.