The fascination of outdoor photography, with its beautiful vistas, engaging wildlife, and amazing lighting conditions, is understood by both amateur and expert photographers. Although it presents many opportunities, photographing outdoors is challenging. It carefully considers the correct tools, such as tripods for video shooting, and the right climate to capture breathtaking images outside. 
This article focuses on the challenges that photographers face when capturing images outdoors. We'll explore the top five obstacles and how the SmallRig's Tripod For Video Shooting can help overcome them. This innovative camera stand is designed for video shooting, making it an ideal solution for addressing these difficulties.
Obstacles of Outdoor Photography
Outdoor photography is a thrilling adventure, but there are hurdles to conquer. Photographers must overcome the challenges listed below to produce stunning images:
Nature's forces may be erratic, and the climate can alter suddenly. The resolution of your photographs may be harmed by winds, rainfall, or intense sunlight, and your gear's safety may even be in danger. A reliable tripod makes taking steady, crisp pictures in adverse conditions more manageable.
An essential for outdoor photography is to find the perfect spot. It doesn't matter if it's a scenic setting or a wildlife sanctuary; reaching the correct hour can create a huge impact. But not every terrain is solid, and mounting your device on unlevel ground can produce wobbly images.
The Best Lighting is Scarce: 
Outdoor photographers frequently seek out the golden hours, those enchanted intervals between dawn and dusk when the light is supple and radiant. These precious instances are brief, though, and strong assistance is necessary to get the ideal photo under dim illumination.
An essential aspect of photography is composition. Precision and stability are required to properly frame the subject matter, integrate the compositional components, and take intriguing photographs. A solid tripod is required to get a photo's ideal structure.
Establishing good focus is essential, mainly when photographing landscapes and wildlife. Pictures can become hazy throughout exposure if there is even the slightest disturbance. With the help of a solid tripod, stable images can potentially be obtained with no chance of focus degradation from camera movement.
A Trouble Solver – Tripod For Video Shooting
Hidden Stainless Steel Feet
The Lightweight Travel Tripod from SmallRig has concealed stainless steel legs, providing outstanding sturdiness and reducing disturbances from air or bumpy ground. With this cutting-edge design, your images will remain crisp and clear irrespective of bad weather or rugged surroundings.
The SmallRig Tripod for Video Shooting makes it simple for shooters to capture the best images with its user-friendly modification grade and simple setup procedure. Reduce the time you invest preparing things and increase it so you can devote more time to getting jaw-dropping shots.
SmallRig is aware of the various demands placed upon photographers. This tripod for video shooting has an integrated threaded hole that enables you to attach additional gadgets for different configurations. This adaptable tripod serves your artistic imagination with everything, including smartphone attachments to supplementary mics.
The SmallRig Lightweight Travel Tripod for video shooting can support up to 8kg of weight and is made to fit the majority of cameras and equipment. Highly skilled photographers may rely on it because of its extraordinary power to guarantee the balance needed to capture pictures with the proper depth of focus.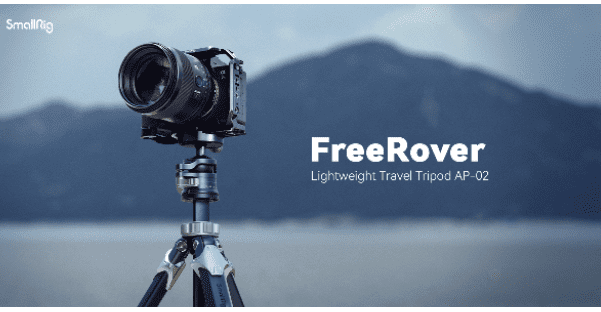 SmallRig Lightweight Travel Tripod AP-02 4222
A professional camera stand for video shooting is an essential piece of equipment for outdoor photography that helps shooters overcome obstacles and improve their abilities. SmallRig's Lightweight Travel Tripod for video shooting is a prime example of its dedication to creativity and superior craftsmanship. With its unrivaled strength, adaptability, and flexibility with numerous settings, the SmallRig Lightweight Travel Tripod AP-02 4222 distinguishes out as a standout option.
In addition to the above advantages, this tripod has a 4-section telescopic height model, from 75 cm (29.5 in) to 159 cm (62.6 in), which meets all shooting requirements. Considering the burden of luggage for outdoor shooting, SmallRig Lightweight Travel Tripod AP-02 4222 weighs only 1.15kg, and the storage size is only 53cm (20.9 in). This feature makes it lightweight and easy to store, saving the weight of luggage for photography enthusiasts.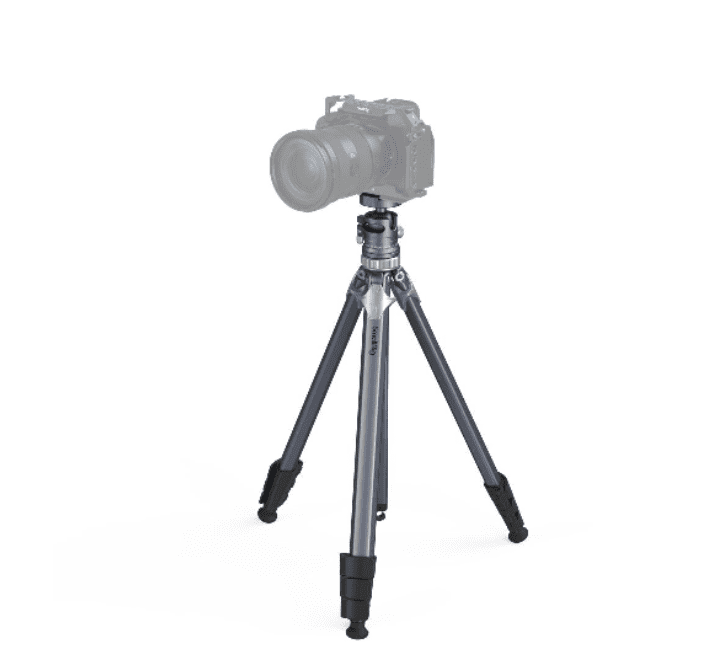 SmallRig Lightweight Travel Tripod's advanced characteristics can help both amateur and expert snappers, giving them the courage to take on the difficulties of photographing outdoors.
Conclusion
SmallRig is a company worth researching for photographers looking for dependability and accuracy in their equipment. They stand out for being committed to fulfilling the requirements of photographers, which renders them a top option in the market. With SmallRig's revolutionary tripod for video shooting, unleash the infinite possibilities of outdoor photography and explore new frontiers.