There are so many reasons why everyone should remain organized during their lives. In business and in life, organization plays a significant role in helping you achieve your goals. It also goes a long way in helping your mental health. In some ways, clutter and mess are linked to negative emotions like confusion, tension, and irritability while an organized home tends to produce more positive emotions like calmness and a sense of well-being.
That's why it's important to lean on as many tools as you can to help you achieve this.
And luckily for you, Vivaldi 5.1 — which is seen as the most customizable, feature-rich browser — has just been released.
Vivaldi has added exciting features like scrollable tabs and a reading list in its 5.1 updates to help its users manage tabs efficiently and enjoy an organized web browsing experience.
Let's dig deeper into these features to understand how they make the life of internet users easier.
Vivaldi has added Horizontal tab scrolling, something that their community has been requesting in the past. And it's so refreshing that tech businesses listen to their users and actions changes. This feature allows you to keep all your open tabs at their usual size. Just like when you scroll through pages that are open on your phone, this feature makes it easy to scroll through your open tabs using your mouse's scrolling wheel or the arrows built into the browser.
Reading list is also another new feature in Vivaldi 5.1. Nothing new but a nice addition where you can bookmark articles for later – fantastic if you're a scholar or student.  This lets you save articles and ages to read later, and it's a feature you're probably familiar with from other browsers.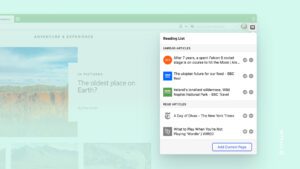 Vivaldi's mission is to provide a browser that works for anyone while putting their privacy first and focuses on flexibility and a robust feature set and includes other privacy-focused additions such as a built-in ad blocker, privacy-friendly translation tool, tracking protection, and encrypted sync functionality.
More Theme Colors On Vivaldi Browser On Android

For Android users, Vivaldi 5.1 is even more customizable allowing users to add new color themes. Pretty cool! And even better, you can use custom hex code to pick any color you want for your interface!  This can be changed in your browser settings, under Appearance -> Theme.

When it comes to flexibility, Vivaldi also delivers with a movable Address bar and Tab Bar, desktop-style tabs, Page Actions, and more.
You also have the option for shrinkable tabs, to be able to show more tabs in your tab bar, we found that for some of you, the tabs became too small for comfort. Since one size does not fit all, we have added the option to define a minimum tab size.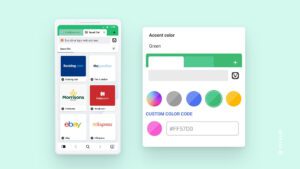 This new setting allows you to adjust the tab width just the way you prefer.
Go to Settings → Tabs and set the desired minimum tab width.
Note that the option is available only when you have the 'Show tab as favicon' setting disabled.
Faster than before.
While the new accent color option injects more personality to your browser, and the tab width setting gives you more control, there's even more to this update.
We have also improved the speed of Vivaldi with a lot of tabs open. Those of you who have a lot of tabs and that could slow Vivaldi down. Performance is a lot better now due to the continuous under-the-hood work.