What Is Option Strategies Insider?
Option Strategies Insider brands itself as a platform obsessively passionate about helping others succeed. It was launched in 2015 by Chris Douthit, and as of 2022, it is one of the best trading courses for beginners looking to get into options trading. Its primary goal is to help investors build foundational knowledge about options starting from zero.
The course is broken into three modules, and the first two modules (14 lessons) are available completely for free. Their premium content includes two memberships: Executive and Ultra. These memberships come with actionable information in the form of 3-9 monthly recommendations. Chris has had a very high success rate of 90% across options trades since 2015, and he puts his money where his mouth is.
As a premium member, you will also have access to Trade Alerts, thinkorswim add-ons, detailed research reports, and lucrative monthly recommendations. In this Option Strategies Insider summary, we will go over these and other features offered. For more in-depth information about this platform, check out our full Option Strategies Insider review.
Pros & Cons of Option Strategies Insider
Pros
90% success rate across trades since 2015
3-6 monthly recommendations for the Executive membership
1-3 monthly advanced recommendations for the Ultra membership
Access to the thinkorswim Training Center
Short- and long-term investing recommendations
Beginner, Intermediate, and Advanced Options Course
Find premium-selling opportunities using their IV Rank Plugin
7-day full trial for just $7
Set up Instant Trade Alerts and Watchlists
Cons
Only new trades and active trade positions are available
Option Strategies Insider Features
1) 3 Options Trading Learning Modules
The trading modules are divided into three sections: Beginning, Intermediate, and Advanced Options Strategies. The first module, Beginning Options, is designed to be an introduction for new investors looking to learn the ropes. It includes basic concepts like what and why invest in options, how to read options charts, and goes in-depth on one of the most important concepts when weighing options: Options Greeks. After this module, you will understand the basics of options and how to pick them, and you'll be ready to move on to the second module, Intermediate Options.
The Intermediate Options module comprises six lessons and includes everything you need to know about buying and selling options. It goes deep into what you should look for in an options trading platform, what metrics to consider when picking an investment, and when to make a move. Finally, the Advanced Options Strategies module will delve deep into the most successful strategies you should add to your arsenal when investing in options. Some of the strategies they cover include the Iron Condor, Butterfly Spread, Calendar Spread, and The Straddle. This last module is composed of 11 lessons packed with very valuable information.
If you're interested in advanced charting tools and finding great trading ideas, we recommend TrendSpider. It is a technical platform that works with a machine learning-based algorithm, and it's ideal if you're an experienced investor looking for the next big stock.
2) Free Access To The Beginner And Intermediate Module
Option Strategies Insider offers three subscriptions: the Free membership, the Executive membership, and the Ultra membership.
The Free membership includes only instructional information; it comes with access to the first two learning modules: Beginning and Intermediate Options. It uses charts, maps, and diagrams to make the learning process as efficient as possible and combines 2-D animation using real representations to illustrate certain concepts.
Executive membership is the next tier offered by Option Strategies Insider. Unlike the Free membership, it includes actionable information in the form of 3-6 monthly ideas vetted by Chris and his team of experts. This membership uses a volatility strategy combined with research and market direction and boasts a 90% success rate since its launch in 2015.
Finally, the Ultra membership. It is the most advanced plan, and it unlocks all the features from the two previous plans, plus a lot of exclusive benefits. You will still get the 3-6 monthly ideas from the Executive membership, but you will also get 1-3 monthly Ultra ideas; for these, the team at Option Strategies Insider considers several key factors like geopolitical, company balance sheets, innovation, and market settlement to deliver the highest quality recommendation. Keep in mind these types of investments are decaying assets, which translates into higher risk, and it has a lower success rate than the Executive membership recommendations. However, rewards are also very high – subscribers who follow Ultra recommendations can have gains as high as 500% or more per trade.
If you like risky investments with very high potential, you could also try a day trading platform like TopStepTrader. It offers similarly thorough courses & live classes, plus the opportunity to watch professionals trade in real time. TopStepTrader comes with a 14-day free trial – no credit card is required.
Option Strategies Insider Fees
Free Membership: Free
7-day Trial: $7
Executive Membership: $97/month (or $970/year)
Ultra Membership: $167/month or $1,667 (if you use our link, $134/month or $1,336/year)
There's also an unlimited plan that comes with lifetime access to all the features – however, you will need to reach out to customer support directly to check if you qualify.
Sign-Up Process
Signing up for Option Strategies Insider is easy – you only need a valid email address to create an account. It is supported in all 50 states and is available in most other countries worldwide.
If you sign-up using this link, you'll get a generous welcome bonus – keep in mind this bonus may vary depending on their current promotion. Additionally, you will get your referral link, which you can use to invite friends and start earning monthly payments.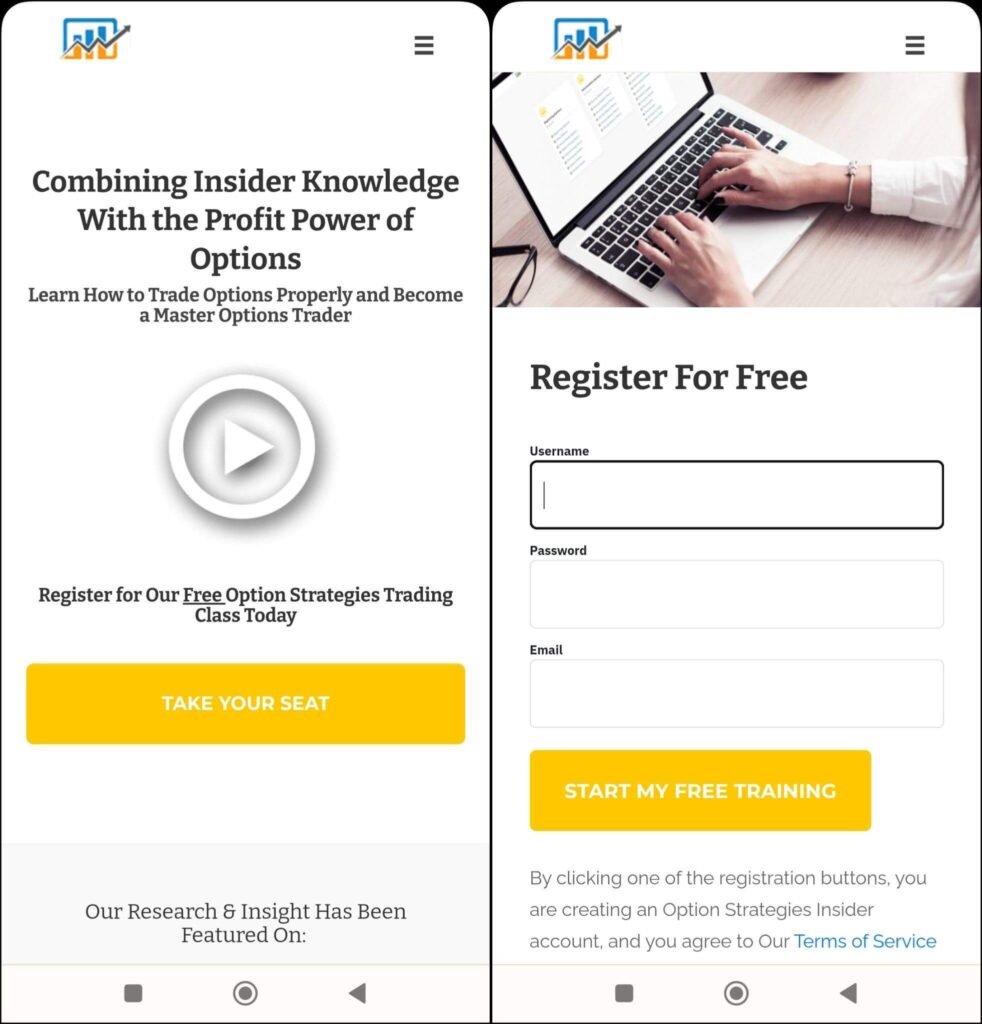 User Reviews
Option Strategies Insider has very positive reviews from investors; most agree that it's a great learning tool for beginners and experienced investors looking to build a solid foundation. Here's what some of them had to say:
"Thank you for your guidance and help with options. I am a new member, only in my second month of membership, but I have got a lot out of the coaching." – Matt G.
"I closed your recommendations of SPX yesterday and AZO today for nice profits and could not be happier with the research and the recommendations you guys have provided." – Jason M.
"I found Chris very honest and upfront with his trading method. He really does a great job of teaching in a way that makes a lot of sense. " – William R.
If you are still not fully convinced or would like to try some different options, platforms like PowerX Optimizer are ideal if you use The Wheel Strategy for investing in options. If you're into day trading, there are few platforms better than SpeedTrader.
Final Thoughts
Options Strategies Insider is a platform designed to help investors build a solid understanding of options and ease into the world of options trading. It offers one of the best courses for beginners, and most of its learning material is available for free. Once you've finished the courses, you can sign up for one of their premium subscriptions and access additional features, plus their monthly recommendations, and put to the test your new skills in a relatively safe environment – Chris and his team are very accurate when picking their monthly recommendations. They have reported positive returns in 90% of their trades since 2015. For those reasons, we believe this platform is one of the best ones for beginners looking to invest in options.