Effective, innovative leadership is a longstanding staple of success in all business sectors, and in recent decades, this vital skill has evolved to encapsulate multiple styles and ideologies. There is now a leadership style that fits nearly any workplace or initiative, standing to improve internal culture, properly develop workers, and better position the company to achieve its long-term goals. Some styles are a bit niche, depending on the work environment, while others are generally applicable to a variety of situations. 
Democratic leadership is one example of the latter, as it reflects two increasingly important variables in the modern workplace: transparency and employee empowerment. As their title implies, democratic leaders take an open, communal approach to decision-making, considering their teams' input and opinions as key variables in the planning process. While the leader still makes the final decision in these scenarios, the democratic style ensures that the outcome is indicative of workplace consensus.  
As more workplaces invest in employee well-being and advocacy, democratic leadership will likely become more commonplace in the coming years, creating a beneficial norm that may, in turn, establish a new benchmark of business success. 
The Benefits of Democratic Leadership
Today's workforce has grown to expect a healthier, more humanized workplace experience, and companies are adapting their hiring and management philosophies to ensure a safe, positive, and worker-focused environment. 
Still, many businesses continue to subscribe to antiquated, authoritarian leadership styles in a misguided effort to uphold order and drive consistent performance. This approach is quickly falling out of favor in countless sectors, proving to be both culturally toxic and conducive to lessened innovation and competitive viability. 
In a 2022 study published in The International Journal of English Literature and Social Sciences (IJELS), researchers performed a comparative analysis of popular leadership styles, finding that the democratic style was a more powerful management approach than the authoritarian approach. The study concluded, "democratic leadership has a positive and significant influence on work environment" and "the authoritarian leadership style may be counterproductive … because [authoritarian] managers believe they are correct [and] their leadership style stifles creativity and uniqueness."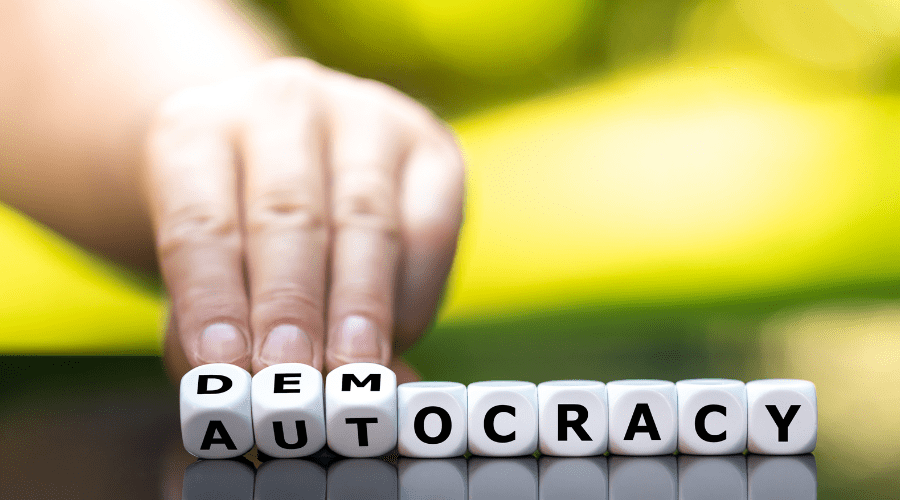 By embracing democratic ideology, on the other hand, workplace leaders can bolster productivity and growth by keeping employees present in internal processes, involving them in certain moments of high-level ideation. This approach is not only effective in building team trust and transparency – it also has the potential to subsequently benefit other aspects of company success, such as employee retention and performance output. 
Such a transformation is crucial for workplaces where employees may feel alienated, disconnected, unmotivated, or unsatisfied. As noted in a 2023 article published in Business News Daily: "By taking an active role in your team's processes and listening to their feedback on business decisions, you can foster a collaborative environment that boosts productivity and helps employees feel valued … active listening from managers can relieve employees' feelings of job insecurity."
Properly Implementing Democratic Leadership
While democratic leadership may seem simple and easy to implement in theory, stylistic management shifts require careful consideration to yield their intended impact. Often, well-meaning leaders overlook the ways a democratic shift might undercut worker involvement – or create new challenges to an otherwise positive transformation. 
For instance, as illustrated in the IJELS study, "[democratic leadership] might backfire if duties are unclear and time is short. Members of the group may also lack the necessary skills and understanding to make decisions."
The study also discusses how democratic infrastructure hinges on employee involvement, which warrants an emphasis on worker encouragement, direct engagement, and consistent access to internal contributive outlets. 
Similarly, a 2022 Asana study notes how democratic involvement can be a two-way street for workers – namely, in times of rejection or disagreement. These moments can leave sensitive or impassioned employees feeling discouraged if their ideas or contributions do not come to fruition, which might make them reluctant to participate in the future – the antithesis of democratic leadership's inherent purpose. 
Therefore, aspiring democratic leaders should take a multifaceted, forward-thinking, and preemptive approach to this change. To start, these leaders must center their process on employee development, integrating ongoing skill development so workers feel adequately equipped to discuss and inform business decisions. 
Most importantly, leaders should frame the democratic transformation, itself, as a team effort. Initial discussions should immediately display an emphasis on transparency and active listening, with all goals and potential hurdles spelled out right away. If these discussions are successful, workers should feel motivated to participate in the future, know what to expect in times of nonconsensus, and understand the greater good at play. In time, this new framework should produce invaluable returns in worker welfare and workplace cohesion. 
Author Bio: Daniel Neiditch is a real estate mogul, sustainability advocate, and philanthropist in New York City. He is the President of River 2 River Realty, a top-tier real estate firm with a distinguished reputation for serving the city's residents as a trustworthy brokerage, landlord, property manager, and developer.