Web 3.0 produced a vast explosion on the internet space. Creating a radically new approach to data management, it signals the birth of a new paradigm in which World Wide Web functionality finds itself inextricably linked to blockchain technology. However alluring it may sound, this next stage in the internet evolution has a long way to go before it actualizes itself on the mass level. Primarily, it's the unified, user-friendly approach that's missing before transmitting web 3.0 into every home and making it the default setting of any web browser. Another factor is the overall safety of the system, rarely assumed amidst the progress of a nascent trend. All of those combined serve as a bottleneck for the yet untamed web 3.0 potential – the one which, once unlocked, could take us headlong into Industry 4.0. 
Building the digital ecosystem from scratch has always been a daunting task; creating a safe gateway for others to follow is even a harder nut to crack. What it takes to succeed is a rock-solid vision backed up by a strong team of enthusiasts who are able to bring up the proposition without any equals amidst the intensely competitive space. TOTEM assimilates all of the above while ambitious to fulfill its own vision of the Earth: a global ecosystem that hosts a community of artists, designers and developers (welcomingly referred to as 'citizens'). It unfolds a web3 OS infrastructure fuelled by the social mission of conscious Ecofuture. TOTEM hosts a whole team of professionals who worked on XOiD AXIS –  TOTEM's branch of the Metaverse featuring XOiD Avatars, the cutting edge of XR and NFT applications.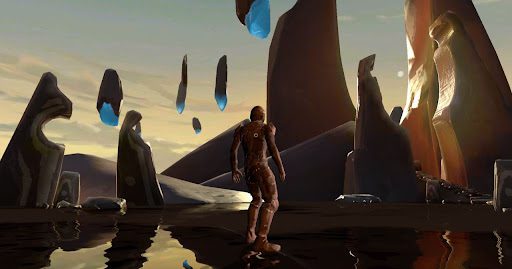 Phase 1 of the project lays its main focus on Totem OS, which consists of an interconnected social & tools dashboard, and Totem XR, an interactive extended reality terrain with play-ready terrain. Starting with the first 'starmap' called 'Xela Earth' (Totem XR's first map/layer) a P2E metaverse carrying with it an expansive list of brands, artists, tools, lore, and of course gameplay is built on top of an intraoperative world. By agreeing to participate, users may stake XOiD NFTs right away and gain passive rewards in the form of CTZN tokens, collect items and much more – soon also being able to earn XP points for their Totem profiles. The initiative will be unveiled to the world, starting from March 31. This is only the first block laying down the foundation of a larger internet transformation forthcoming within the new decade.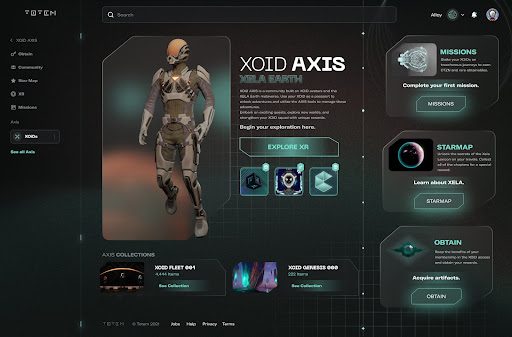 Seeing the approaching wave of change, we reached out to the CEO of TOTEM New Earth Systems with a number of relevant questions.
TOTEM is an ambitious project that could fundamentally transform our perception of the internet. How does it plan to achieve this?
 We aim to continually create customized use-cases for Totem's OS and XR platforms, building directly with artists and brands that Totem aligns with. As we share these various offerings, experiences, and tools with their audiences, our community, and the world, we find it creates an opportunity of discovery for both our team of builders and the 'Citizen' (member of Totem) themselves, both old and new. Being their first trusted gateway to web3 and metaverse hub is important to us and our longevity.
One of the characteristic traits of your project is social orientation. What could you share about the mission of Totem's Ecofuture?
Our internal team has come together for a reason much larger than a paycheck or stash of tokens hehe, and holding the possibility and goal of being surrounded by a focused community of determined doers, sharing and creating in a lifestyle that is both sustainable and wholistically abundant has always been something we've felt inherently drawn towards. Excitingly, this has begun to be reflected right away with our growing community and I truly believe most people these days realize something has to change, both in our personal lives and in the outward industry we uphold and rely on. Many things we do are destroying the planet and directly holding us back, bringing us in a direction that we can't fully comprehend or turn back from.
Totem aims to innovate and instil what we call 'New Earth Systems', a term referring to how we can come together and change the way we do life and support industry, both in the short and the long term. In this lifetime, we plan to wake up in a world where humanity and the planet are more closely connected. I believe this is our generation's calling.
There must have been a lot of effort invested into bringing TOTEM where it is now. Which of your team members made it possible?
Of course, every team member has been incredibly important for this to be brought to where it is today, and any and all of the challenges have brought us closer and more prepared for what is to come. I have to thank my co-founders Xela and Xndr for where we are today and what we are creating. They have been at my side since the very start. I also have to take a moment for my father, he is to thank for Totem's mission and roadmap. He taught me how to be fair and just, how all things connect, and what is possible if we come together. Some things he has taught me all my life. These lessons and the determination to fulfil his legacy is even stronger now that he has passed on to the next life.
 Who were the partners of TOTEM along the way? Any plans for new additions?
Polygon, an executive from League of Legends, the son of the creator of Macintosh were our first investors and they got us on the path to a successful fundraise from quite a few amazing blockchain-focused investors. Many partners and investors have come together to support us and the initial construction of Totem's blueprint. Things are starting to pick up now that our tek is nearly ready. We just received three large partnerships for Totem XR in the last 24 hours alone, so things are coming together quickly! You can expect to see in the short term, a few well-known artists, brands, and crypto projects with which we are creating exciting drops and XR gameplay, to be hosted both on Totem OS and Totem XR. Throughout the year we will scale this quite heavily.
XOiD AXIS is a part of TOTEM specializing in NFT communities. Please tell me a bit more about this branch.
We are all seeing all these various NFT projects of '10,000' these days, yet many are untrustworthy and messy, the ecosystem to house them is almost always non-existent, scattered, and/or inconsistent. It's hard to know where to go, how to get involved, what's coming, and so on. Totem's Axis is a community framework to provide a hub to navigate across various NFT & Blockchain Projects. Providing 'web3 wings', offering a standard interface for DAO, Social, Commerce, and XR tools for projects and their members, all on a single dashboard. XOiDs will be the first AXIS offered on March 31, and we will begin to onboard shortly after, doing our best to discern which projects with good teams behind them of course!
What are XOiD Missions – and what role do they take within the TOTEM framework?
XOiDs Missions are the unique challenges offered to XOiD holders to participate in; from staking to XR gameplay. Interactive staking and rewards essentially. Allowing holders to play-to-earn rewards in the form of NFTs and CTZN tokens. There are so many untapped things you can do with NFTs and a supportive community behind them. We plan to build and innovate to new levels with each phase of missions, and of course, expand these missions for various AXIS projects as we go!
 XOiDs NFT and CTZN token – what is their contribution to XOiD Missions?
The rewards you will receive depend on the unique missions the holder accomplishes. It is important for us to include all aspects of the assets and tools we build and offer if we truly want to make this virtual economy as well rounded and experiential as possible.
 I'm interested to learn more about Xela Earth P2E Game: what are the necessary prerequisites for participation, and what are the main benefits for the community?
Xela Earth is the first of many 'Starmaps' using Totem XR's network/game engine. There is an overarching XOiDs lore throughout this map to allow an open world for brands and artists to connect more closely with their members, but new planets will be unlocked by participating in the XOiD specific gameplay. Think of Xela Earth as a game cartridge and Totem XR as the console! Much more to come and we cannot wait to share what we have in store.
 Overall, what are the main transformations you expect to take root with the advancement of web 3.0? How will it be superior to the internet?
Bringing people to build and share together, authentically, is the power of blockchain. What we will see from this is a new view of what skills and trades we value and how we uplift each other and innovate solutions.
Transparent supply chains on the blockchain are THE key to an ecofuture. The provenance of sourcing, manufacturing, and distribution and the tools to support more of what is good. It's the future of merchandising and commerce. Think of where health or fair trade food was and where it is now… that's coming at a much larger scale and it's going to be on a ledger we can all see and transact upon.
Web3 is going to take us from a

social media

lead economy to a

social mission

lead economy. More of an ecosystem than an assembly line. This will take shape naturally as all things should. It's important to build modular and flexibly for this.
 Finally, what is the future roadmap of TOTEM?
You can expect to see continual updates to our OS and XR interfaces with exciting drops and artist/brand communities being added as we go. Our social NFT marketplace is coming very shortly as well! Allowing Totem's Citizens to mint their own NFTs and trade/buy/sell with their friends across Totem. We have some big launches planned, rewards and opportunities for our XOiD and CTZN holders. We are currently setting up our founding headquarters in Lisbon, Portugal and have plans to build some exciting real-life communities there with our first phase of homes and Totem's headquarters, with our phase one being called Seed. You can expect to see our ecosystem expand into something that impacts both our digital and real lives and this project is a big step to showing this, more to come on that soon.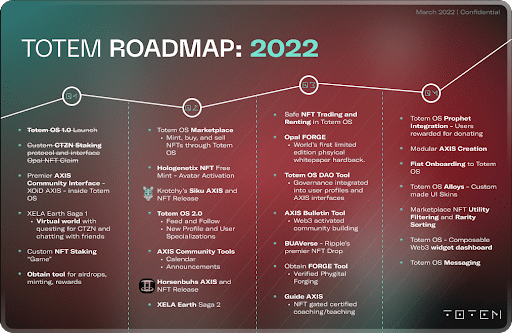 All in all, we encourage anyone interested in learning more and to get involved to join us on Discord and Twitter as we near these releases and much more, as we build web3 together.