Blockchain is a unique and diversified technology with numerous applications. Blockchain technologies have been used as a solution for many problems in the real world. Since blockchain technology is being used to make life easier in any way possible, why shouldn't there be a blockchain based protocol for Arts & Collectibles?
The Current Market of Arts & Collectibles
Right now, arts & collectibles is a class of unique assets worth over 2 trillion USD. Arts and collectibles are a really important and diverse class of assets. Anything from stamps or books or paintings to guns or bats or balls can be a collectible. They don't even have a fixed value. Their value is determined by its demand. That's the major deciding factor of a collectible or an art piece.
Most collectibles are valuable because they are the creations of famous talents around the world. The skill and fine workmanship can create collectibles of wonders. Investing in collectibles is actually good for one's economy too. Some collectibles, like fine wine or alcohol, which grows better with time, or paintings of famous artists, or age-old paintings, increase in values with time. Collectibles are inflation-proof. A good collectible is one of the best things a person can invest on.
The Problem in the Collectibles Industry
The main problem with arts and collectibles is to figure out its authenticity. There are many famous paintings that have been duplicated, many duplicate signed balls, fake stamps created and many more. One can easily be fooled with an artifact unless they get it authenticated by a registered authenticator. An incomplete transaction from the buyer's behalf or a scam from the sellers can lead to fraud in thousands of dollars.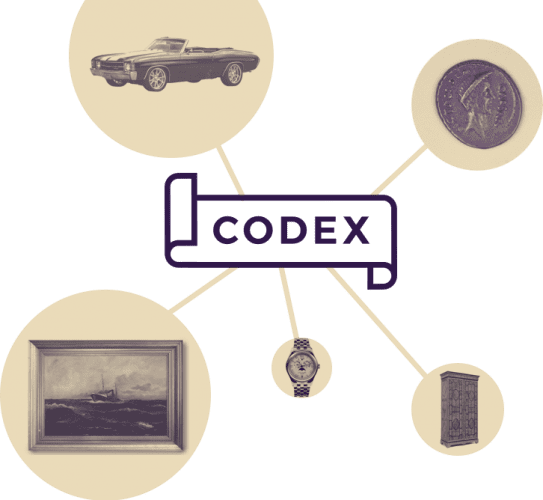 How Codex Protocol aims to tackle the Problem?
Codex protocol is a decentralized registry for these well-known arts and collectibles. This is a blockchain based protocol where one can buy or sell, get insurance, or take a loan, find out the previous owner, its history and authenticity. With blockchain, one can easily store an item's identity securely. The blockchain makes the registry completely secure.
The codex ICO is starting its official coin drop in order to reward early users. The early users will benefit up to $200,000 in Codex coins with the reward programs.
Biddable: The app which enables Transparency in the Collectibles Market
Codex protocol has created its first app, Biddable. Biddable lets users register and pay with cryptocurrencies over 5000 auction houses around the world. The most profitable reason to pay with cryptocurrencies is that the transaction will remain completely anonymous.
No one can ever find out the buyer and this increases the security. There are thousands of exceptional items available on biddable. Codex also provides users rewards for using their app.
Codex Protocol Partners
Codex has many business partners. Dust Identity, one of the business partners, is a company that helps encode physical items with digital signatures. Luxury Capital, another business partner, provides asset-backed loans. Many other business partners make using Codex Protocol profitable for the investors.
Conclusion
Cryptocurrencies and blockchain are revolutionizing the economy and everything in it. Using Codex Protocol will make auctioning easier, safer and faster. The whitelist registration will start from July 2 to July 5. Codex is a new way into the arts & collectibles world.
Visit the website: https://codexprotocol.com/