An exciting and fresh design from Olight, the new Sigurd is an angled grip light with a powerful output of up to 1,450 lumens and 240 metres range. A picatinny mount is universal for most weapon mounts, in addition to this an adapter is available for M-LOK rails (not included separate purchase required). It's size is 166mm x 44mm x 66mm at 220g.
Dual switches on both sides of the Sigurd, ensure you never have to move your hand to access the controls to change output level, or turn it on or off
Featuring Olight's USB MCC (magnetic charging) cable. You simply attach it to the charging point, and it recharges the built in battery simply and quickly.
The Sigurd is also rated to IPX4 water resistance, and 1 metre drop tested. A high quality of construction should ensure years of service use.
Available in Black, Gunmetal Gray, and Desert Tan colors (depending on region)
High Power 1450 lumens output
The Sigurd features two power levels, a blazing 1450 lumens at the highest gives an impressive range of 240 metres. A lower output of 290 lumens has a quoted distance of 108 metres, and is suitable when less power is needed or in closer proximity. A TIR optical lens helps provide a mixed beam giving both range and spread, which is essential for weapon mounted lights. A momentary mode is also available, and a lock out function
Run time is up to 4 hours at the lower level, simply connect the USB MCC (magnetic charging cable) to recharge the Sigurd in approximately 3.5 hours (from flat). The LED on the charging cable clearly shows you when it is charging (Red), and when it is completed (Green). Battery capacity is rated to a high 2400mAh, no need to change the cell as it is built into the Sigurd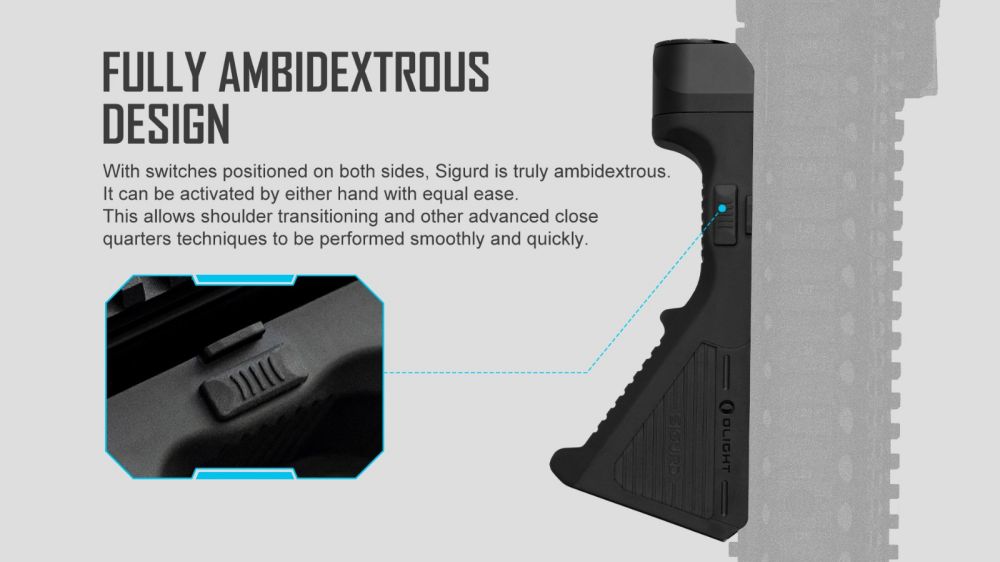 Ergonomic Design with Dual Switches for ease of use
The design of the Sigurd is for ambidextrous use. An angled sculpted body is both secure and comfortable to hold merging with the shape of the weapon. The angle is designed to enhance the grip and prevent slipping; where as most weapon lights don't have the facility to grip them. Each side has a switch, which means either hand can control the two power levels, or turn it On or off. Critically, you don't have to move your hand position, which is important when using a weapon.
Or course it is also possible to use the Olight hand held, and unmounted if required.
A strong heat treated Aluminum Alloy body, tested to 1 metre drop distance, and with a water resistance rating of IPX4. Even in poor weather, you can be sure the Sigurd will continue to perform.
The items included are the MCC-1A Magnetic Charging Cable, HM4.0 Allen Wrench, M.5.0 x 30 Screw (and washer), user manual. 
Olight Sigurd Key Features
2 Power levels including a High power 1,450 lumens with a range of up to 240 metres

Angled Weapon Light with ergonomic design for superior grip

Dual Switches for ambidextrous use

Size 166mm x 44mm x 66mm, weight 220g

Momentary Mode and Lock-out Function

Magnetic charging via the MCC cable

Aircraft grade hardened Aluminum alloy body

IPX4 Water resistant, drop tested to 1 metre

Compatible with

Picatinny mount

(or M-LOK via optional adapter)

2 Year Olight Warranty