The team at Novomind is not resting on their oars of leveraging tech solutions to help businesses better engage their customers, as substantiated by the creation of the iAGENT. The customer service software solution has been described as the "new dimension of customer contact," offering an all-inclusive optimal multichannel management tool that includes chatbots through email management, chat and video chat up and social media.
Overview Of The Global Customers Service Software Market
There has been a steady increase in the demand for customer service tools over the years, as businesses seek ways of effectively engaging different categories of customers. In a related development, a plethora of software development companies have emerged in recent times to meet the growing and diverse needs of businesses. A recent report published by Grand View Research put the size of the global customer self-service software market at $7.12 billion in 2019, with a projection that it will reach $32.19 billion in 2027. Despite the amazing figures from the market, the available solutions have not effectively addressed the concerns of users, which is where Novomind is looking to make a difference with the launch of iAGENT.
Features Of iAGENT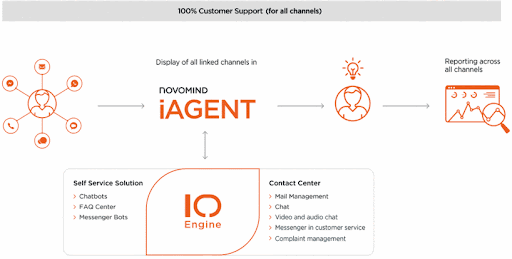 iAGENT is designed by a team of highly experienced and well trained professionals as a call center software for digital customer communication. The tool comes with a wide range of features that stand it out from other similar customer care solutions, thanks to the diverse team combining their expertise to create an all-inclusive product for businesses.
Some of the features of the Novomind iAGENT are briefly highlighted as follows:
Multichannel Communication:

iAGENT combines computer linguistic (transparent) and semantic (self-learning) procedures, ensuring that all interactions with customers are covered across all available channels in one interface. 

User-friendliness:

The tool boasts of usability, with a structured user-friendly interface to operate the individually configurable software simply and quickly.

Reporting:

iAGENT offers transparent evaluation to enable the optimal control of the company's service centre.

Enhanced Communication:

One of the most distinct features of iAGENT is that it offers a more effective communication channel, ensuring efficiency and speed when processing customer enquiries.

Standard knowledge basis:

iAGENT also offers automatic text recognition and dialogue capability to produce the same answers to the same questions.
Novomind iAGENT has different modules to ensure that every category of users meet their needs with relative ease. The modules of iAGENT include Mail-Management, Chat, Video and audio chat, and Chatbots and FAQ-Center. Other modules are Messenger in customer service, Complaint management, Reporting and analytics, and iQ Dialog Engine.
Feedback From Users Of Novomind iAGENT
The customer-focused tech-driven solution has continued to gain traction from users across different industries, with 80% reduction in ticket costs per enquiry, 60% of customer enquiries are answered fully automatically by AI (bots and FAQ centre), and 15.000 agents worldwide.
"In Novomind iAGENT, we've found the ideal software basis for our innovative video identification procedure 'POSTIDENT by video chat,' which is greatly appreciated by our customers. The CCV IT Innovation Award we won together with NovoMind speaks for itself," said Steven Engelhard of Deutsche Post AG.
About Novomind
Novomind is a Germany-based tech company that focuses on providing state-of-the-art solutions to help businesses engage better with their customers and ultimately grow their brand. The company has grown over the years to become a leading name in the industry, serving different categories of clients worldwide.